Mug cakes are fast becoming a favourite treat of mine.  The perfect single serve dessert made in a mug and cooked quickly in the microwave.  I have made Salted Caramel and Banana Choc Chip in the past and now I have these delicious Strawberry mug cake.
It is perfect for using those strawberries that just don't cut it for eating on there own and when served with pouring cream or ice cream you have the perfect strawberry and cream combination.
INGREDIENTS
1 Tbs Butter
1 Egg (700g)
2 Tbs Raw Sugar (white will be fine too)
1/2 Tsp Vanilla Essence
1/4 Cup Self Raising Flour
4-6 Diced Strawberries
LETS PUT IT ALL TOGETHER
1. In a large mug place the butter and place in the microwave for 10 seconds to soften it.  Then add the remaining ingredients (except the strawberries) and mix until just combined with a fork.  Add the strawberries on top.
2. Place in the microwave on high for 2 minutes.  Check and make sure it bounces back when you touch it on top, if it is still a little moist on top place it back in the microwave for a further 20 seconds.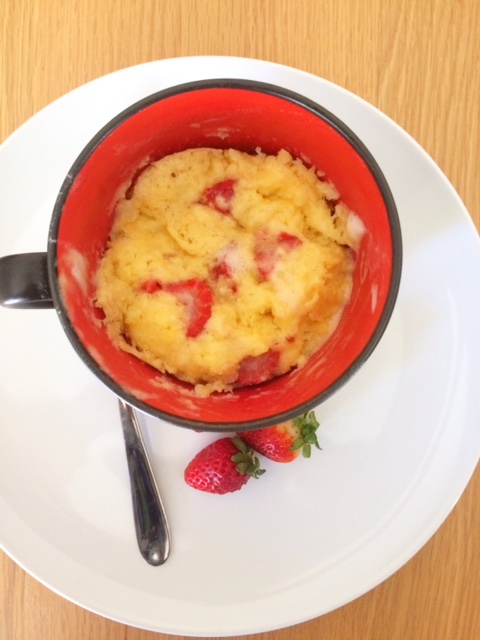 Eat straight from the mug or use a knife to loosen the edge of the cake from the mug and turn out on to a plate and serve with cream or ice cream while it is still warm.

(Visited 14,335 times, 13 visits today)