These are a real crowd pleaser. They are easy to prepare with the help of the food processor and even quicker to be demolished of the plate.
I made mini patties for my boys and they loved them, hubby even said this is a winner.
INGREDIENTS
500gm Chicken Mince
1 Zucchini, peeled and grated
1/2 Red Capsicum, grated
1/2 Onion, grated
1/2 Corn Cob, kernels cut off
2 Tbs Gourmet Garden Mediterranean Seasoning (Basil, Oregano, Garlic, Bell Pepper (capsicum)) you can use dried or fresh herbs of those listed if you like as well.
Salt and pepper to taste
Breadcrumbs, to coat
LET'S PUT IT ALTOGETHER
1. Using a food processor insert the grating blade and pass through a peeled zucchini, the capsicum cut into 2 cm strips, and the onion. Alternatively you can use a hand grated.
2. Remove the grating blade and insert the plastic mixing blade. Add the chicken mince, herb mix, corn kernels and salt and pepper to taste.
3. Replace the lid and mix on low for 30 seconds to combine. Or in a large mixing bowl add all ingredients and mix by hand to combine.
4. Place in a covered bowl in the fridge for 30 minutes before using.
5. Place some breadcrumbs on a plate and take golf ball size amounts of the mix (if will be seem quite wet, don't worry this is how it should be) and form into patties coating in the breadcrumbs.
Only do the amount that will fit in the fry pan at a time.
6. Over a medium heat place some olive oil into a fry pan and then add the patties,
7. Cook turning frequently as not to burn.
8. Place on a paper towel to drain any excess oil.
9. Repeat until all mix in used. You should make 10-12 patties with this mix.
Serve with a dollop of Greek natural yoghurt.
Shown here with oven baked sweet potato chips and salad.
Dairy Free, Egg Free and Gluten Free (if you cook without coating in breadcrumbs)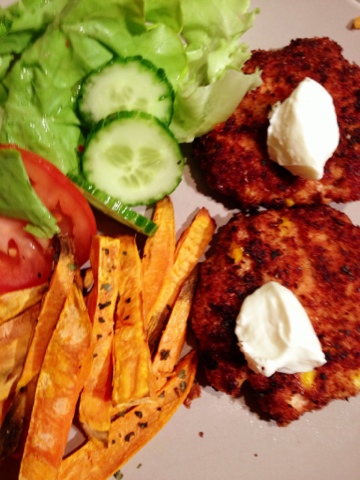 (Visited 1,232 times, 3 visits today)