I am such a big fan of roasting a large cut of meat so I can get two meals out of it.
The little extra work you put in for the first meal (which is normally a traditional roast dinner) pays off when you can use the already cooked leftover roast meat the next night or the following.
As a rule you should consume cooked meat within three days of cooking.
This recipe for Leftover Roast Lamb Satay Curry is super easy and ever so tasty. It is mild in flavour so the whole family can enjoy it.
INGREDIENTS
Leftover Roast Lamb, sliced into pieces. No real measurement, you will know if you will have enough to feed your family.
1 Onion Sliced finely
1 Tbs Minced Garlic
Olive Oil
3-4 Cups Sliced Vegetables, fresh or frozen. Broccoli, Carrots, Beans, Cauliflower, mushrooms are good choices.
1/2 Cup Smooth Peanut Butter
500ml Chicken Stock, hot
2 Tbs Soy Sauce
1-2 Tbs Curry Powder (vary to suit your taste, add a little at a time)
200ml Light Coconut Cream
Rice or noodles to serve
LETS PUT IT ALL TOGETHER
1. In a large heavy based saucepan or cast iron pot with lid, add a little olive oil and set to a medium high heat. Add the onion and garlic and sauté until soft.
2. Meanwhile mix together the hot chicken stock, peanut butter, soy sauce, coconut cream and curry powder until the peanut butter melts to make the sauce.
3. Add the meat and vegetables to the onion and garlic, followed by the sauce mix. Stir to combine well. Cover and reduce to a simmer for 20 minutes.
Serve with noodles or rice.
Best eaten on the day it is made.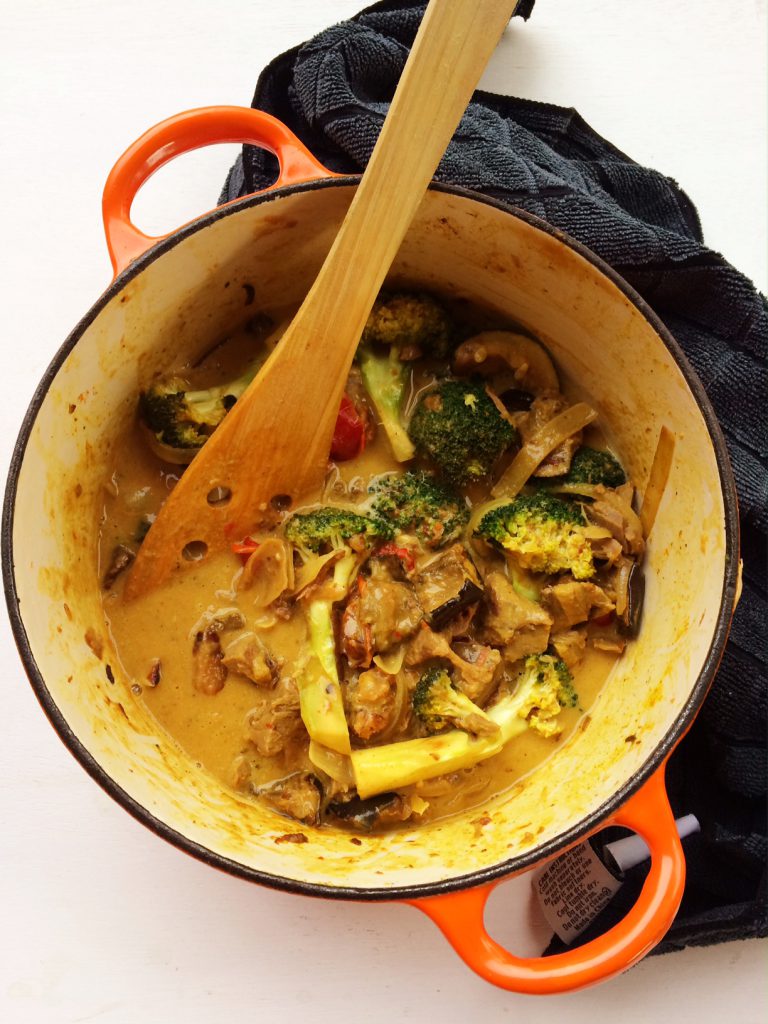 (Visited 17,311 times, 53 visits today)