I haven't made a carrot cake in such a long time, and I think that I haven't made it because I know I will be the only one who will eat it.  So I set myself a task to make a carrot cake that the kids would also eat.  The nuts are on the outside, not in the cake so it essentially is a NUT FREE version, and the icing is cream cheese (if you leave the icing off you have a DAIRY FREE cake)  flavoured with maple syrup so it's not overly sweet and compliments the moist carrot cake perfectly.
I have added Wheat Germ to this recipe which adds a subtle additional flavour as well as added fibre and folic acid which is always a bonus to hide some extra goodness in cakes. (NB: Wheat Germ should be stored in the refrigerator after opening)
I am also happy to say that this is a ONE BOWL CAKE = less washing up
Both boys devoured this cake and were stealing my pieces.  This receives the kid friendly tick of approval from them.
INGREDIENTS
1 3/4 Cups Self Raising Flour
3/4 Cup Brown Sugar
1/4 Cup Wheat Germ
4 Eggs, Large
3/4 Cup Olive Oil
1 Tsp Cinnamon
2 Cups Grated Carrots
1 Tsp Vanilla essence
Icing
125gm Light Cream Cheese, softened
1/4 Cup Maple Syrup
Optional: nuts to decorate
LETS PUT IT ALL TOGETHER
1. Place the eggs, brown sugar, vanilla essence and olive oil into a large bowl.  Mix well with a whisk until well combined.
2. Add the grated carrot, flour, wheat germ and cinnamon.  Fold through until all combined.
3. Place into a lined baking dish (a loaf tin works well) and bake in a 170 degree celcius oven for 30-45 minutes or until lightly golden and it bounces back when touched.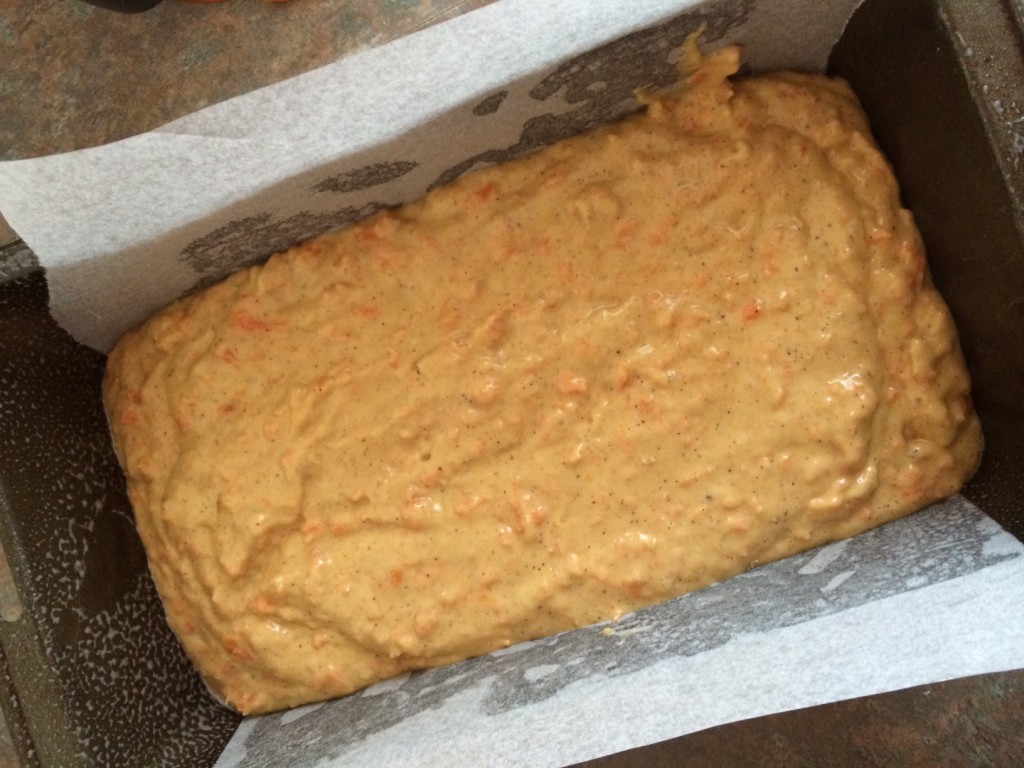 TO MAKE THE ICING Simply mix together the softened cream cheese and maple syrup.
Store in an air tight container in the refrigerator for up to 5 days.
Freezer friendly: freeze uniced in portions to use in school lunchboxes.
NB: Wheat Germ can be purchased from Coles and Woolworths in the Health Food Aisle for about $3-$4 for 375gm.  It can be used in smoothies and other general baking.  Make sure you store in the fridge once opened.  Alternatively replace the wheat germ in this recipe with wholemeal flour for the added fibre.

(Visited 3,542 times, 8 visits today)