I love Hot Cross I do I do but every time I make them they just aren't anywhere near as light and fluffy as the ones you can get from the likes of Bakers Delight so I leave them to the experts.
This year I experimented with a Hot Cross Scone, yes you read right it's a Scone made into a Hot Cross Bun of sorts. It is full of choc chips and mixed spice. The kitchen actually smelt like I was baking buns.  The beauty of these is that you don't have to wait for any rising times so they can be made, baked and on the table in about 30 minutes. Perfect for a fresh treat over Easter.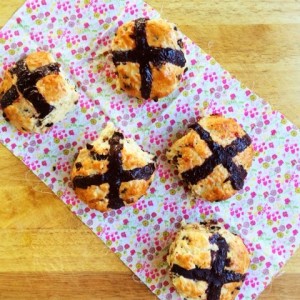 INGREDIENTS
4 Cups Self Raising Flour
1/4 Cup Icing Sugar
1/2 Tsp Salt
1 Tsp Mixed Spice
1/2 Cup Choc Chips
250ml Light thickened cream
300ml Soda Water
Cross
1/2 Cup Plain flour
1 Tsp Cocoa Powder
Enough milk to form a paste
2 Tbs Strawberry Jam
LET'S PUT IT ALTOGETHER
1. Place the flour, icing sugar, salt, mixed spice and choc chips into a large bowl. Mix to combine with a butter knife.
2. Make a well and pour the cream in followed by the soda water. Work quickly to bring all the ingredients together to form a loose dough.
3. Place into a floured surface and work gently to flatten out to approximately 3cm thick. Cut circles out and place onto a lined baking tray. Make sure to place each scone next to each other with no gaps and in rows. Repeat until all dough is used. Coat the top of each scone with a little milk.
4. To make the cross mix together the flour and cocoa and then enough milk to form a paste. Place into a zip lock bag. Cut one corner off. Pipe the crosses on to the scones by doing the long rows first then the short rows.
5. Bake in a 200 degree Celsius oven for 15 minutes or until lightly golden and they bounce back when touched.
6. Heat 2 tbs of strawberry jam in the microwave for approximately 30 seconds to melt. Baste the tips of the cooked scones lightly with the hot strawberry jam to give them their shine.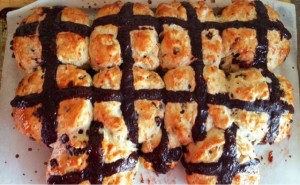 Best enjoyed the same day. Or if eating on the following days, reheat in the microwave for 20 seconds to warm through.
Makes 10 large scones
Store in an airtight container for up to 5 days in the fridge.
Freezer Friendly: freeze individually in zip lock bags for up to 3 months.

(Visited 467 times, 4 visits today)