I know what you are going to say "but you can buy it already made, it comes in with the box of taco shells, why would you make it yourself???" Well the simple answer to this is – a homemade version means that YOU KNOW WHAT'S IN IT. Next time you are in the supermarket check out the back of a taco seasoning pack (you might be surprised).
Full of ground herbs and spices and no added thickening agents etc. You can also tailor the taste of your taco seasoning to suit what you family likes, make a large batch for the same price of a couple of serves of buying it already made and the satisfaction from making something yourself.
My whole motto has been "even though we are busy, feeding our family food that is NOT full of "crap" should NOT be sacrificed. Easy, nourishing recipes are in fact quick to make.
This make enough seasoning for about 3 serves. Go ahead and double, triple etc the recipe and store in an airtight container in the cupboard with your other dried herbs so it's always on hand.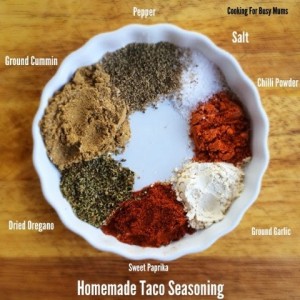 INGREDIENTS

1 Teaspoon Garlic Powder
1 Teaspoon Dried Oregano
1 Teaspoon Sweet Paprika
3 Teaspoons Ground Cummin
2 Teaspoons Salt
2 Teaspooons Ground Black Pepper
1 Teaspoon Chilli Powder
LET'S PUT IT ALTOGETHER

1. Simply place all the ingredients into a bowl and mix to combine.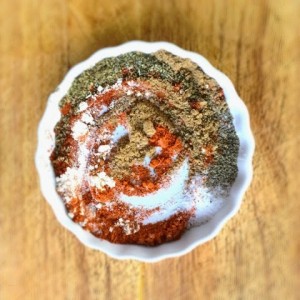 Store in an airtight container in the cupboard with your other herbs and spices.
To use:
IN BEEF MINCE FOR TACOS, NACHOS, BURRITOS
Simply cook off some diced onion in a little olive oil, add some lean beef mince and brown. Sprinkle over about 2-3 tablespoons of the taco seasoning and cook until the aromas are released.
Use the mince in tacos, nachos, burritos.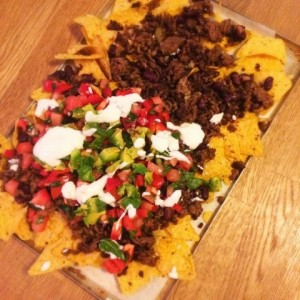 AS A COATING FOR MEATS
Use it to coat chicken, fish, or beef pieces before baking or grilling.
What other ways do you use Taco Seasoning?

(Visited 4,864 times, 13 visits today)