We have recently discovered how wonderful Apple and Peanuts go together. It's like they are bread and butter.  After enjoying Apple Slices Dipped in Peanut Butter for afternoon tea, we decided to enjoy the flavour combination for dessert.  That is how this Apple & Peanut Butter Crumble came about.
It's all kind of gooey apple peanut butter goodness topped with a crunchy oatie topping.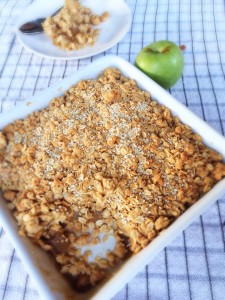 INGREDIENTS
Topping
2 cups rolled oats
3/4 cup Desiccated coconut
2/3 Cup Plain Flour
1 Tsp Mixed spice
1/2 Cup Brown Sugar
2/3 Cup Melted butter, margarine or olive oil spread
Filling
6 Apples, peeled, cored sliced
1/2 Cup Brown Sugar
2 large tablespoons peanut butter
LET'S PUT IT ALL TOGETHER

1. Place the Apples and brown sugar in a sauce pan cook over a low heat with lid on until apples soften. Then gently stir in the peanut butter and place into a shallow baking dish.
2. Combine all dry ingredients for the crumble and then add the melted butter and mix to combine. Spread over the cooked apple mix.
3. Bake in a 160 degree celcius oven until the crumble is lightly golden.

Enjoy on it owns or with ice cream or custard.
Store in the fridge, covered for up to 5 days. Reheat to serve.
Serves 8

(Visited 3,355 times, 10 visits today)