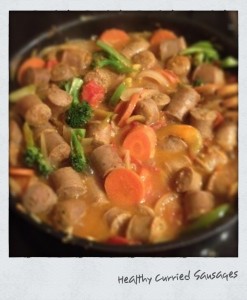 INGREDIENTS


6 Sausages of choice
2 Cloves Garlic, sliced finely
1 Carrot, sliced finely
1 Onion, sliced finely
1 Cup Cauliflower, Florette's
1/2 Capsicum , sliced finely
1 Cup Beef Stock
2 Tsp Curry Powder (or adjust to your taste)
Pepper
LET'S PUT IT ALTOGETHER


Par Boil the sausages (whole), remove and slice into desired sizes
In a fry pan, add the onion, garlic and some olive oil and cook until soft.
Add the curry powder and cook stirring until the aromas are released.
Add the sausages and remaining vegetables and stir to coat with the curry powder – cook for 5 minutes.
Add the stock and reduce to a simmer for 10 minutes or until vegetables soften.
Season with pepper.
Serve on rice.

(Visited 14,829 times, 98 visits today)