I have had a few requests to include more gluten free recipes.  As we don't have gluten intolerance's in our home it isn't something I have worked a lot with, however I am always up for a challenge and enjoy expanding my cooking knowledge.
I am starting with a pretty basic recipe – Lemon Slice Cake.  It was a great introduction for myself into the use of the gluten free flour and how adding almond meal can make a cake have a lovely crumb.  I also added blueberries to half the batter and they turned out great too.
When eaten warm from the oven the outside edges had a lovely crunch with a slice chew and a lovely hint of lemon.  I have stored them in the fridge and they taste just as good cold.  Ideally serve at room temperature.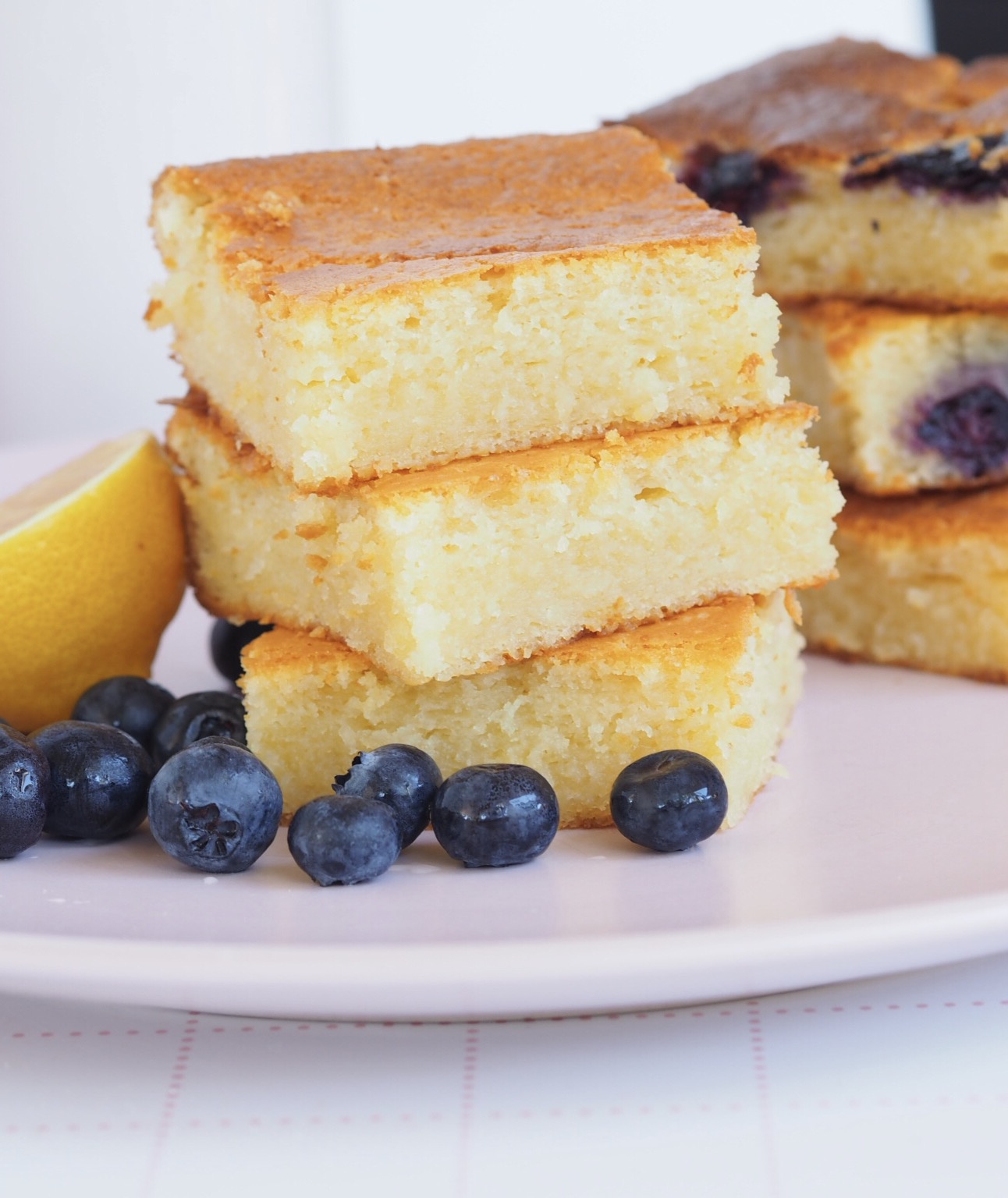 INGREDIENTS
125gm Butter,softened and cubed
1 Cup Raw Sugar
2 Eggs
Juice of 1 Lemon (include lemon zest for extra zing)
1 Cup Milk
1/2 Cup Almond Meal
1 1/2 Cups Gluten Free Self Raising Flour
Optional: 1/2 Cup blueberries
LET'S PUT IT ALL TOGETHER
Using a food processor, stand mixer or thermostyle appliance.  Place the butter and sugar into the bowl.  Process until combined and creamy (about 1 minute).
Add the eggs one at a time, beating well after each addition.
Add the lemon juice (and zest if using), milk, almond meal and flour and mix until well combined.
Pour into a lined 25cm x 15cm baking tray (slice tray) and level out.  If you are including blueberries place onto to the top of the batter.
Place into a pre-heated 180 degree Celsius oven and bake for 40 minutes or until golden and it bounces back when touched
Allow to cool in the tray before removing.
Once cooled slice into 12 pieces and dust with icing sugar to serve.
Store in the fridge in an airtight container for up to 7 days.  Serve at room temperature.

(Visited 12,723 times, 29 visits today)