This dip is super healthy and also super delish the perfect dip for the Christmas season.
INGREDIENTS
This amount of ingredients is for one serve as shown in the bowl in the photos. Double the quantities for a larger serve.
1/4 Butternut Pumpkin Roasted
To do this wrap the pumpkin with skin on in alfoil, add 2 garlic cloves and a drizzle of olive oil. Seal the foil and bake in a 200 degree Celsius oven for 20 minutes or until soft.
Scrape the pumpkin from the skin and place in a bowl along with the garlic to chill in the fridge.
50 gm Pine Nuts, Roasted
To do this simply place the pine nuts in a small fry pan and over a medium heat stir continually until they start to brown then remove from heat.
1/2 Handful Baby Spinach leaves, chopped finely
1 Basil leaf, chopped finely
Salt and pepper to taste
1/4 Cup Olive Oil
LET'S PUT IT ALTOGETHER
1. Roughly chop the roasted pine nuts.
2. Once the pumpkin and garlic have cooled add the chopped pine nuts, spinach and basil. Mix well.
3. Add the oil as mix again.
4. Add the salt and pepper to suit your taste.
Serve and enjoy.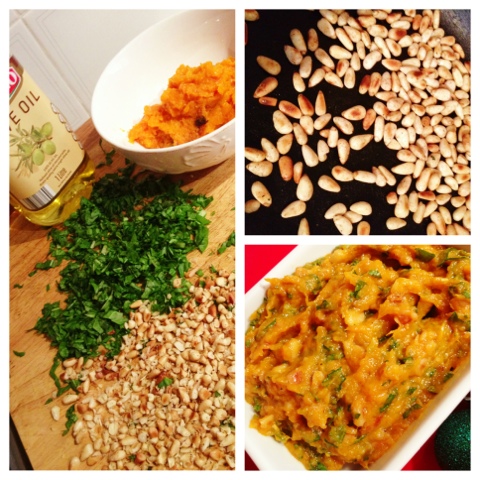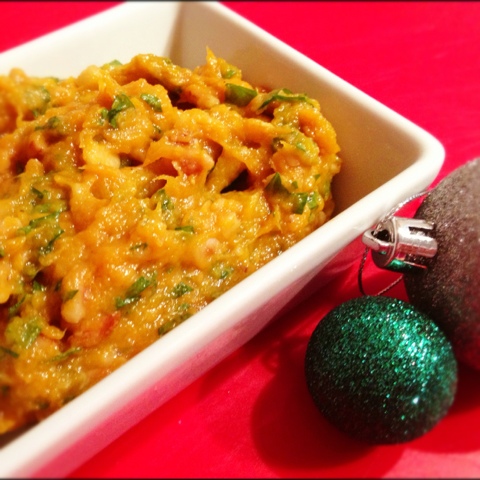 (Visited 1,225 times, 11 visits today)