Who doesn't love Nutella? I know my boys are loving it a bit too much at the moment as it is the top requested breakfast toast topping with Vegemite a close second.
They are eating it in the morning so they have plenty of time to burn of the energy they get from Nutella which unfortunately is in the form of sugar. I started searching for an alternative that I could make at home. I didn't want a recipe that was full of hazelnuts, I wanted one that would be quick and easy and contain some hidden nutrients. I came across a recipe in
McKenzie's Homemade
recipe book that was an insert in the Feast magazine I read while on a weekend holiday a few weeks ago. It used dry chickpeas that you needed to cook. I decided to replace this with a drained can of chickpeas to speed up the recipe and guess what it turned out fantastic. With the help of my trusty Kambrook Food Processor it was blended into a paste in no time.
Give it a try, you may just be surprised and so might the kids at how good this actually tastes. I can image using this as a filling layer for cakes and many spoons being dipped into it as it really is that good.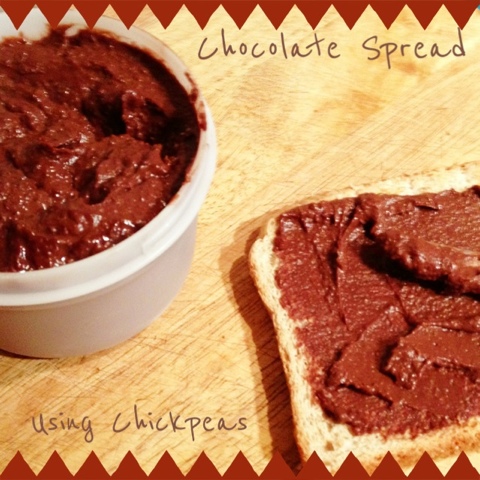 INGREDIENTS
1 400gm Can Chickpeas, drained and rinsed
1/2 Cup Cocoa
1/4 Cup Raw Sugar
1 Tbs Peanut Butter
100ml Light Olive Oil
2 Tbs Water
1Tsp Vanilla Essence
LET'S PUT IT ALTOGETHER
1. Simply place all ingredients into a food processor with the sharp cutting blade and process on high for 1 minute or until smooth.
2. Place in a air tight container in the fridge. It should last 1-2 weeks if it's not all eaten by then.
Best eaten after being in the refrigerator overnight as it firms up quite nicely.
KIDS REVIEW: I let Mr nearly 4 taste it before spreading it on his toast and he said "It's a little nice, but I want the real chocolate". So I did 50/50 Nutella and this Chocolate Spread I think I will have to slowly introduce it due to the extra sweet nature of Nutella.
MUMMY REVIEW: I can now have chocolate spread without feeling guilty, two thumbs up for me.

(Visited 4,777 times, 17 visits today)