If you are not a huge fan of the traditional fruit cake then this chocolate variation is exactly what you are looking for.  Dried fruits, dark chocolate and almonds make up the core flavours of this cake and I do have to say it is one of my favouite fruit cakes to date.
Best of all it has no mixed peel (you can use a mix with mixed peel if you do like it).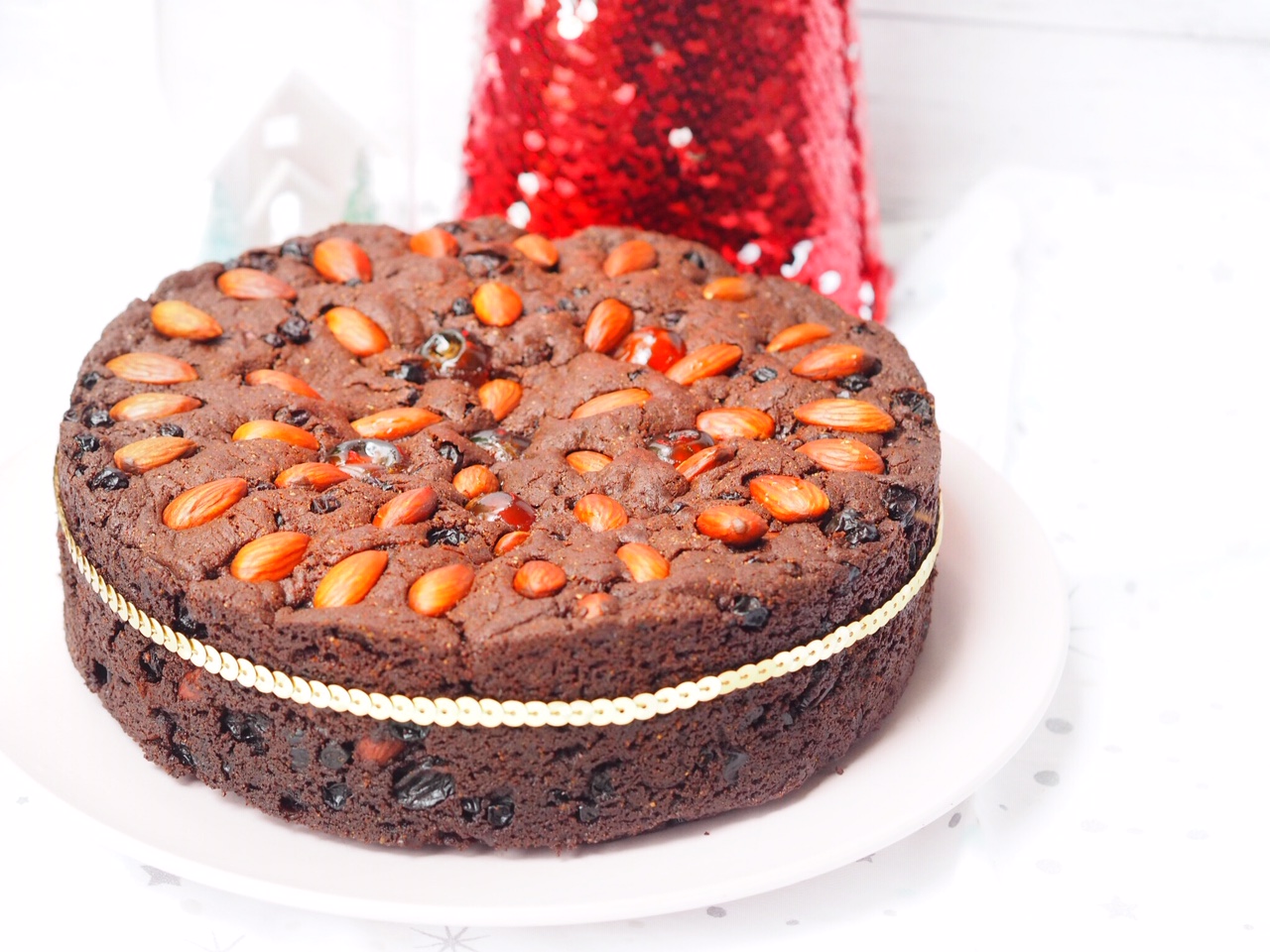 INGREDIENTS
200gm Butter, cubed
1 Cup Dark Brown Sugar
1 Packet (500gm) Sunbeam Gourmet Selection (Dried Fruit (dates, sultanas, figs, currents, cranberries)
1 Packet (200gm) Glace Red Cherries
150gm Natural Almonds
200gm Old Gold Dark Chocolate and Almond, broken into squares
1 Tsp Vanilla Extract
3 Tbs Brandy (optional)
1 Cup Self Raising Flour
1/4 Cup Cocoa
1 Tsp Mixed Spice
3 Eggs, Lightly Whisked
LET'S PUT IT ALL TOGETHER
1. Pre-heat the oven to 130 degree Celsius for fan forced or 150 degree Celsius for not.
2. Line a 20cm circular baking tin with baking paper.
3. Add the butter, sugar, mixed dried fruits (not cherries), chocolate, vanilla, and brandy (if using) into a large saucepan over a medium high heat.  Stir regularly until the butter and chocolate are melted and everything is mixed to combine.  Remove from the heat and allow to cool for 5 minutes.
4. The almonds need to be turned into almond meal.  This can be done using a Blitz2Go Pro or similar. Place 3/4 of the packet into the cup and blitz to form the almond meal.  Alternatively you can buy almond meal enough for 1 cup and almonds separately as you will need these to decorate the top.
5. Add the flour, almond meal, cocoa, mixed spice and eggs to the heat mix.  Mix through quickly until combined well.
6. Spoon into the cake tin and level out.  Use the remaining almonds and cherries to decorate the top.  Place into the pre-heated oven and bake for 2 hours or until a skewer comes out clean.
Leave in the pan to cool completely.
Once cooled, wrap the cake with a layer of baking paper and aluminum foil and place in an air tight container in the cupboard.  It can last up to two months if stored correctly.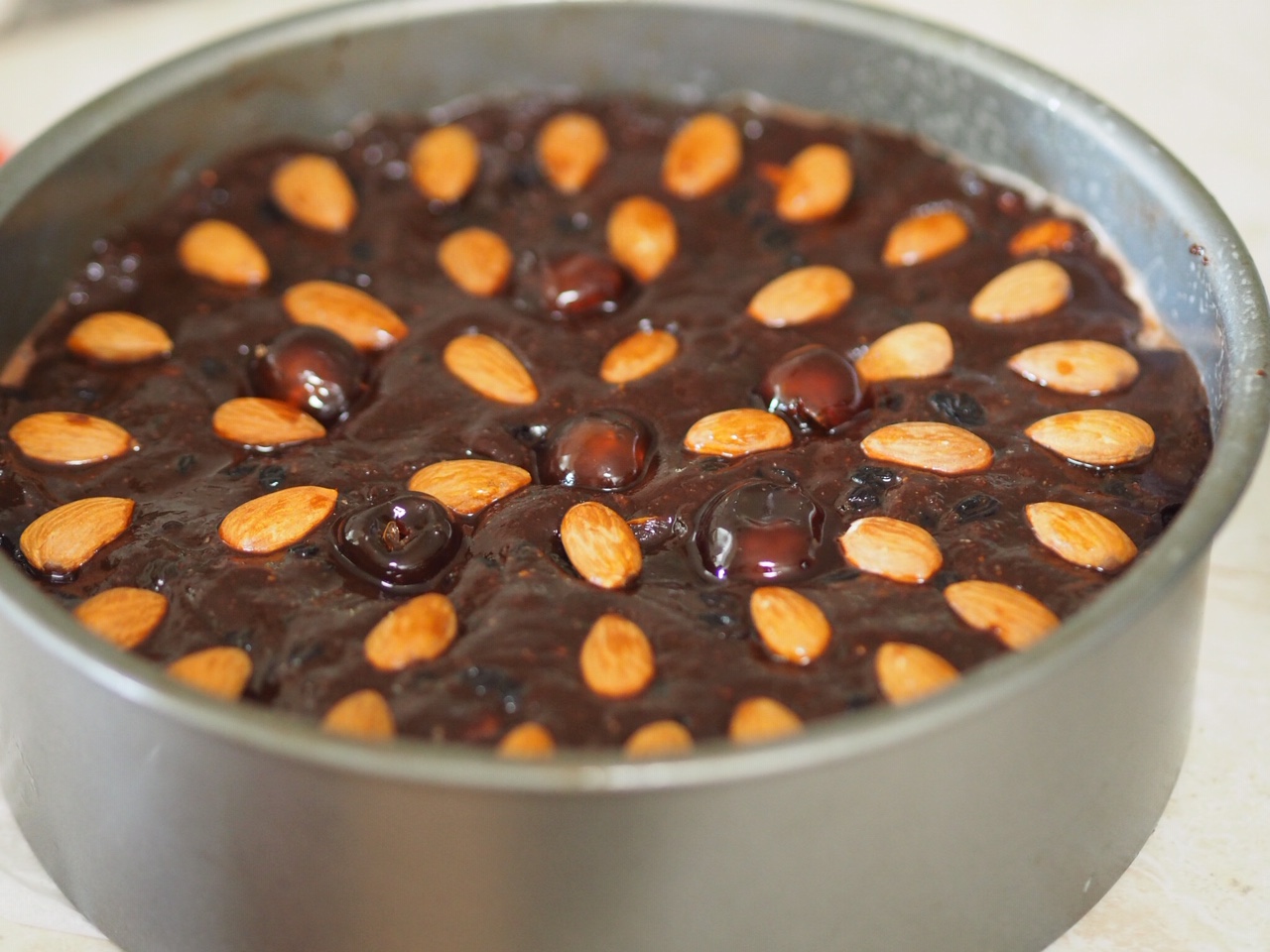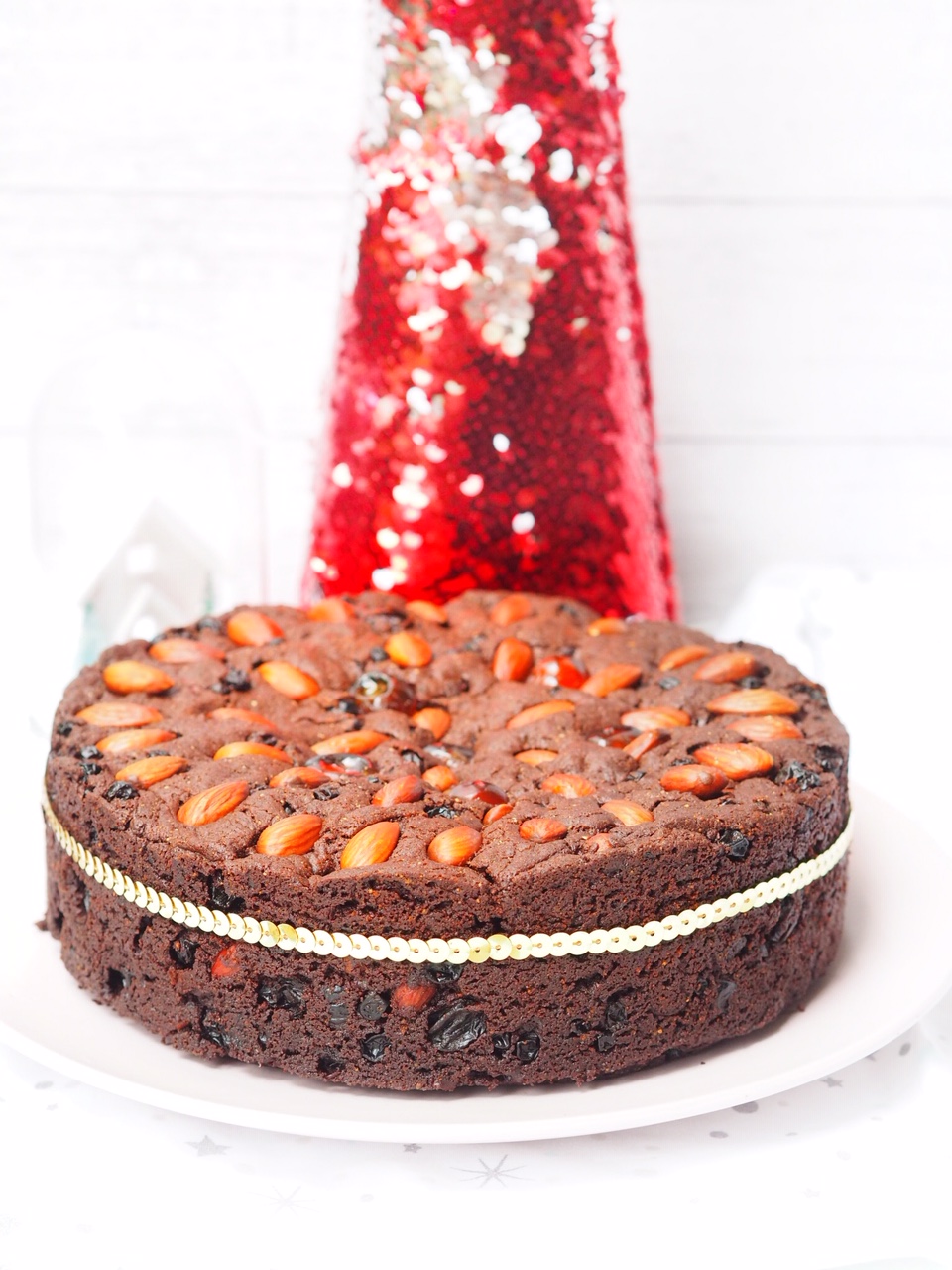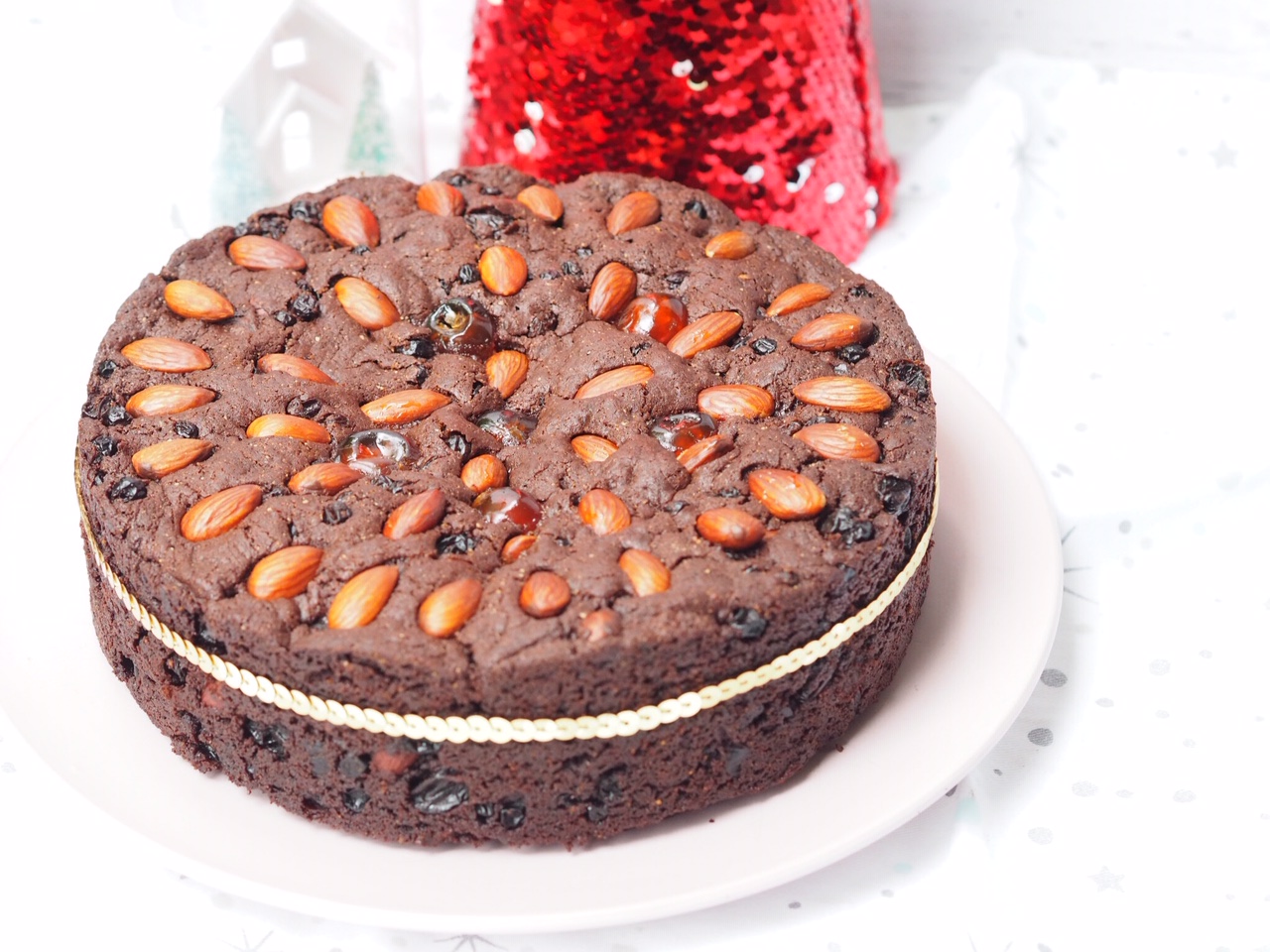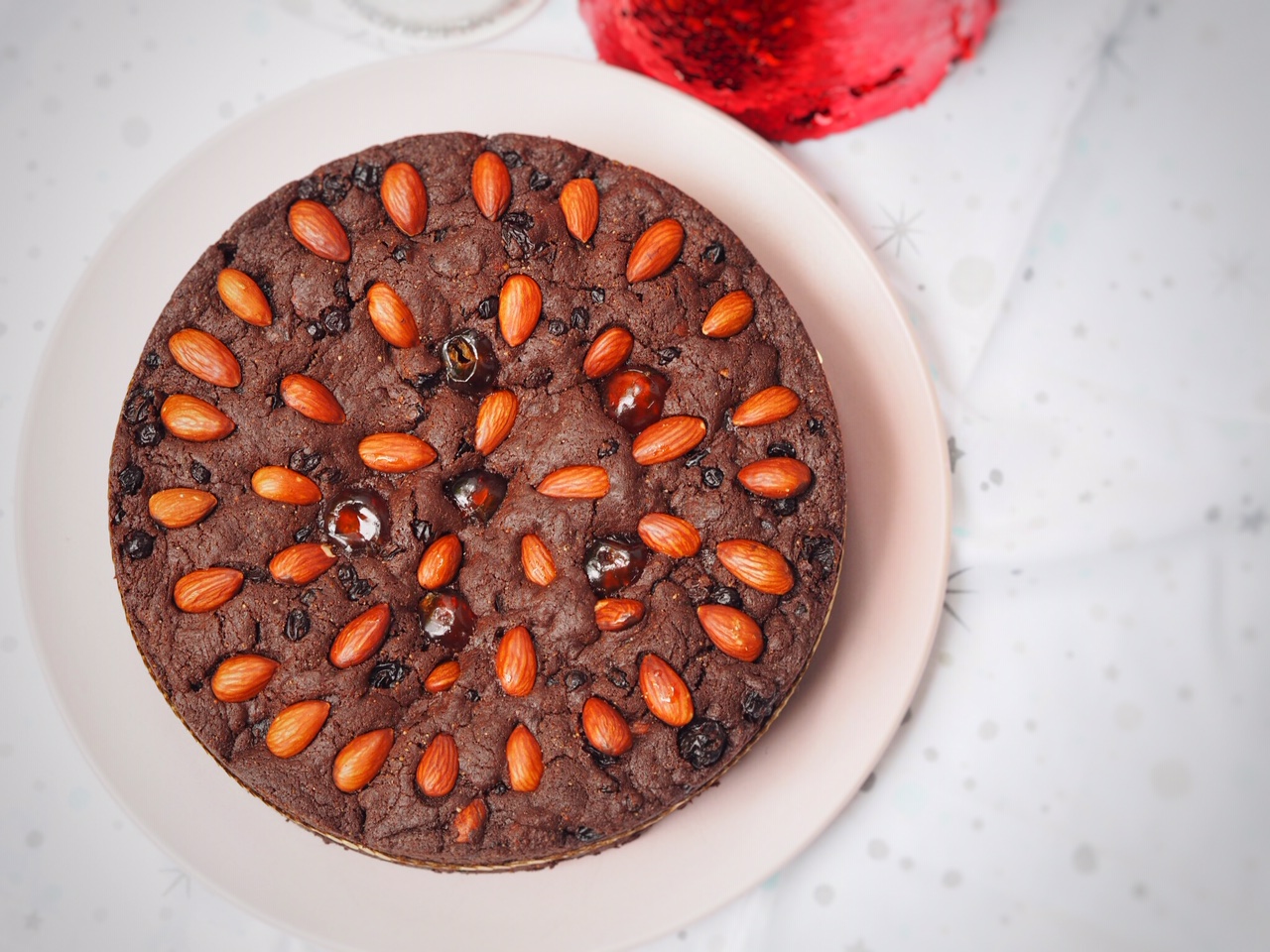 (Visited 1,257 times, 6 visits today)