These chocolate crinkle biscuits come out of the oven with a crinkle effect on top making them look a little more special then a standard chocolate biscuit.  Crunchy on the edges and soft in the middle with flecks of chocolate chops throughout these biscuits are a delight to eat.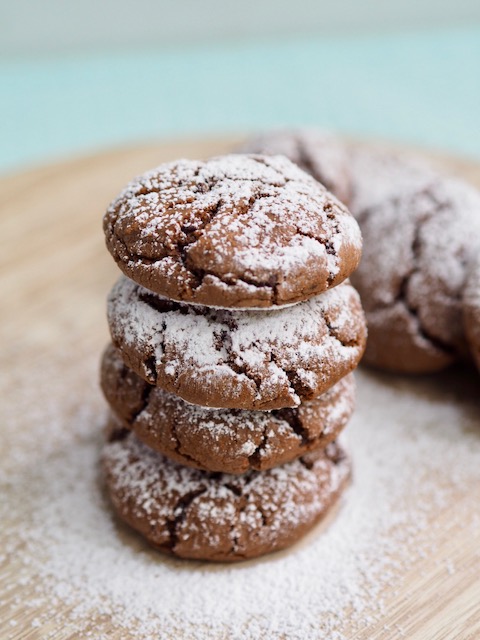 INGREDIENTS
100gm Butter, softened
3/4 Cup White Sugar
2 Large Eggs
1 Cup Chocolate Chips
1 3/4 Cups Self Raising Flour
1/4 Tsp Salt
1 Extra Cup Chocolate Chips
Icing Sugar, for dusting
LET'S PUT IT ALL TOGETHER
Using a food processor, stand mixer or thermostyle appliance, cream together the butter and sugar.  Add one egg at a time, mixing well after each addition.
Melt one cup of chocolate chips in the a microwave safe bowl.  Medium High for 45 seconds, mix to help the chocolate melt, if still not melted give them an extra 15 seconds.  You don't want them hot just melted.
Add the melted chocolate to the butter mixture and mix until well combined.
Add the flour, salt and chocolate chips and mix until well combined.  The dough should be able to be picked up and rolled into a ball without it being sticky.  If it is still sticky add a little extra flour and mix again.
Roll tablepsoon sized amounts of the dough into balls and place onto a lined baking tray.  Leave about a 3cm gap between each ball.  You should get 12 to a tray.  Repeat until all the dough is rolled.  I got 24 balls all together.
Place into a pre-heated 180 degree Celsius oven and bake for 10 minutes or until the edges are firm but the centre is still soft.  Remove from the oven and allow to cool on the tray for 5 minutes before transferring to a cooling rack.
Once cooled you can dust with icing sugar if you like.
Makes 24
Store in an airtight container in the cupboard for up to 5 days.  They can be frozen in ziplock bags.  In hot weather store in the fridge.

(Visited 6,202 times, 5 visits today)