Choc Mint Slice Brownie is the dessert you make when you are asked to bring dessert.  Why you ask?  Because you don't want this slice sitting in your fridge for too long otherwise you will eat it all and have to run one million kilometers to burn it off (I may be exaggerating a little). This brownie is like no other, total decadence and completely naughty!
Packed full of chocolate, choc mint slice biscuits, and all your brownie regulars you'll be getting requests to bring this for dessert time and time again.
While I have made this in the Bellini Supercook, I have also included conventional instructions which just means a little more washing up, after you have given a bowl a good ol' lick.
When you cut through the brownie you will clearly see the mint layer filling from the biscuit which the perfect mint surprise.
INGREDIENTS
200gm Dark Cooking Chocolate, broken into pieces
200gm Butter, cubed
3 Eggs
2 Extra Egg Yolks
1/2 Cup Sugar
3/4 Cup Plain Flour
1/2 Cup Cocoa
1 Pkt Choc Mint Slice Biscuits
Icing Sugar to serve
LETS PUT IT ALL TOGETHER
1. Place the chocolate and butter into the bellini jug, set to speed 1, 100 degree celcius for 2 minutes or until melted.
Alternatively: place the chocolate and butter in a microwave safe bowl and heat on medium in 3o second increments, stirring after each time until melted.
2. Add the eggs, and extra yolks one at a time with the motor running. Speed 4 for 20 seconds.
Alternatively: once the chocolate and butter have melted stir to combine, transfer to a larger bowl if need be and whisk in the eggs and extra yolks one at a time.
3. Add the flour, sugar and cocoa. Speed 3 for 20 seconds.
Alternatively: add the flour, sugar and cocoa to the bowl and mix through with a spoon to combine well.
4. Pour half the brownie mix into a greased and lined square baking dish.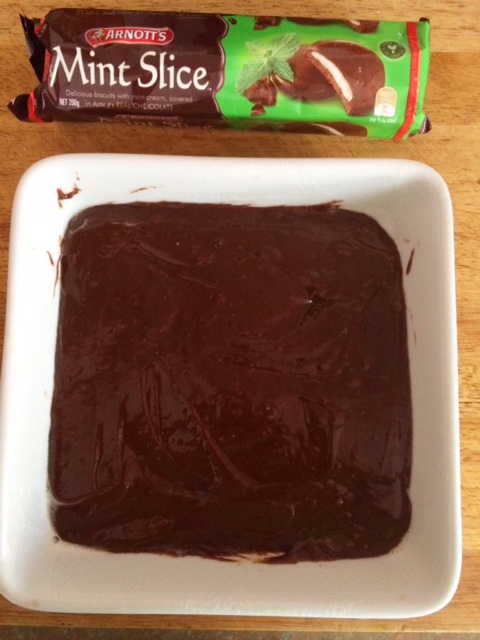 5. Top with choc mint slice biscuits.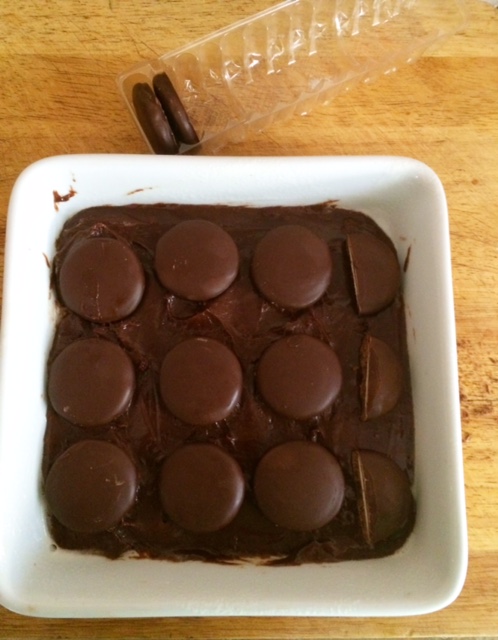 6. Pour the remaining batter over the biscuits and spread out evenly.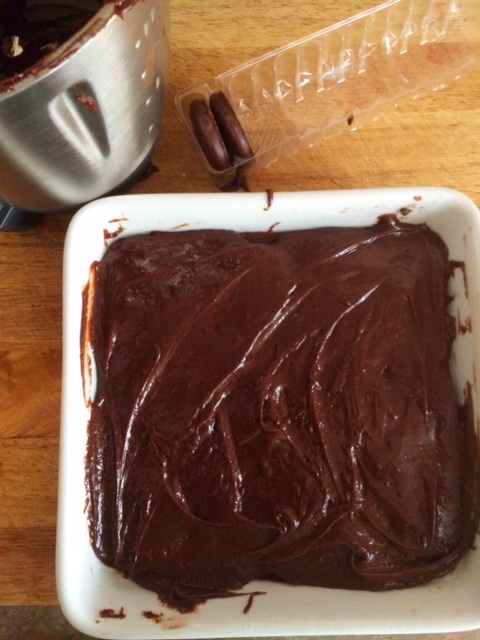 7. Place into a 160 degree celcius oven for 45 minutes.  You don't want to overcook the brownie.
8. Allow to cool completely and then place in the fridge for a final set. Approx 1 hour.
Cut into 16 pieces and dust with icing sugar.
Store in an airtight container in the fridge for up to 1 week (if it lasts that long)

(Visited 11,958 times, 7 visits today)