The weekends call for cooking that is a little more enjoyable and more experimental.  Don't you just love the look, smell and taste of the topped breads in bakeries? They always look so good when you walk by them.  Well I am about to show you how easy it is to make your own at home.
This cheesy garlic and chicken plait loaf looks amazing, smells amazing and you guessed it tastes amazing.  With the help of a bread maker you only have to physically do anything for about 10 minutes.
I am using D'Orsogna Shaved Roast Chicken.  I was really excited to see this now available at Woolworths a few weeks ago.  It comes in the budget friendly family value pack for $5 and is separated into two individually sealed sections which means you can enjoy fresh sliced meat all week.  Shaved chicken is a great variation to ham for pasta dishes, school lunches, cut up in salads, on pizza and as I am about to show you here as a topping to freshly baked bread at home.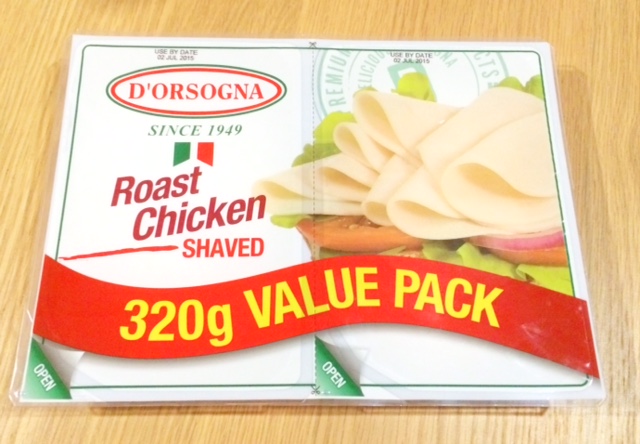 INGREDIENTS
To make the dough
380ml Water
40ml Olive Oil
2 Tsp Salt
2 Tbs Sugar
650gm Plain Flour
1 Tsp Bread Improver
1 1/2 Tsps Dried Yeast
Topping
160gm D'Orsogna Shaved Roast Chicken, diced
1 Cup Mozzarella or Tasty Cheese, grated
50gm Butter
1 Tbs Minced Garlic
Parsley to serve
LETS PUT IT ALL TOGETHER
1. Using a bread maker, add the dough ingredients into the bread pan and set to dough mode.  This is normally 1.5 hours in length.
If you don't have a bread maker, simply mix all the ingredients in a bowl, turn onto a floured bench and knead for a good 5 minutes or until the dough becomes smooth and forms a ball.  Place into a bowl covered with a towel and leave to prove for 1 hour. Know the dough back with your fist, cover and leave for a further 30 minutes to second prove.
2. Once the dough is ready, cut into three even sections.  Roll the dough into a log that is approx 3-4cm thick and 40-50cm long – repeat to make three logs.
3. On a lined baking tray place the three logs at the top and pinch together.  Then plait the bread until the end.  Turn the end pieces over to seal.
4. In the microwave melt the butter in a mug.  Add the minced garlic.
5. Brush the bread plait with the butter garlic and then top with the diced D'Orsogna Shaved roast chicken.
6. Place into a 180 degree celicus oven (it doesn't need to be preheated as the dough will continue to rise as the oven reaches temperature) and bake for 30 minutes.  Remove the loaf and sprinkle on the cheese, return to the oven for a further 10-15 minutes or until the cheese is golden and the bread bounces back when touched. Sprinkle with fresh parsley if you wish.
Best enjoyed warm, either on its own or dipped into soup, served with casseroles etc.
Uneaten portions should be stored in the fridge for up to 3 days.  Reheat before eating in either the microwave or slice and toast.
This is a sponsored post for D'Orsogna. Find more recipes like this one on the D'Orsogna Website and D'Orsogna Facebook Page.

(Visited 3,113 times, 6 visits today)