These yummy muffins also hide some extra fibre from the added sultana bran which is virtually untraceable once cooked.
*** You can replace the choc chips with extra sultanas or another dried fruit.
INGREDIENTS
2 1/2 cups self raising flour
1 Cup Sultana Bran, crushed
3/4 cup raw sugar
1 Cup Choc Chips
2 Tbsp Light Olive Oil or Vegetable Oil
1 1/4 cups skim milk
1 egg, lightly beaten
1 tsp vanilla essence
LET'S PUT IT ALTOGETHER
1. In a large bowl add the flour, sultana bran, sugar and choc chips. Mix well to combine.
2. In a separate bowl mix the milk, oil, egg and vanilla essence.
3. Add to the dry ingredients and mix lightly until just combined.
4. Place into a 12 hole lined muffin tray and bake in a 180 degree Celcius oven for 15 – 20 minutes or until golden brown on top and they bounce back when touched.
*Freezer Friendly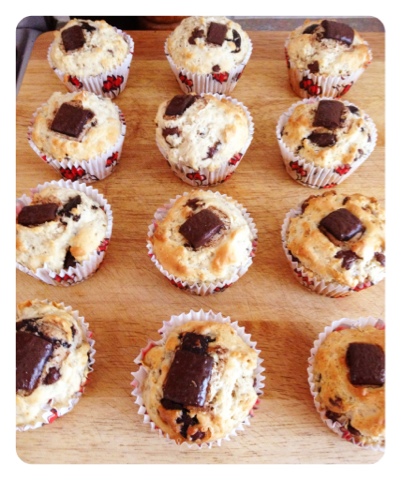 (Visited 711 times, 4 visits today)