This is another Friday night fakeaway dinner that is an absolute winner.  I love Chinese satay chicken from the restaurant but I have never made it at home. I had to rectify that and make a super easy, oh so tasty version at home.
The spice flavours are mild in this dish as I wanted the kids to eat the same meal and boy did they love it.
I use the process called 'velveting' the chicken to make it the same as you get from the Chinese restaurants.  Basically all you do is marinate the chicken in bicarbonate soda for 20 minutes, rinse the bicarbonate soda off and when you cook the chicken it becomes tender and juicy.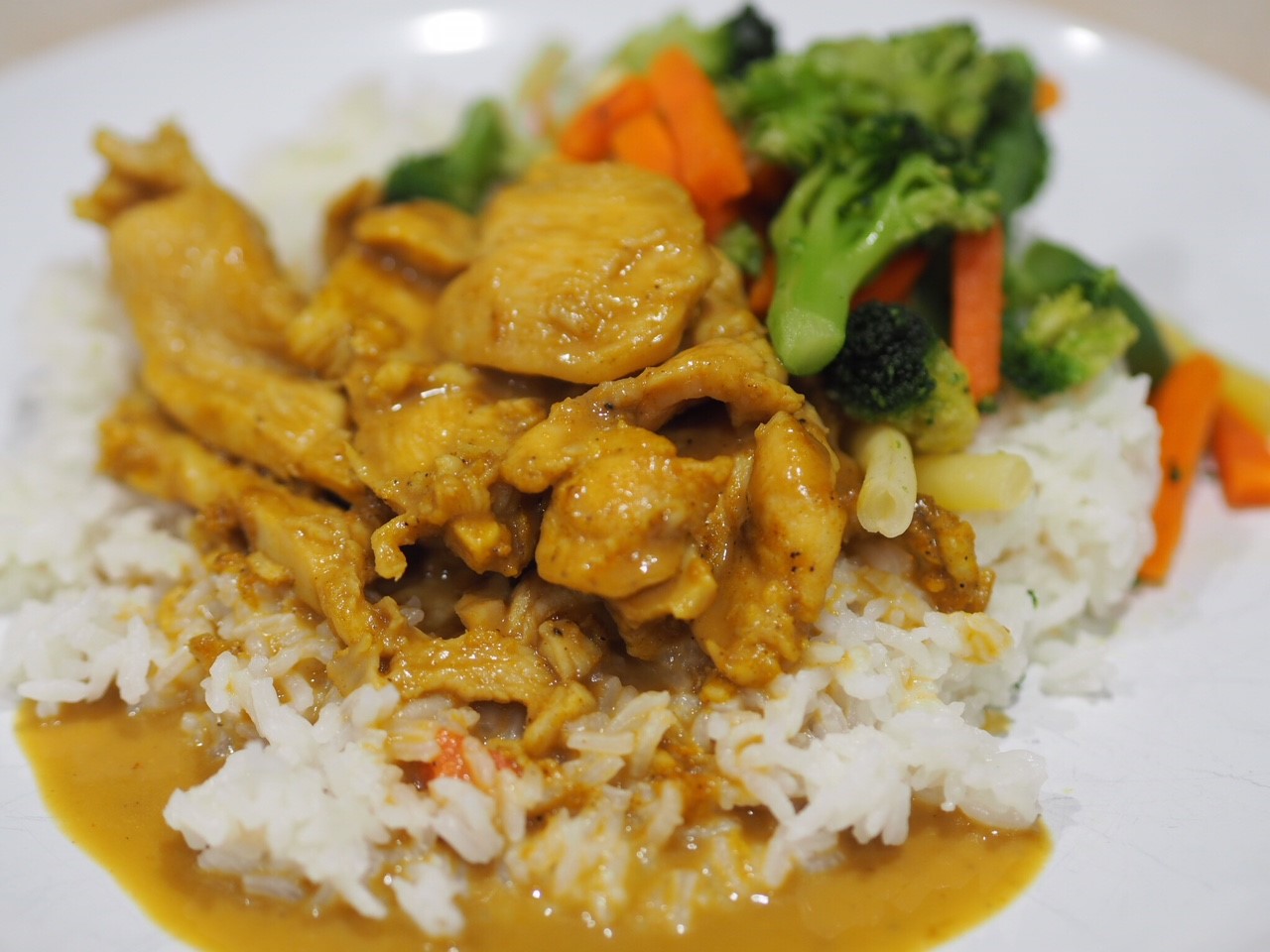 INGREDIENTS
3 Chicken Breasts, sliced on the short side at about 5mm thick
1 Tsp Bicarbonate Soda
1 Onion, diced
1 Tsp Minced Garlic
1 Tbs Coconut Oil (or another oil you use)
1 1/2 Tsp Keens Curry Powder (you can adjust this to less or more, depending on how hot you want it)
1/2 Tsp Cumin powder (optional)
Satay Sauce
3 Tbs Smooth Peanut Butter
2 Tsp Maple Syrup (or brown sugar)
3 Tsp Light Soy Sauce
2/3 Cup Coconut Milk
1/2 Cup Water
2 Tsp Apple Cider Vinegar (or rice vinegar)
To serve
Steamed Stir Fry Vegetables
Coconut Rice – simply replace 3/4 of the quantity of water you would use to cook the rice in with coconut milk.
LET'S PUT IT ALL TOGETHER
1. Place the sliced chicken and bicarbonate soda into a bowl.  Massage the bicarbonate soda into the chicken and then place in the fridge to marinate for about 20 minutes.
2. While the chicken is marinating, place all of the satay sauce ingredients into a jug and mix.  Set your rice to cook.
3.  Once the chicken is ready, wash it under running water in the sink.  Strain out any excess water and then pat dry in the bowl with a paper towel.
4. Place a large non-stick fry pan over a high heat.  Add the oil, onion and garlic and cook until the onion softens.
5. Sprinkle the curry powder and cumin if using over the chicken in the bowl and toss to coat.  Add the coated chicken to the fry pan and cook until almost cooked through.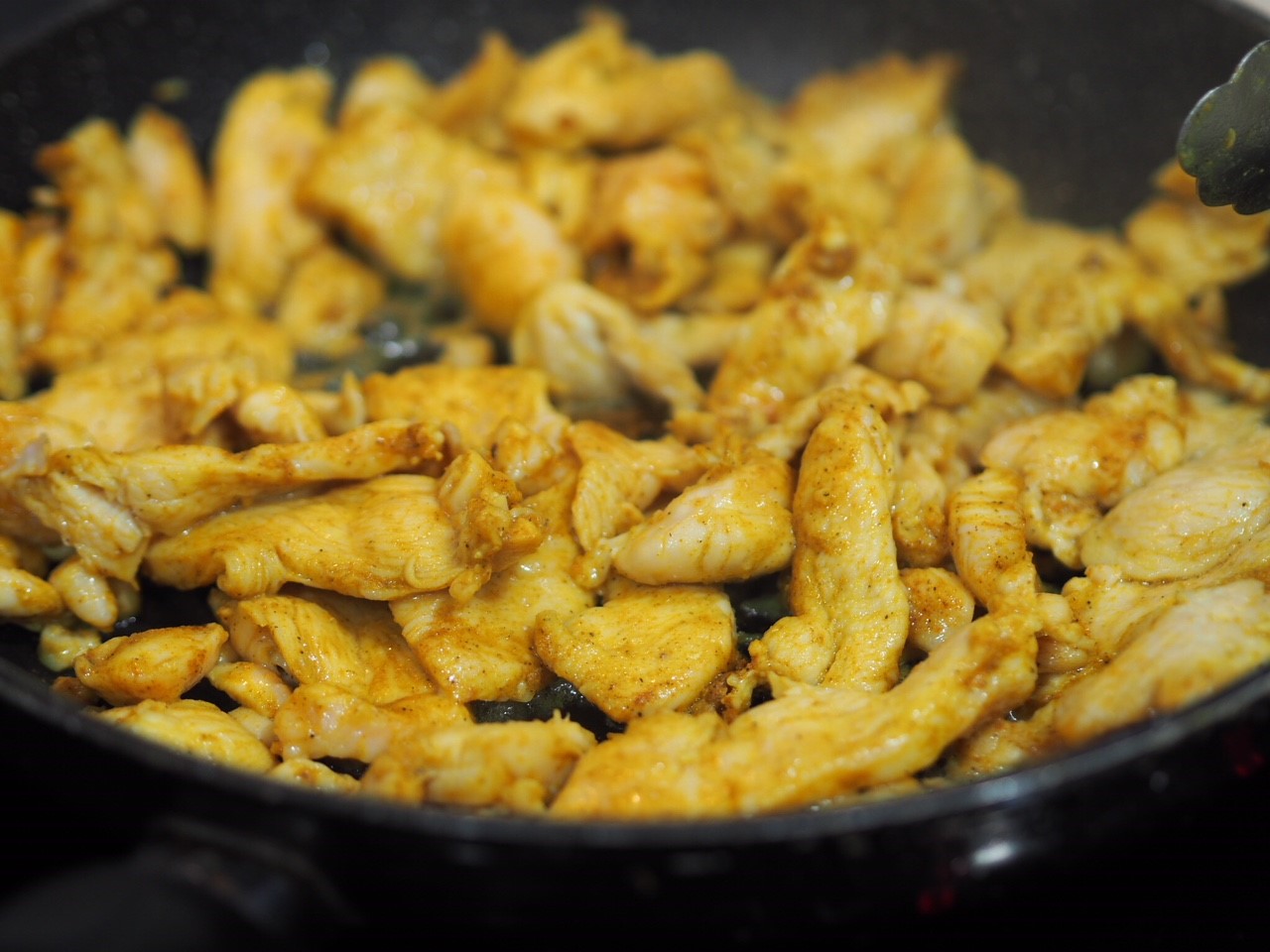 6. Pour in the satay sauce mix and stir through.  It will begin to thicken quickly.  Reduce to a low heat and leave to simmer for 5 minutes, it is then ready to serve.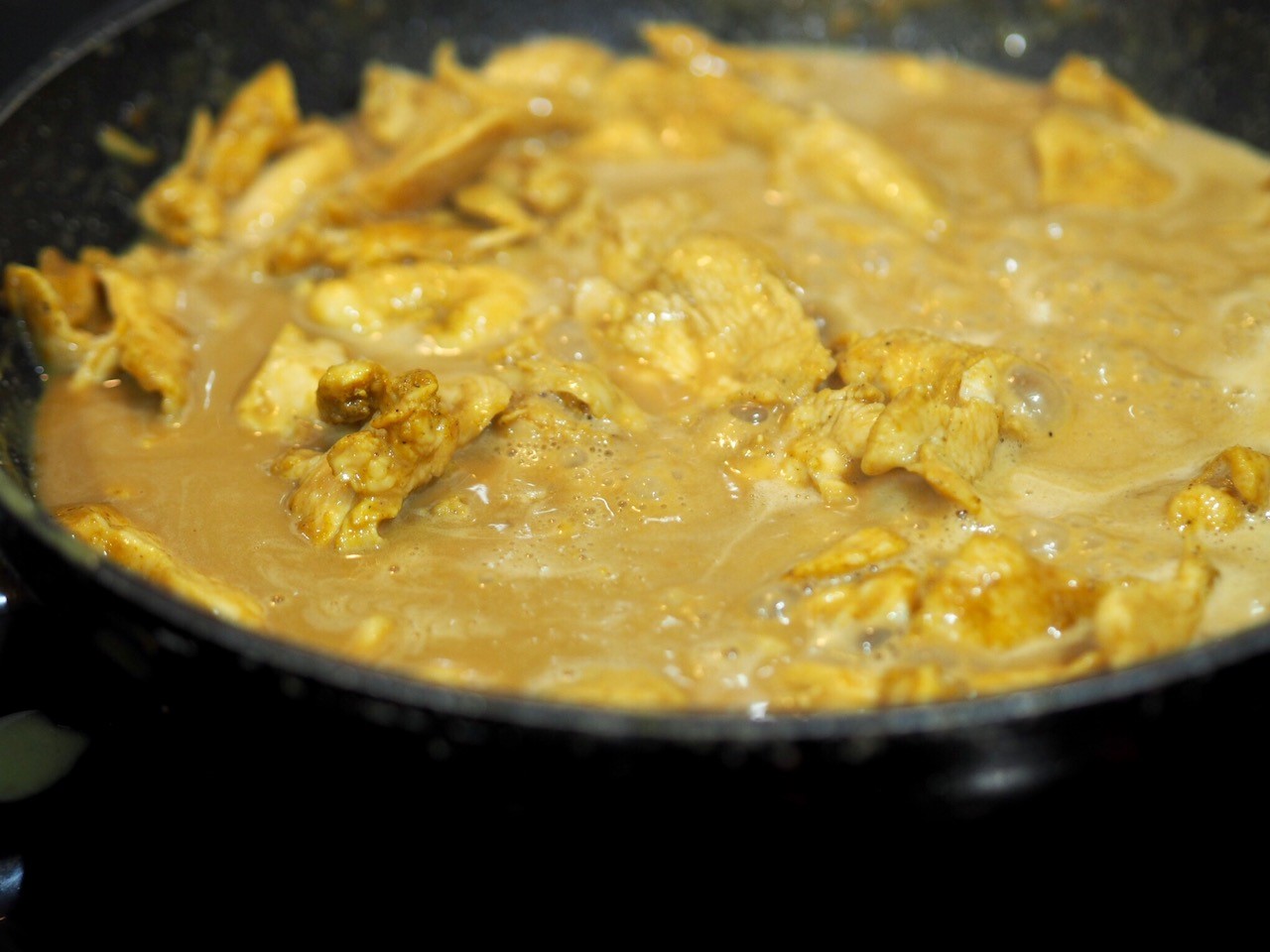 **For the vegetables I used a packed of frozen stir fry vegetables that I cook separately.  You can do this while the chicken is cooking.
Serves 4 – 6 – Serve with the vegetables and coconut rice.
Store leftovers in the fridge in an airtight container for up to 3 days.
Freezer Friendly: Store serving size portions in a freezer safe container and freeze for up to 3 months.  Thaw in the fridge before reheating.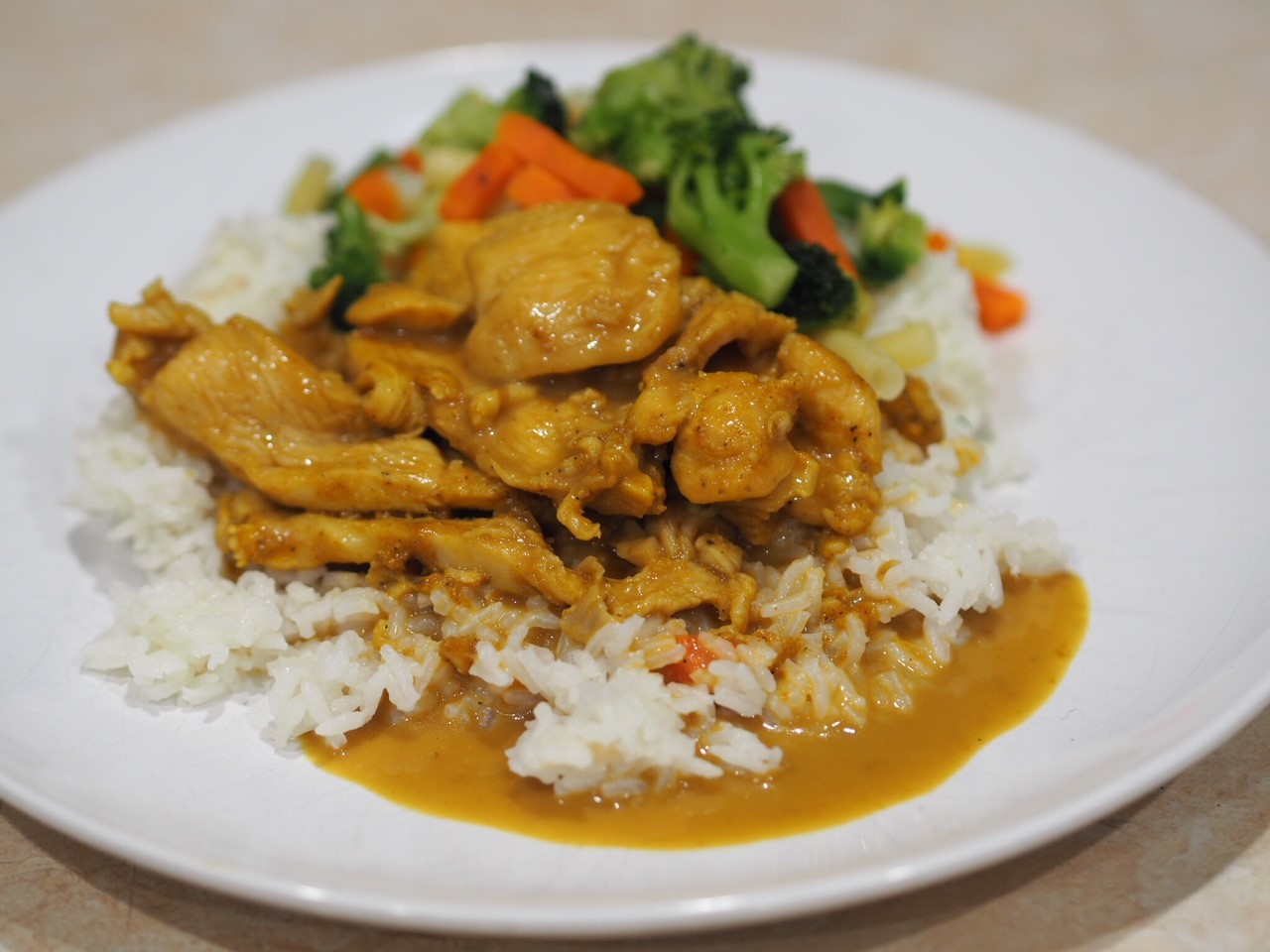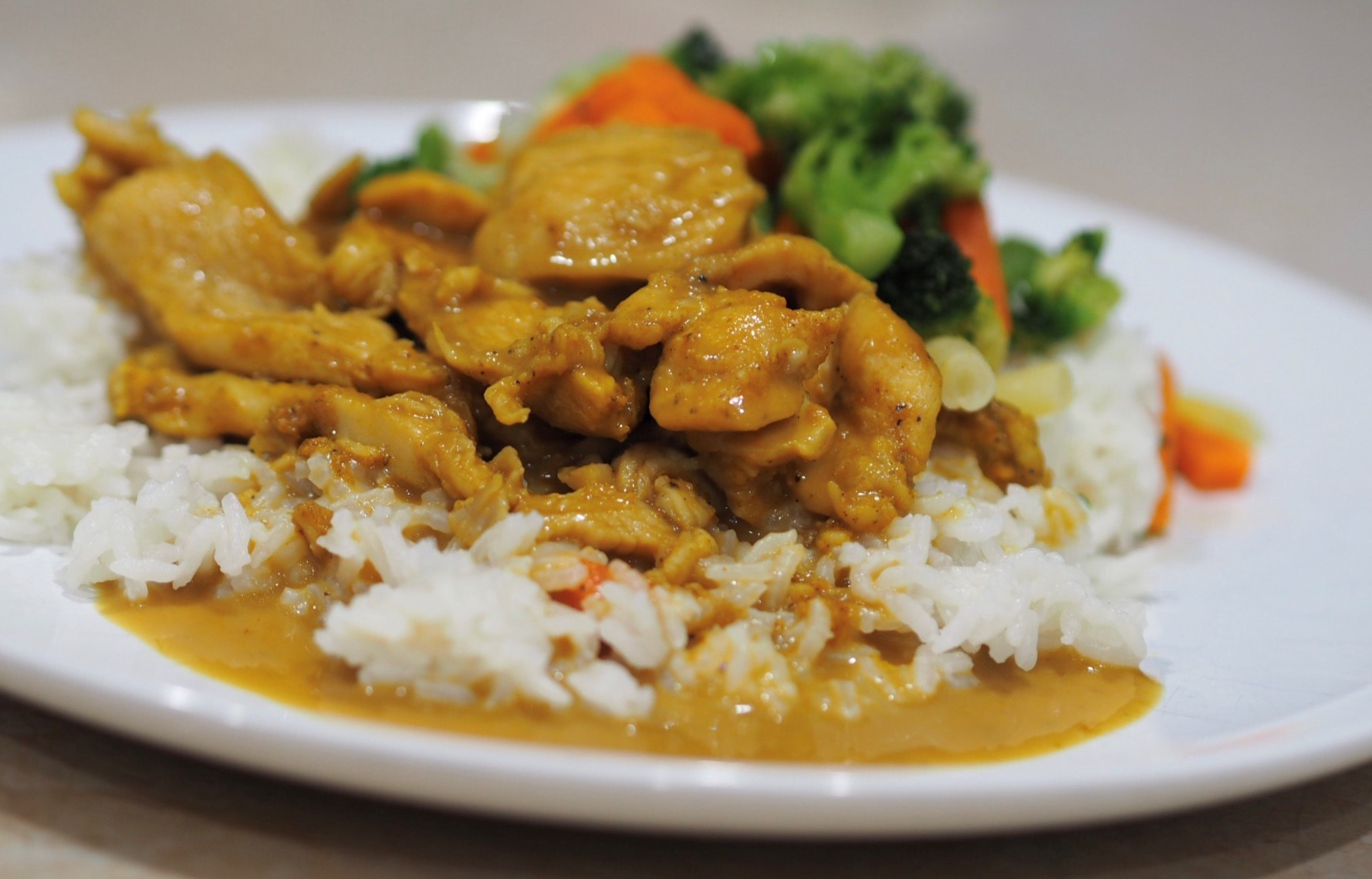 (Visited 14,936 times, 67 visits today)