INGREDIENTS
1kg of Chicken Thighs, cut into strips
250gm Mushrooms, sliced
1/2 Red Capsicum, sliced
1 Small Broccoli, cut into flowerettes
1 Onion, sliced finely
2 Tsp Minced Garlic
1/4 Cup Wostershire Sauce
1 Tbs Seeded Mustard
1 1/2 Cups Chicken Stock
1/2 Cup Sour Cream
Flour to coat chicken
Salt and pepper to taste


LET'S PUT IT ALTOGETHER
1. Place to chicken strips into a bowl with flour, salt and pepper. Mix through to coat all chicken pieces.
2. In a large frypan or pot, place some olive oil the onion and garlic and cook until the onion is soft.
3. Gradually add the chciken to the pan and cook until it starts to brown.
4. Add the mushrooms,capsicum and broccoli, cook until they start to soften.
5. Add the Wostershire sauce and seeded mustard and stir through to combine.
6. Add the chicken stock and reduce to a simmer for 10 minutes.
7. Add the sour cream. Mix through and allow to continue simmering for another 5-10 minutes.
8. Serve with pasta, rice, noodles or mash potato.
SERVES 4-6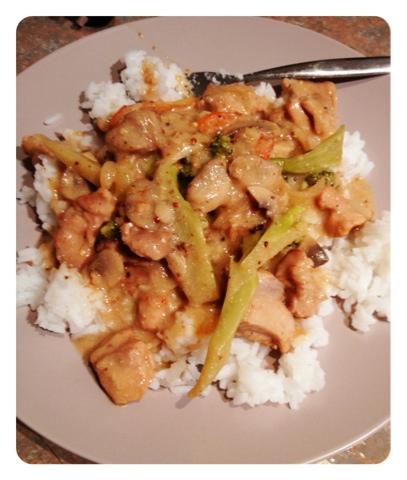 (Visited 4,244 times, 1 visits today)