This chicken and bacon alfredo is delicious and easy.  It makes the perfect mid-week dinner as it is on the table in no time.
I am using D'Orsogna's new range of 100% natural premium shortcut bacon.  The second that you open the twin pack you can smell and feel the difference of the 100% natural bacon compared to standard bacon's.  It contains no nitrates, artificial colours, flavours and preservatives and is gluten free.
I also found this pappardelle pasta at Woolworths, I was drawn to how good it looked uncooked and it didn't let me down once I was eating it.  It was a nice change from the standard thin pasta's and meant you didn't need to eat as many to feel full and satisfied.
I cut down the fat content of the dish by using lite cooking cream and of course I couldn't go past adding a vegetable to the dish to bulk it up and balance it out.  Zucchini works really well, you could also try mushroom.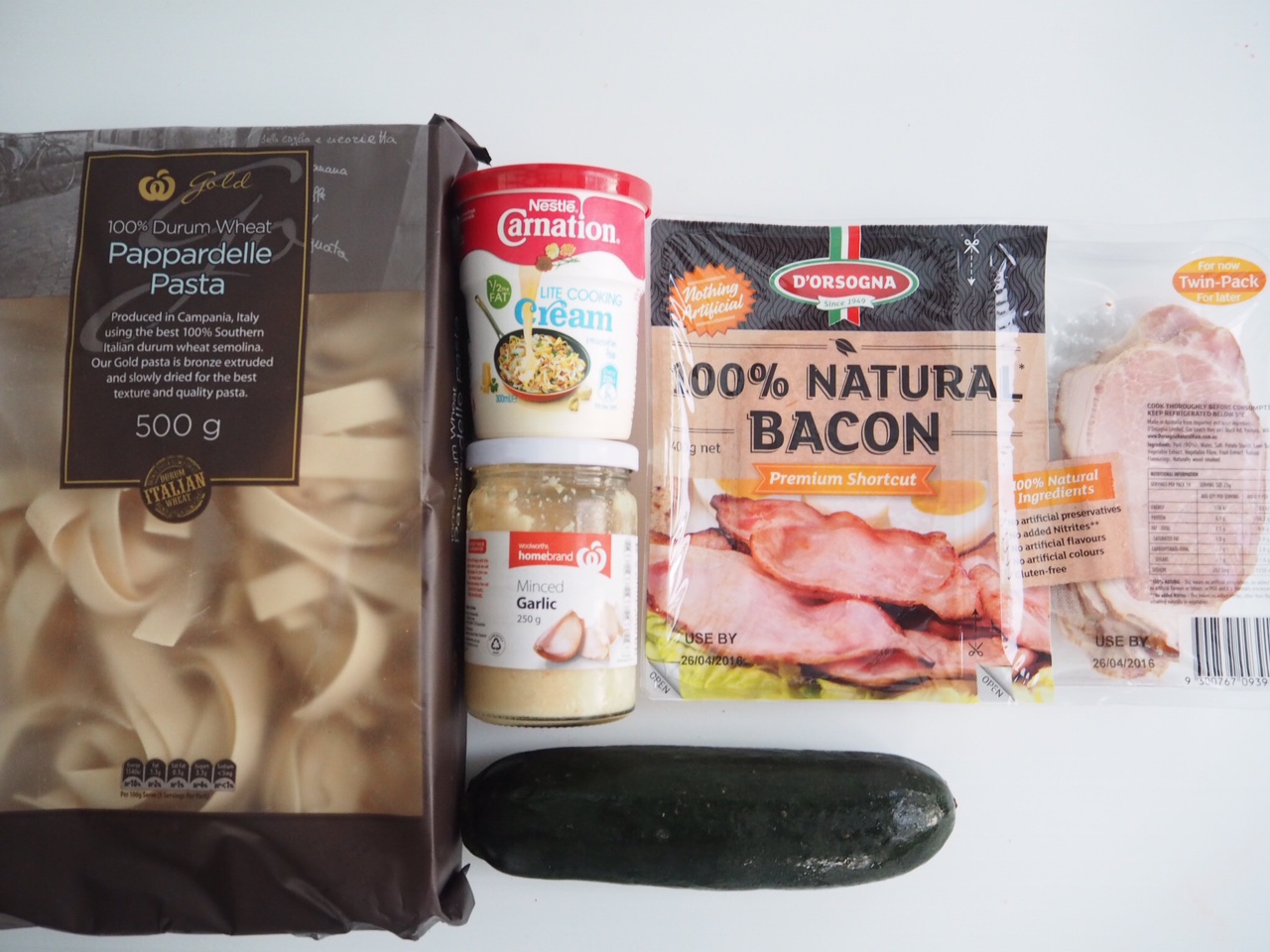 Essentially this is a one pot dish as the sauce and pasta cook together which makes me happy as I have less washing up to do.
INGREDIENTS
1 Large Chicken Breast, small diced
150gm D'Orsogna 100% Natural Bacon, fine diced
1 Small Zucchini, fine diced
250gm Pappardelle Pasta
300ml Lite Cooking Cream
300ml Chicken Stock
2 Tbs Minced Garlic
1/2 Cup Parmesan, grated
Olive Oil, for cooking
LET'S PUT IT ALL TOGETHER
1. Add a splash of olive oil, followed by the garlic to a large pot over a medium high heat.  Cook for 1 minute.  Add the chicken and zucchini and cook stirring regularly until cooked through.
2. While the garlic and chicken are cooking place the bacon into a small fry pan over a high heat and cook until crunchy.  By the time the chicken and pasta are cooked the bacon will be ready.
3. Add the cream, chicken stock and uncooked pasta to the pot stir through and reduce to a medium heat.  Place the lid on and leave to cook for 10 minutes stirring occasionally.  During this time the pasta will cook and the sauce will thicken.
4. Stir through the parmensan cheese and remove from the heat.  Serve into bowl and sprinkle on the crispy bacon.
Serves 4
Store in an airtight container in the fridge for up to 3 days.
Freezer friendly: Once cooled transfer to a air tight freezer safe container and freeze for up to 3 months.  When ready to eat simply defrost in the fridge before heating in the microwave.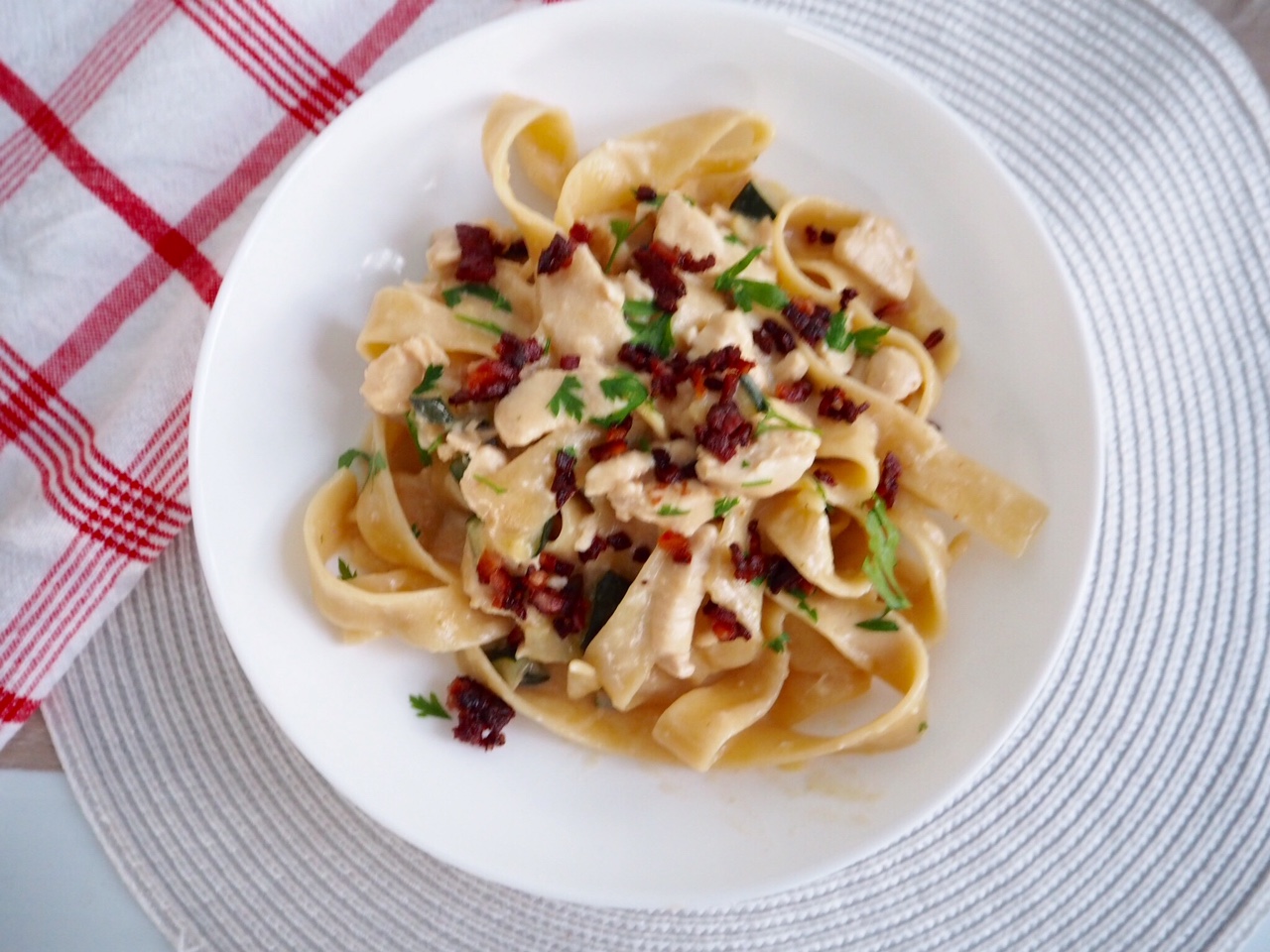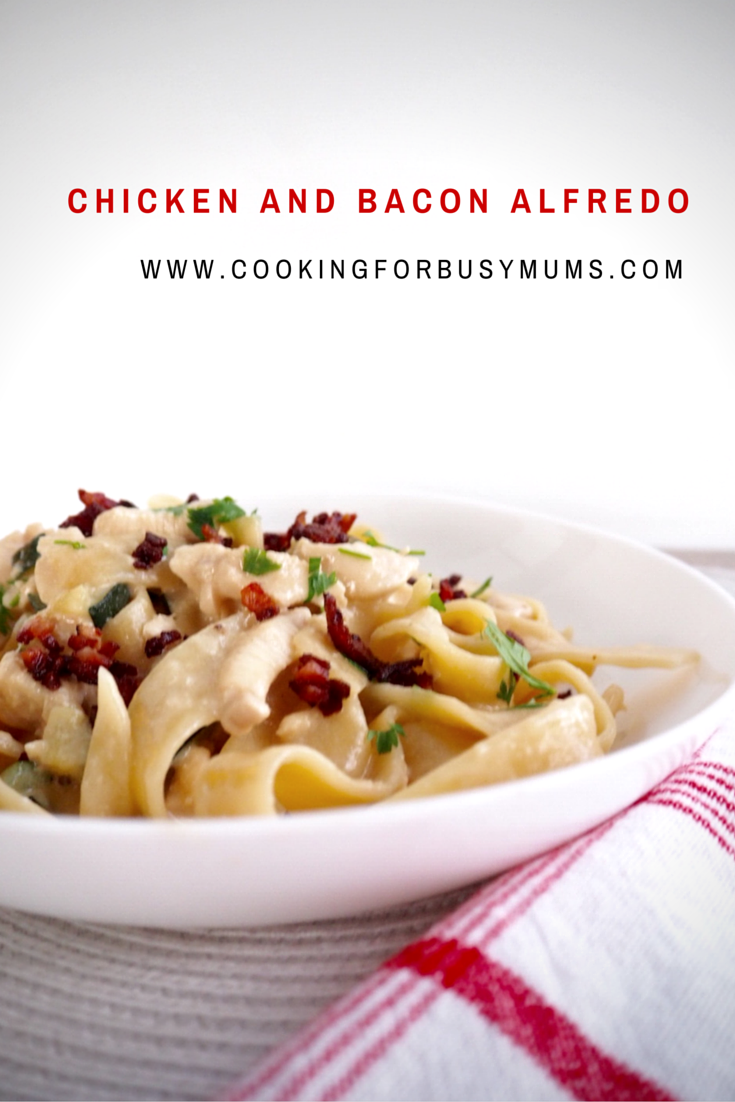 This is a sponsored post for D'Orsogna. Find more recipes like this one visit the D'Orsogna Website and D'Orsogna Facebook Page.

(Visited 12,896 times, 6 visits today)