If I asked my boys what they would like for dinner I would get back a few standard responses, pasta, sausages, pizza!  I have never been asked for a salad, spinach or zucchini (but they have eaten many of these without knowing) so my green hating boys continue to eat them in the many dishes I put together with their favourite foods.
This recipe is a great after work meal, a few steps to prepare and then simply leave in the oven and its done.  I am using my favorite pasta sauces from Barilla (not sponsored) and this time it is the Cheese and Tomato Pasta Bake – the flavour is the closest I have found to my homemade sauces and they are convenient for a meal after work.
I am using gourmet Lamb and Rosemary Sausages that I had in the freezer, these have a lovely flavour and are a little more wholesome then the standard beef sausage.
INGREDIENTS
1 Jar Barilla Cheese and Tomato Pasta Bake Sauce
500gm Sausages
400gm Penne Pasta (uncooked weight)
1 Zucchini, diced
2 Handfuls Baby Spinach
1 Cup Grated Cheese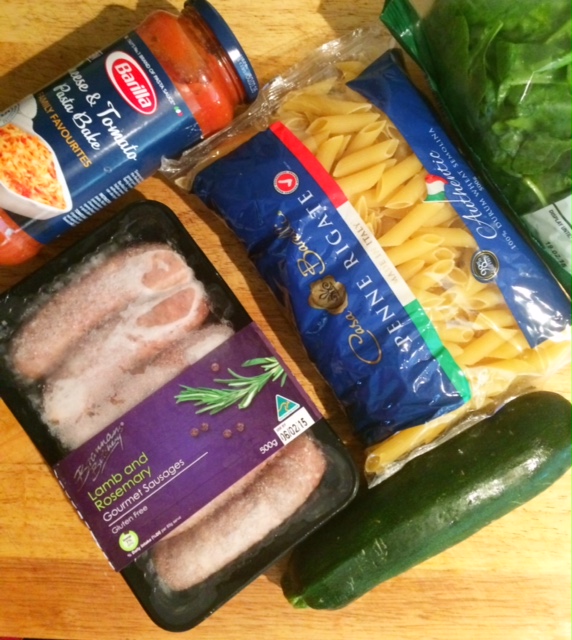 LETS PUT IT ALL TOGETHER
1. Place a large pot of water on the stove and bring to the boil, add the pasta and diced zucchini and cook until just cooked.  You want it to be a little under cooked as it will finish cooking in the oven.
2. Seal the sausages in a hot fry pan while the pasta cooks.  You just want to brown the outsides. Remove from the pan, allow to cool slightly and then slice into pieces.
3.  Once the pasta is ready, drain and return to the pot.  Add the pasta sauce, sliced sausages and baby spinach.  Mix well to combine.
4. Pour into a baking dish and sprinkle with the grated cheese.
5. Place in a preheated 200 degree celcius oven for 20 minutes.
Enjoy.
Serves 4-6
Great for leftovers.  Store in the fridge in an airtight container for up to 3 days.

(Visited 12,066 times, 17 visits today)