I do love a good cheat dinner, that is one that requires minimal preparation or cooking and this butter chicken is just that.  I don't have the time to mix together the multitude of spices needed to make this curry so a good store-bought variety will do.
This butter chicken is mild and sweet and enjoyed by the whole family.  Serve with steamed rice and you have a great dinner that is also freezer friendly, so double the ingredients and make pop one in the freezer.
Make sure you buy the Tikka Masala Paste (not simmer sauce).  The paste is more concentrated and you will get two meals from the one jar.
INGREDIENTS
1/2 Jar Pataks Tikka Masala Paste (my favourite brand)
1 x 410gm Can Crushed Tomatoes
300ml Coconut Milk Light
1 Medium Sweet Potato, diced
1 Onion diced
500gm Chicken Thighs, cubed
Olive oil
LETS PUT IT ALL TOGETHER
1. In a heavy based porcelain pot over a high heat add a splash of olive oil, followed by the onion.  Cook until it starts to soften.  Add the chicken and cook stirring until lightly browned.
2.  Add the tikka masala paste and stir through.  Cook until the flavours are released, about 1 minute.  Add the remaining ingredients and reduce to a simmer.  Cook for 30 minutes with the lid on, stirring occasionally to make sure the chicken doesn't stick to the bottom.
Serve over steamed rice with added peas.
Serves 4 (6 if little people re eating).
Perfect for leftovers: place into an airtight container and store in the fridge for up to 3 days.  Reheat before eating.
Freezer friendly: place into a freezer safe container and freeze for up to 3 months.  Defrost and heat before eating.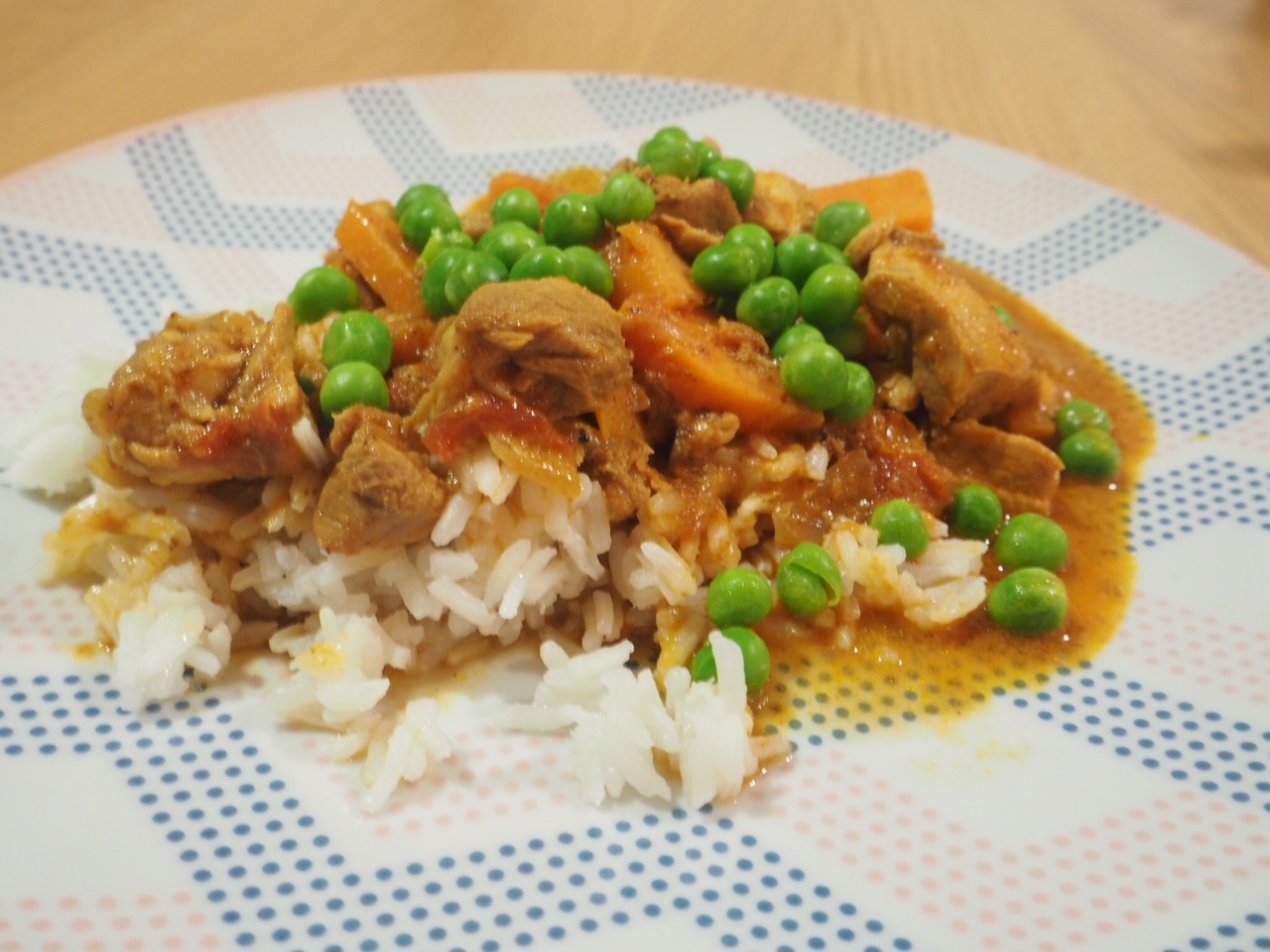 (Visited 10,826 times, 16 visits today)