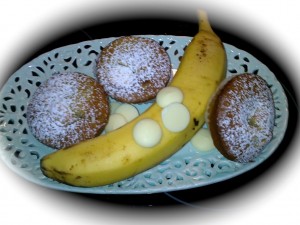 INGREDIENTS
125gm low fat margarine
1 cup Castor Sugar
2 Eggs
3 Overripe bananas mashed
1 1/2 Cups Self Raising Flour
1 tsp Bicarb
1/4 Cup Milk
1 Cup White Choc Chips
LETS PUT IT ALTOGETHER
Using a food processor or a electric beater, combine the margarine and castor sugar until a creamy texture is achieved.
Then add the eggs one at a time, beating well after each addition.
Add the mashed bananas and combine.
Add the Self Raising Flour and Bicarb and combine.
Add the milk and mix until well combined.
Add the white choc chips and stir through.
Place into muffins case and bake in a moderate 180 degree oven for 15 minutes.
Dust with icing sugar to serve.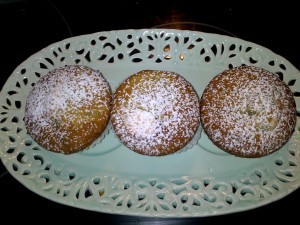 To make a dairy free alternative, replace the margarine four Nuttelex and the milk for water or soy milk and the choc chips for sultanas or other ingredient of choice.

(Visited 434 times, 5 visits today)