I love frittata's because I don't have to fuss around with pastry, when it cooks it forms its own crust like texture on the outside.
I had some leftover D'Orsogna 100% Natural shortcut bacon in the fridge along with some halloumi that we only ate a little of during the week and diced to whip up this easy meal to have for lunch one Saturday.
It was easy to get everything together and leave it to cook in the oven while we got everything ready for a day at the beach (yes, we are lucky in QLD the beaches are absolutely beautiful in Winter).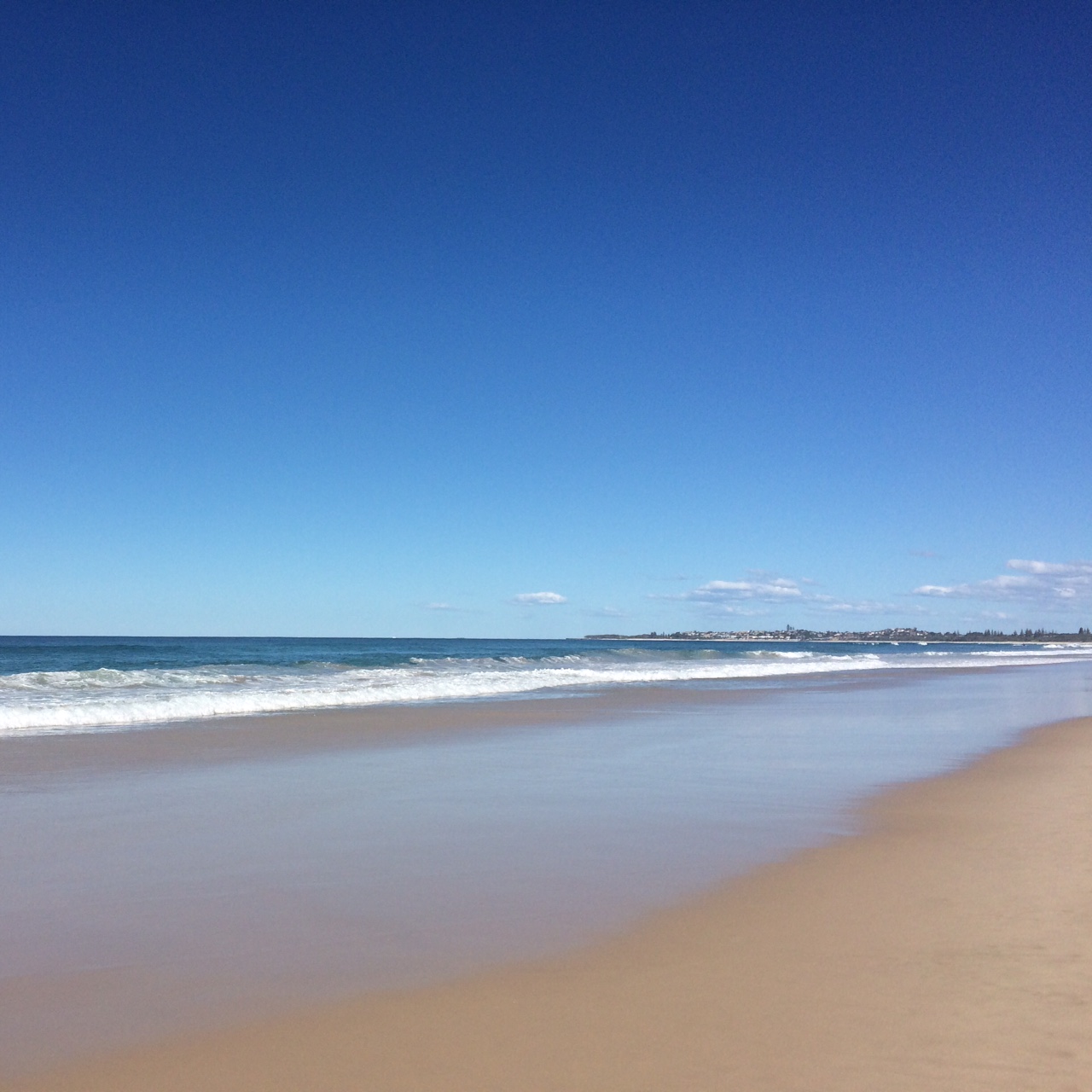 Not only is is a great lunch dish to take with you it is perfect to eat for breakfast or send in the school or work lunchbox.  It is also freezer friendly too.
INGREDIENTS
4 Slices of D'Orsogna 100% Natural Premium Shortcut Bacon, diced
1 Cup Sweet Potato, peeled, cubed and steamed
200gm Halloumi, sliced
1 Onion, peeled and diced
5 Eggs
1/2 Cup Thickened Cream
1/3 Cup Plain Flour (you can use Gluten Free if you wish)
Salt and Pepper, to taste
LET'S PUT IT ALL TOGETHER
1. Steam the diced sweet potato either in the microwave or in saucepan with enough water to cover the sweet potato and with the lid on.  It should take about 10 minutes.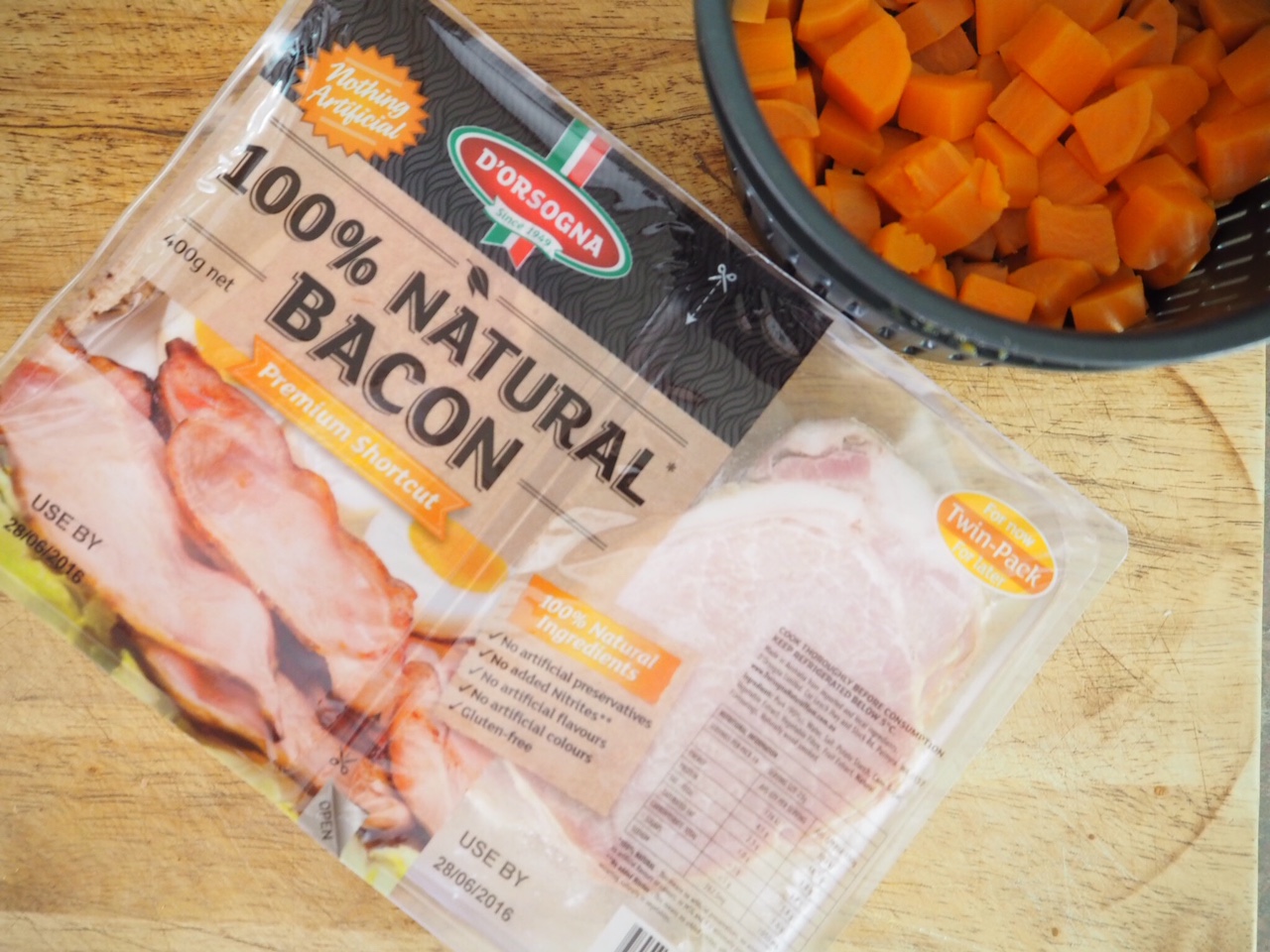 2. In a large non stick frypan place the bacon and onion.  Cook until the onion softens.  Push the onion and bacon to one side of the frypan and add the sliced halloumi.  Cook the halloumi until browned on both sides.
3. Line a 20cm square baking dish with baking paper.  Add half the cooked sweet potato, followed by the bacon, onion and halloumi and the remaining sweet potato.  Spread out to distribute evenly.
4. Whisk together the egg, cream, flour and salt and pepper.  Pour over over the ingredients in the baking dish.  Place into a preheated 180 degree Celsius oven for 30-45 minutes or until it bounces back when touched.  Allow to cool in the dish for 5 minutes before transferring to a cooling tray.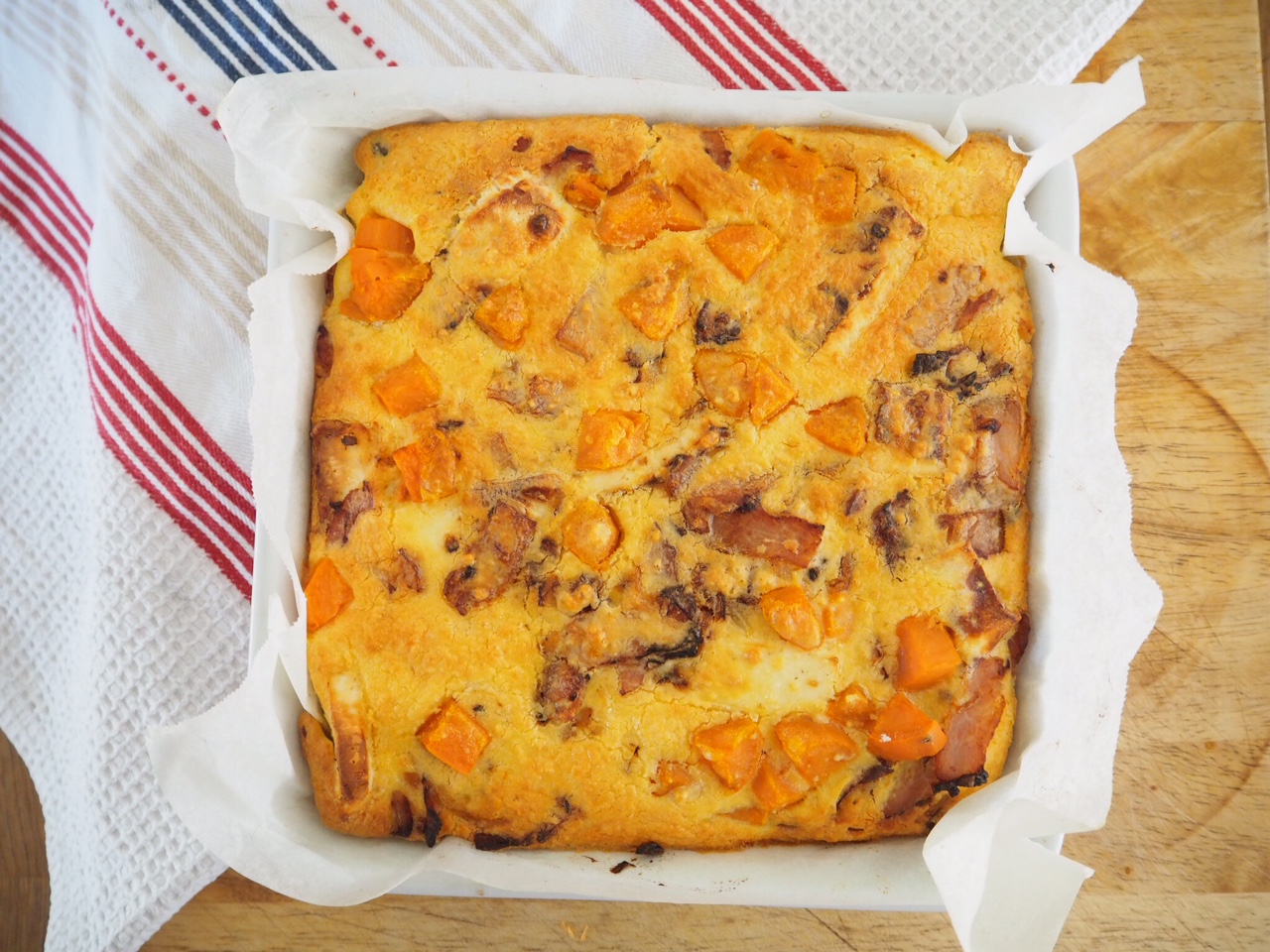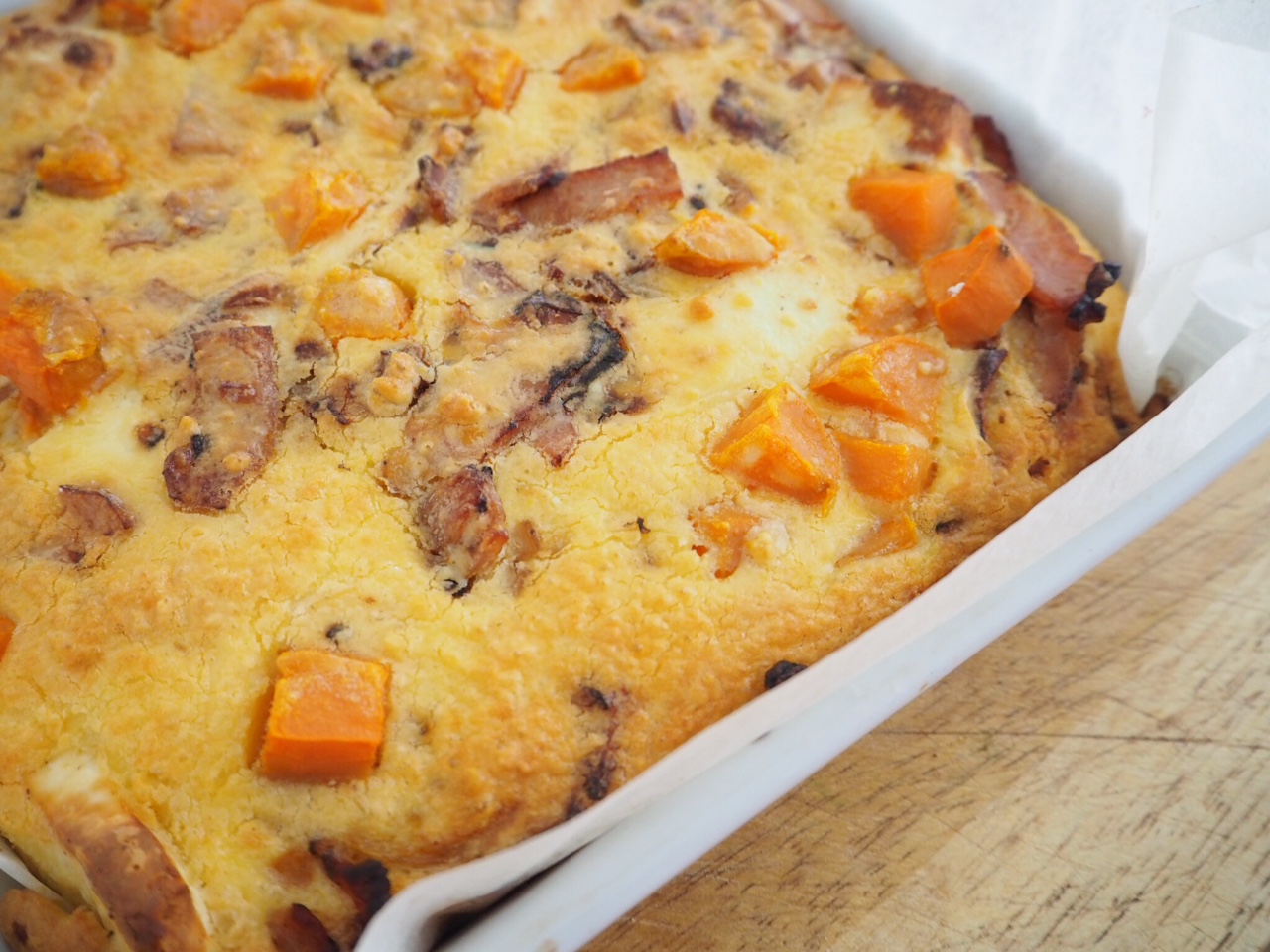 Cut into serves and enjoy hot or cold.
Once cooled store in an airtight container in the fridge for up to 3 days.
Freezer friendly: store slices in an airtight container or ziplock bag in the freezer for up to 3 months.
Makes 16 slices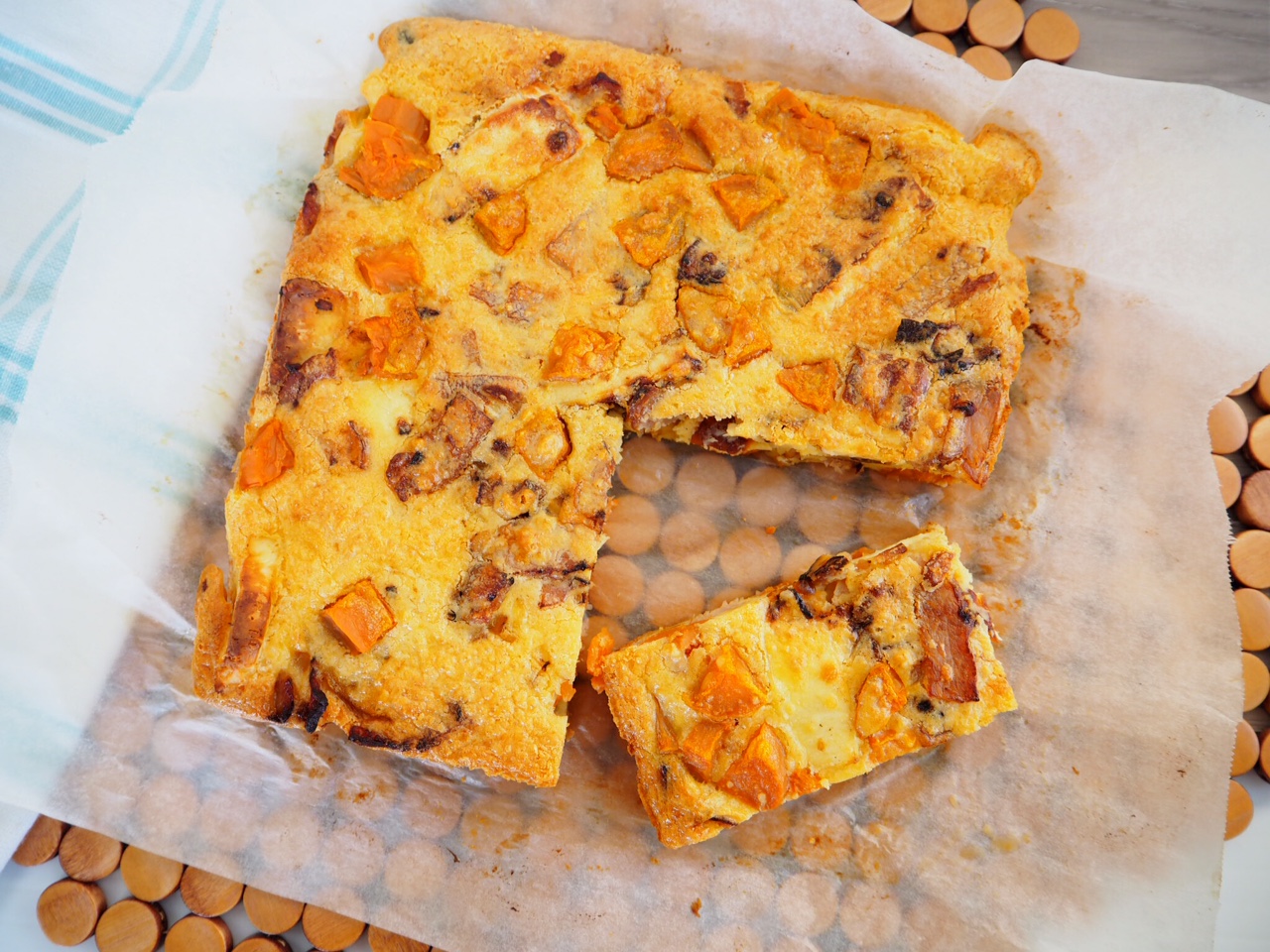 (Visited 10,027 times, 18 visits today)