On the day that the world health organisation makes a statement that we shouldn't be eating bacon (like we are going to stop eating bacon) I had planned to cook this dish for dinner.
When you read the reasoning and further information it would actually mean you would have to stop eating anything that has had any form of human intervention, this would make our diets very restrictive and unrealistic.  One article I read warned of the charcoal you get when grilling meat and suggested cooking it in the microwave (what the?)
I believe informed choices and a balanced diet is key. As with anything you eat, enjoy it in moderation.
Back to this delicious dinner that was on the table in 30 minutes, my favourite D'Orsogna rindless streaky bacon is the star of the dish as it's smoky flavours come through.  The shell pasta is key in this meal as it grabs onto the sauce and encapsulises it in it's shell making it perfect for fussy little ones as they won't find the vegetables hiding in the shell.
I also have to thank my friend at work for sharing this recipe with me, I penned it on a piece of paper last week and tonight it was on our table and now hopefully yours. Try it you will love it.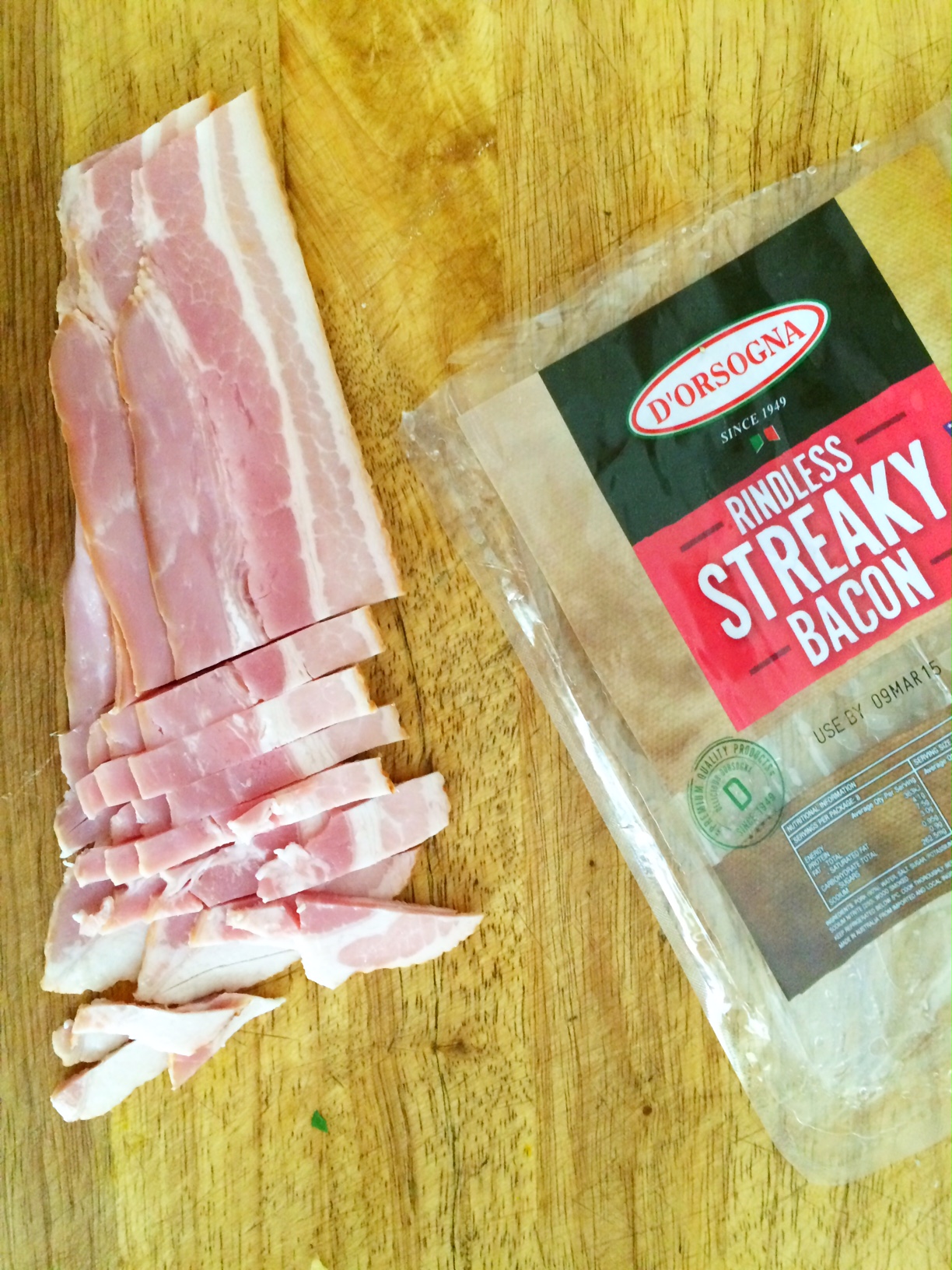 INGREDIENTS
200gm D'Orsogna Rindless Streaky Bacon
500gm Packet Shell Pasta
400gm Can Diced Tomatoes with Garlic and Oregano
1/2 Cup Water
1 Onion, diced
1 Tbs Minced Garlic
6 Button mushrooms, diced
1 Medium Red Capsicum, diced
1 1/2 Cups Grated Light Tasty Cheese
LETS PUT IT ALL TOGETHER
1. Place the pasta into a large pot of salted boiling water.  Cook until al dente.
2. While the pasta is cooking place a large non-stick frypan over a high heat.  Add the diced bacon, onion and garlic and cook for 2 minutes, stirring occasionally.
3. Add the capsicum and cook for another 5 minutes.
4. Pour in the diced tomatoes, followed by the water and stir to combine. Season with salt and pepper if you like and reduce to a simmer.  Leave to simmer until the pasta is cooked.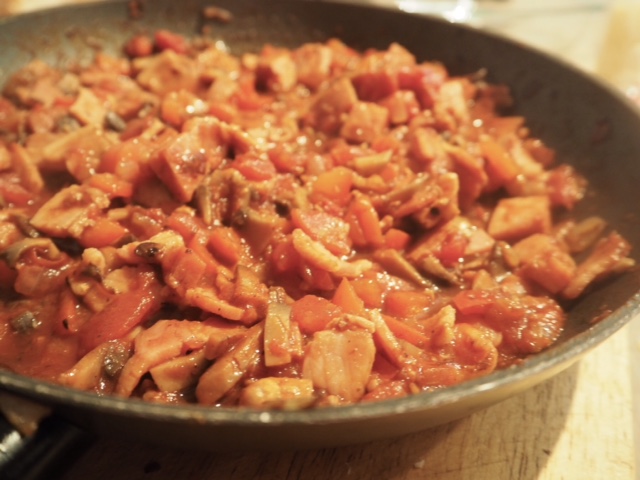 5. Once the pasta is cooked drain the water and return the pasta to the pot.  Add the bacon and mushroom sauce to the pasta.  Stir to combine.  Pour into a large oven proof baking dish and then top with the grated cheese.  Place into a pre-heated 200 degree celcius oven and bake for 10 minutes or until the cheese has melted.
Enjoy.
**You could eat this without the cheese, serve as a normal pasta meal instead of a pasta bake.
Fridge storage: store in an airtight container in the fridge for up to 3 days.
Freezer friendly: divide into portions and freeze in a freezer safe container for up to 3 months.
Serves 8+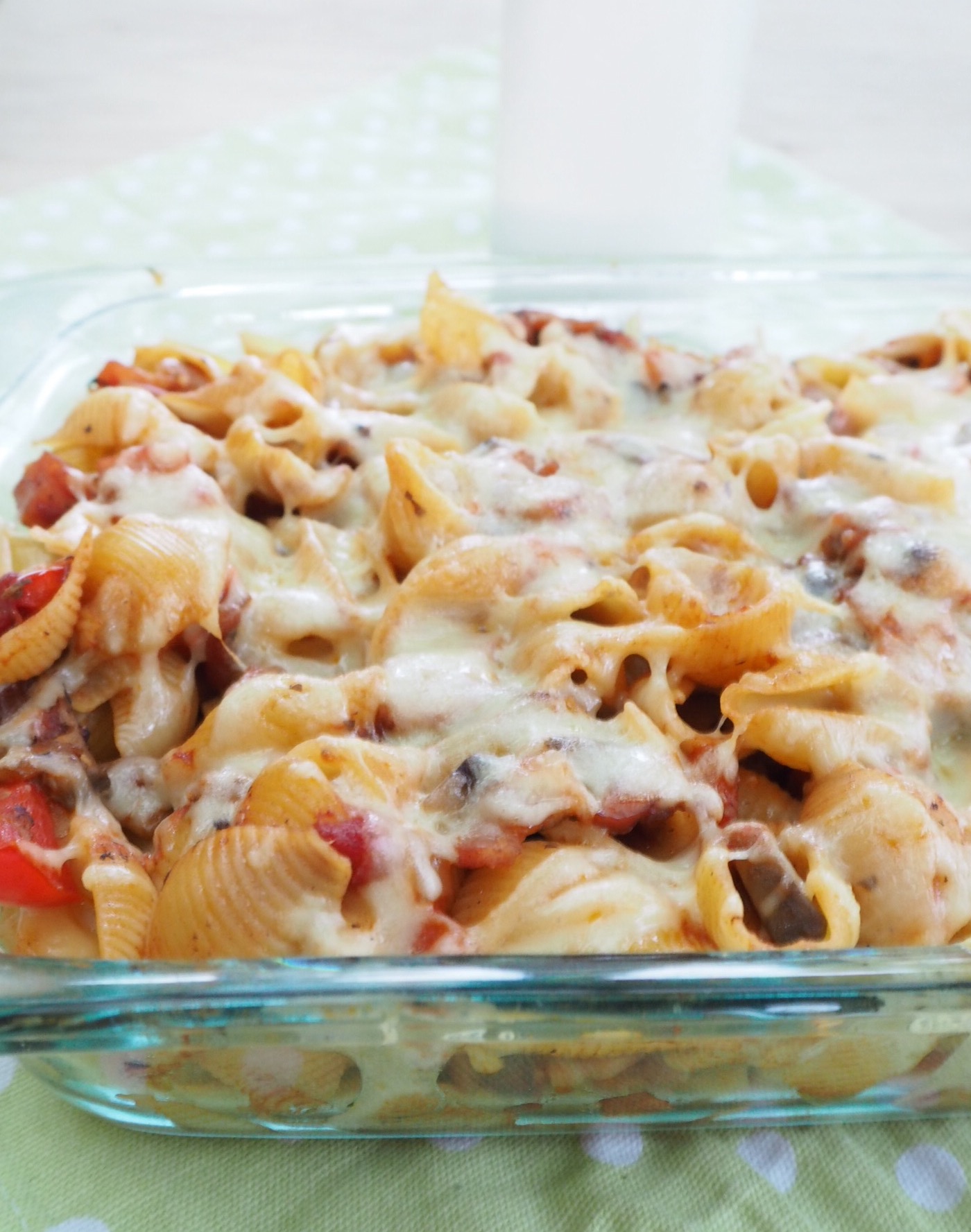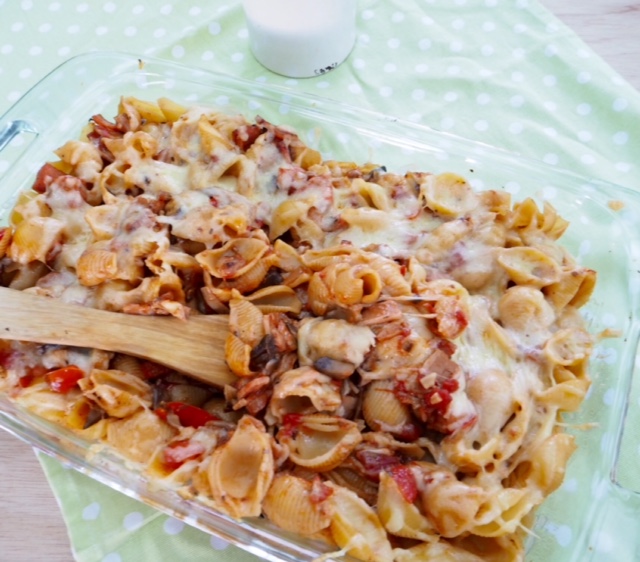 This is a sponsored post for D'Orsogna. Find more recipes like this one visit the D'Orsogna Website and D'Orsogna Facebook Page.

(Visited 4,437 times, 17 visits today)