Starting Prep can be a stressful time for both parents and students, and that is why we need to make sure that we make their day as easy as possible.  Eliminating any extra stresses in their day will make for a smooth transition from kindergarten to "big school".
One of the extra stresses can be their morning tea and lunch.  It is important that we don't try and go all "fancy" for their lunchboxes or give them a lunch bag they can't even open.  They will get worked up and frustrated with the whole situation.
After talking to and observing my Mr 5 who starts prep this year, I have put together some tips for packing a lunchbox for our little preppies.
TIPS FOR PACKING A LUNCHBOX FOR PREP
1. Pack foods that they already eat at home.  If your child won't eat a carrot stick at home, don't feel the pressure to pack it in the lunchbox because you think you should be packing carrot sticks.
2. Make sure they are confident in opening the packaging of any pre-packaged foods.  Mr 5 enjoys cheese triangles and I have told him that if he can open them by himself I will pack them in his lunchbox.  After a little practice he can now confidently open them and is looking forward to finding them in his lunchbox.
3. Choose a cooler bag that they can open and easily get their lunchbox out of.  Think practically, a cooler bag with 4 zipper compartments will become confusing when they are racing to grab it sit down and open it with their friends to each lunch.
Let them test it at home in the weeks prior to starting school and explain about the frozen ice pack and how it needs to stay in the cooler bag to keep their food cold.
4. Choose a Lunchbox that is easy to open.  If they can't open it at home, they won't be able to open it at school.  Forgo something looking good and choose a practical lunchbox.
5. If you are sending more than one lunchbox, number them 1 and 2 for example.  Tell them 1 is to be eaten first at Morning Tea and 2 is to be eaten at lunch.  This will make sure they eat the right foods at the right time.
6. Choose smaller portioned foods, so they can finish them in the allocated time.  For example: bake mini muffins instead of full sized, send half a mandarin instead of a full one.
7. The final thing is keep it SIMPLE.  They are only eating 1/3 of their meals at School so don't feel the need to bombard them.  Choose a balanced realistic lunchbox which is good for them and easy for you to make.
So there you have 7 tips to help you make your Prep child's lunchbox one that they will eat and enjoy.
So what did we end up choosing for Mr 5 starting Prep?
I went with the Smash range that I found at Office Works (not sponsored) I went with the cooler bag with drink bottle on the side ($13), the Lunch Buddies which comes with stickers so I can mark them 1 and 2 ($6 each), the green rectangle doubles as an ice block and and drink bottle ($4).
I took Mr 5 with me and let him pick the lunch cooler and made sure he could open it and it actually made it easier with the many options as he said no to the ones he didn't like.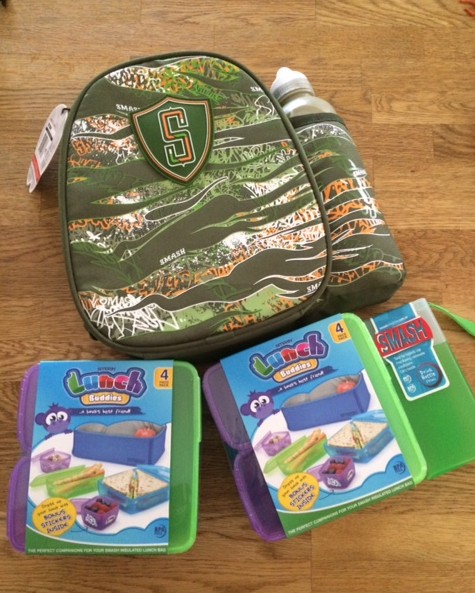 I would love to hear your tips, so please leave them in the comments.  Also next week I will release suggested lunchbox foods and then the first week of school I will have a lunchbox a day with giveaways thanks to IGA.

(Visited 7,953 times, 8 visits today)