TUNA MORNAY FILO TARTS
INGREDIENTS
Packet of filo pasty
1 Cup grated cheese
6 Eggs
1 Cup Milk – add gradually until a thick not runny consistency is achieved
1/2 cup cream – optional
1 Large Tin Tuna
1/2 Red Capsicum – small cubes
1 Sml tin corn kernals
1/2 cup spring onions chopped into small pieces
1 clove garlic – chopped finely
Salt and pepper to season
LETS PUT IT ALTOGETHER
1. In a large mixing bowl combine eggs, cheese, milk, salt/pepper and cream with a wisk until a think not runny consistency is achieved.
2. Drain liquid from tuna and break into small pieces
3. Drain corn kernals
3. Add tuna, corn, capsicum, spring onions and garlic to egg mix and mix to combine.
4. Lay filo pastry out and cut into 4 squares – you will need about 4-6 layers
5. Place pieces of filo into a muffin pan, with each layer being place randomly so the points don't touch
6. Pour mixture into filo shells
7. Bake in a 180 degree oven until set.
These can be served with a salad.
:::Picture is for demonstration purposes only.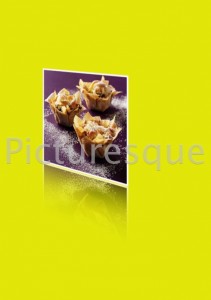 (Visited 212 times, 2 visits today)