This is the second of my super quick pasta bakes. This one can feed a family for well under $10 and gets a lot of the good things in. Spiral pasta is idea for this dish as the sauce, tuna and lentils all stick to the spirals and the kiddos are eating all the good things without even knowing.
INGREDIENTS
1 425gm Can Tuna in Spring water, drained
1 Can Lentils, drained and rinsed
1 Jar of Tomato Pasta sauce with chargrilled vegetables
1/2 Large Packet raw spiral pasta
1 Cup grated cheese
Salt and Pepper
Optional: 1 Cup beans, cut
1. Preheat the oven to 180 degrees Celcius and place a pot of water onto the stove to boil.
2. You can add the pasta before boiling to speed things up and still achieve perfect pasta. In fact you can remove the pasta just before it is fully cooked as it will continue cooking in the oven.
3. In a frypan add a little olive oil and the tuna. Break the tuna up while stirring to heat through.
4. Add the lentils and cook for 3 minutes stirring frequently. If adding beans add them now.
5. Add the jar of tomato pasta sauce with chargrilled vegetables and stir through. Add a little salt and pepper and reduce the heat to a simmer. Allow to simmer for 5 minutes stirring regularly until it thickens a little.
6. The pasta should now be ready, drain the water and return to the same pot.
7. Add the tuna, lentils and sauce mix to the pasta, stir through.
8. Add the cheese and make sure it is well combined.
9. Place in a lined baking dish and cook for 20 minutes.
Enjoy with a crunchy salad.
Serves 4 – 6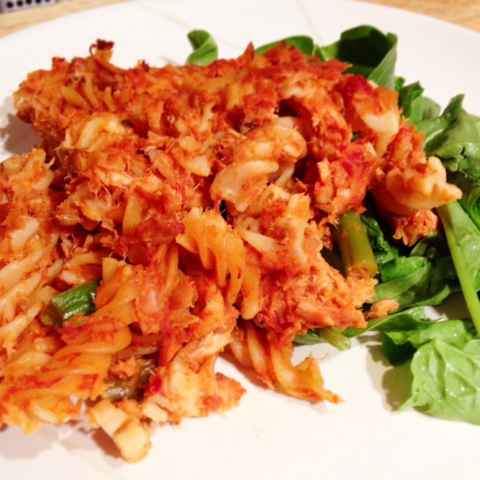 (Visited 3,078 times, 23 visits today)