INGREDIENTS
1/4 Head Cauliflower, cut finely
1/4 Head Broccoli, cut finely
1 Carrot, grated
1 Zucchini, grated
1 750ml Jar Passata
Favourite herbs
3 Cloves Garlic
Pepper
2 Tsp Sugar
LET'S PUT IT TOGETHER
1. Place all the vegetables in a large saucepan cover with water and boil uncovered until the vegetables are soft.
2. Add the Passata, herbs, sugar and pepper and continue to cook uncovered for 1 hour.
3. Remove from heat and allow to cool slightly.
4. Use a stick blender or a food processor and process until smooth.
THIS CAN BE FROZEN IN ICE CUBES OR BABY FOOD PORTION TRAYS.
CAN BE STORED BACK IN THE PASSATA JAR IN THE FRIDGE FOR ABOUT 5 DAYS.
I use this for my little guys pasta dishes, mini pizzas, to cover meat balls etc.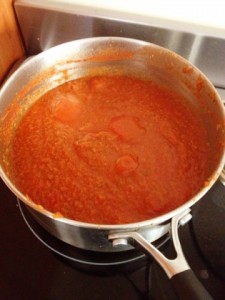 (Visited 2,083 times, 2 visits today)