This recipe has Sunday breakfast written all across it.  Streaky bacon, sweet crispy sweet potato, avocado, sour cream what's not to love?
My favourite D'Orsogna Rindless Streaky Bacon (you can find this in the fridge section of Woolworths) is making its appearance in these too good to be true fritters.  The flavour that is packed into one of these is beyond amazing, you won't be able to eat only one – trust me I may of eaten four for breakfast.
Make the batter the night before and simply fry off the bacon and onion in the morning and add to the mix if you want to speed things up.
INGREDIENTS
6 Rashers of D'Orsogna Rindless Streaky Bacon or Maple Bacon, diced
1 Onion, diced
1 Medium Sweet Potato, peeled and grated = 3 grated cups
200gm Canned Chickpeas, drained and rinsed
2 Eggs, Large
1/4 Cup Plain Flour
1 Tsp Smoked Paprika
Salt and pepper, to taste
Olive oil, for cooking
To serve: avocado, sour cream and extra paprika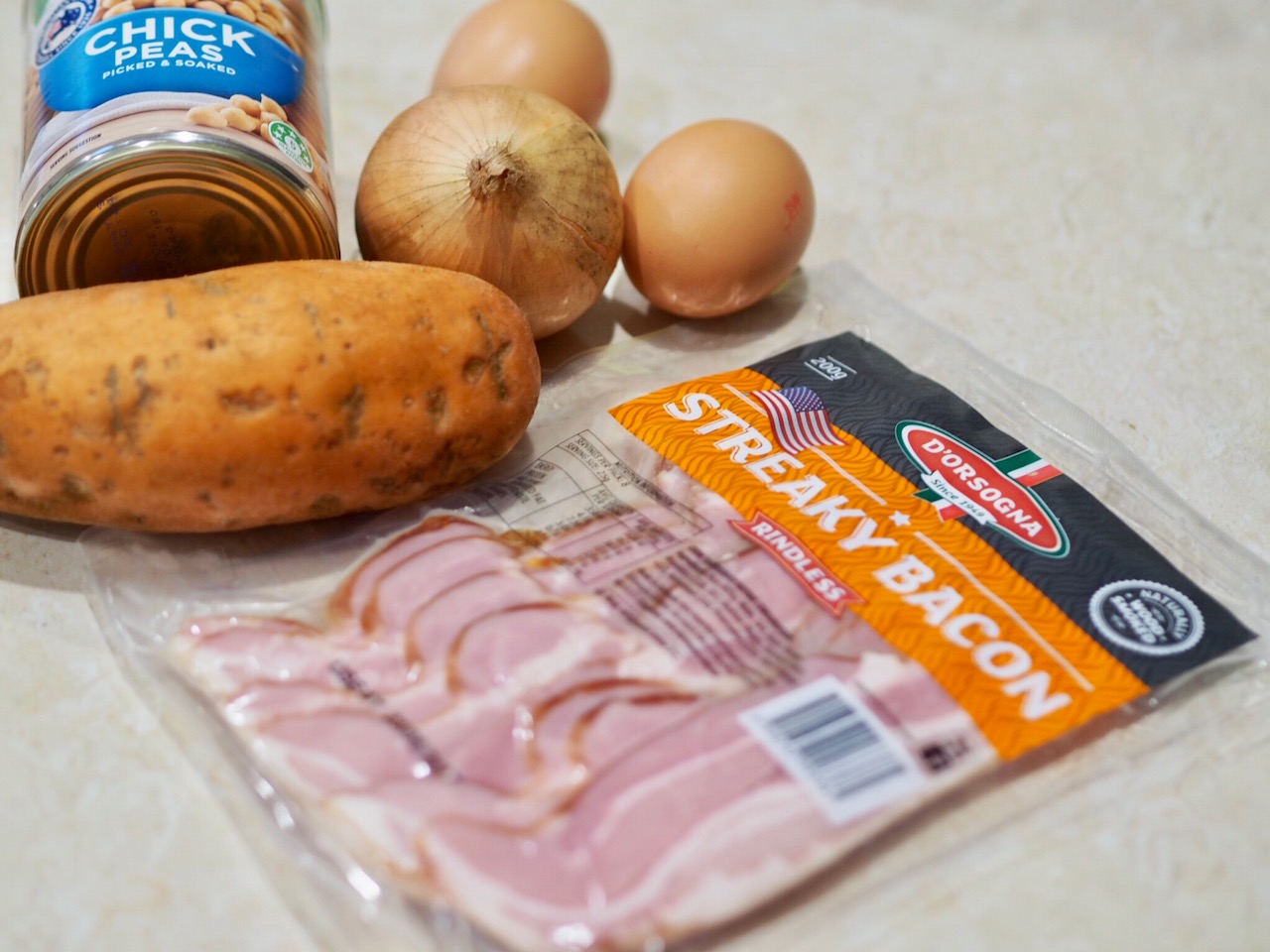 LETS PUT IT ALL TOGETHER
Place a large frypan over a medium high heat. Add the bacon and onion and cook stirring regularly until the flavour of the bacon is released and the onion softens.  While the bacon is cooking make the batter.
In a large bowl add the sweet potato, chickpeas, eggs, flour, paprika and salt and pepper.
Add a very thin layer of olive oil to the frypan that you cooked the bacon and onion in.  Place over a medium high heat.  Take handfuls (yes I used my hands as it was the easiest for getting a good size and then patting into shape) of the mix and place into the frypan.  Carefully push out into a circle shaped that is about 1cm thick.  Cook for about 2 minutes or until golden then flip and cook on the other side for the same amount of time or until golden.
Remove from the frypan and place on a plate lined with a paper towel.  Repeat until all the batter is cooked.
Best enjoyed straight from the frypan with avocado, sour cream and a sprinkling of paprika on top.
Makes about 8
This is a sponsored post for D'Orsogna. Find more recipes like this one visit the D'Orsogna Website and D'Orsogna Facebook Page.

(Visited 18,212 times, 25 visits today)