INGREDIENTS
500 gms Lamb, cut into cubes
4 Potatoes, cut into quarters
2 Carrots, slices
1 Onion, sliced
4 Cloves Garlic
1 Large Sweet Potato, cubed
750 mls of Beef Stock
1 Green Capsicum, sliced
300ml Coconut Cream
Salt and pepper to taste
Cooked rice to serve
CURRY FLAVOURS
2 Tsp Curry Powder
1 Tsp Ground Ginger
1 Tsp Mustard Powder
1 Tsp Ground Cumin
1/2 Tsp Mixed Spice
LET'S PUT IT ALTOGETHER
1. Place the potato, sweet potato, onion, garlic and carrot into the slow cooker.
2. Coat the lamb in the spices and add to the slow cooker, add remaining spices that don't stick to the lamb.
3. Add the beef stock and salt and pepper to taste.
4. Cook on high for 6 hours.
5. 30 minutes before serving add the capsicum and coconut cream and stir to combine.
6. Serve with rice.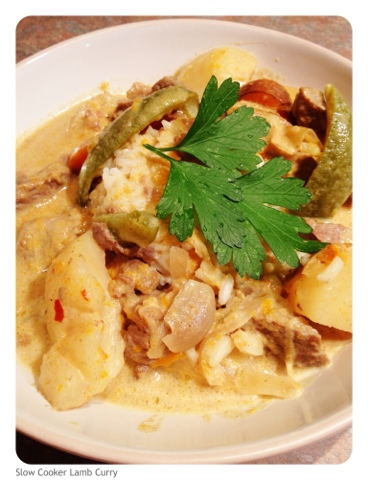 (Visited 2,957 times, 8 visits today)