When you are using a sausage like chorizo that brings so much flavour to a dish it is best to pair it simply with other ingredients so it can shine.  This dish is as the name suggests simply chorizo and tomato tossed through spaghetti to make a meal that is flavoursome.
Using basic ingredients the chorizo flavour shines through with a subtle spiciness that has been toned down by using fresh cherry tomatoes and a red (Spanish) onion which is sweeter than the normal brown onion.  As it is a little spicy (not a lingering spiciness) littlies may find it too much.  Serve without the chorizo or keep this meal for the big people in the family to enjoy.
This dish is ready and on the table in under 30 minutes making a perfect weeknight meal.  It is also freezer friendly so you can make it on the weekend, portion out and freeze for up to 3 months.
I am using my favourite D'Orsogna 100% Natural Chorizo which can be found in the fridge section of your local Woolworths.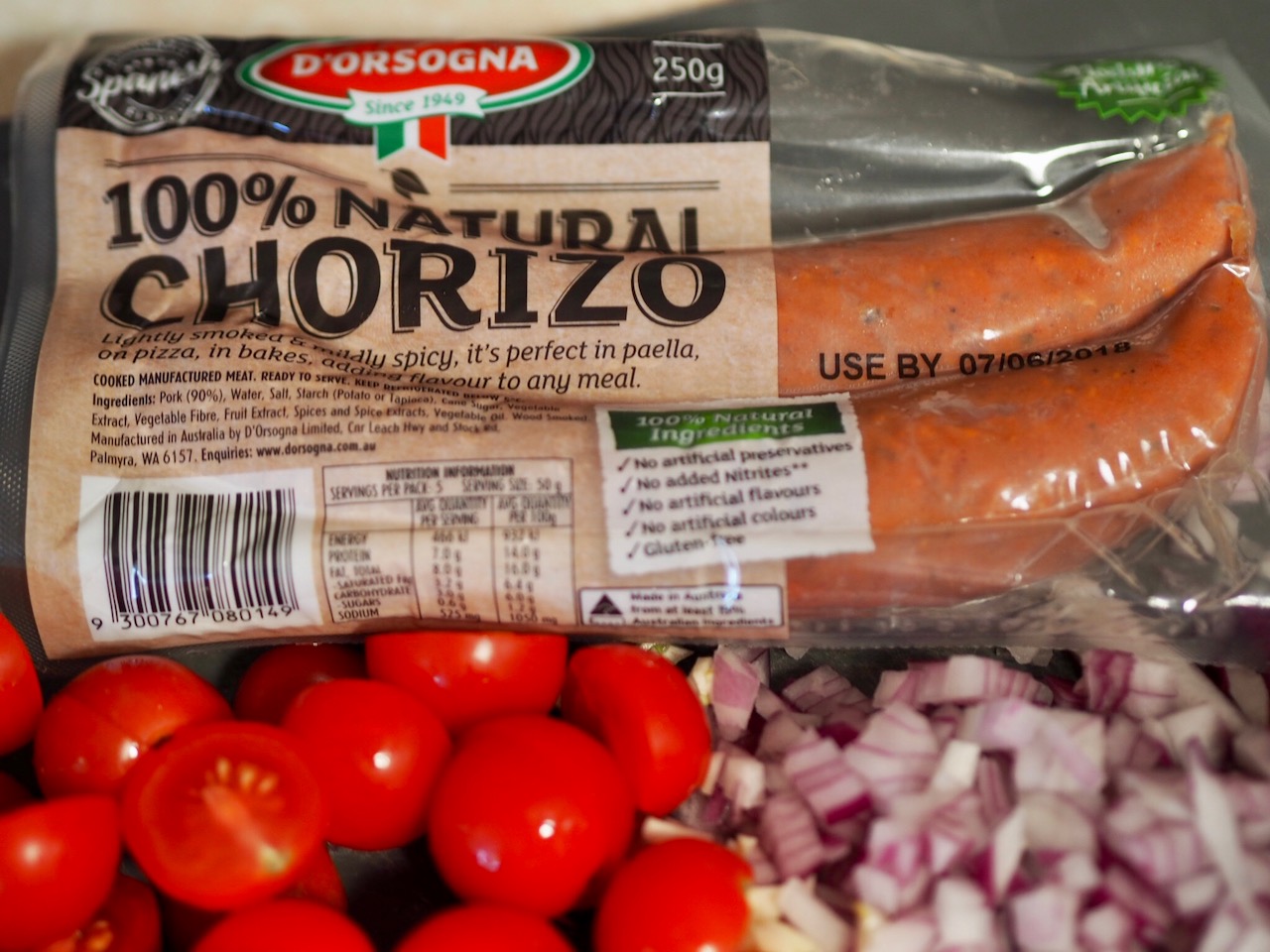 INGREDIENTS
250gm D'Orsogna 100% Natural Chorizo, chopped
250gm Cherry Tomatoes, sliced in half
1 Tbs Olive Oil
1 Red onion, diced
2 Cloves Garlic, fine chopped
1 Tbs Raw Sugar
Salt and pepper to taste
2 Tbs Fresh Parsley, chopped
Parmesan to serve
250gm uncooked spaghetti
Reserve 1 cup of the water from the cooked pasta
LET'S PUT IT ALL TOGETHER
Place a saucepan with water on a high heat and bring to the boil, add the pasta and cook until al dente.
While the pasta is cooking, in a large fry pan over a high heat cook the chorizo.  Once browned, remove from the pan and set aside.  Return the pan to the stove and add the oil, onion and garlic.  Cook until translucent.
Add the tomatoes and 1/2 a cup of the water from the pasta.  Cook for 5 minutes or until the tomatoes soften.  Mash down with a masher.
Return the chorizo to the fry pan and stir through.  Sprinkle in the parsley, reserving some for serving and season with salt and pepper.
Drain the pasta and add to the fry pan, stir through.  Remember to reserve some of the water.  Add an extra 1/2 a cup to the fry pan to loosen the pasta. 
Serve with parmesan cheese and the remaining parsley.
Serves 4 – 6
Store leftovers in the fridge for up to 3 days.
Freezer friendly: place into freezer safe containers and freeze for up to 3 months.
This is a sponsored post for D'Orsogna. Find more recipes like this one visit the D'Orsogna Website and D'Orsogna Facebook Page.

(Visited 1,559 times, 15 visits today)