This is a lovely variation on the traditional Shepherd's Pie or Cottage Pie. I have used Pork mince as I love the flavour and it is great value for money. You could alternatively use beef, lamb or turkey mince.
A great mix of vegetables, flavours and will keep all the tummies happy in the house.
INGREDIENTS
500gm Pork Mince
2 Carrots, peeled and Cubed
1 Zucchini, peeled and cubed
1 Cup Beans, cut into 2cm pieces
1 Onion, diced
1 Tbs Minced Garlic
1 Can diced Tomatoes
3 Cups Chicken stock
1 Can Lentils, drained and rinsed
Pepper to taste
TOP
1 kg Sweet Potato, peeled and cut
1 Tbs Butter
1/3 Cup Milk
LET'S PUT IT ALTOGETHER
1. In a large pot over a high heat add a little olive oil, onion and garlic. Cook stirring occasionally until the onion softens.
2. Add the pork mince and cook until lightly browned.
3. Add the chopped remaining vegetables and pepper. Stir and cook for 2 minutes.
4. Add the crushed tomatoes and chicken stock. Bring to the boil and then reduce to a simmer.
5. Cook for 1-2 hours with the lid off stirring occasionally. It should of reduced to a thicker consistency. You can make the sweet potato mash during this time.
6. Remove from heat and add the drained lentils, stir to combine.
SWEET POTATO MASH WITH MASHA
1. Place the peeled and chopped sweet potato in a large saucepan covered with water.
2. Cook in boiling water for approx 20 minutes or until the sweet potato is soft to cut through, then remove from heat and drain all the water.
3. Add the butter, milk and a little salt and pepper to the cooked sweet potato
4. Get the MASHA and push into the sweet potato for approx 20 seconds and viola perfect smooth restaurant quality mash.
Place the cooked mince mix into an oven proof bowl and top with the sweet potato mash. Place in a 180 degree oven and bake for 20-30 minutes or until the mince mix starts to bubble up the sides.
Serves 4 – 6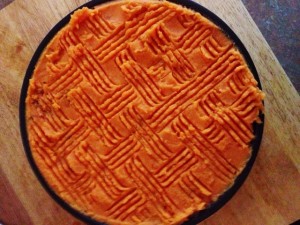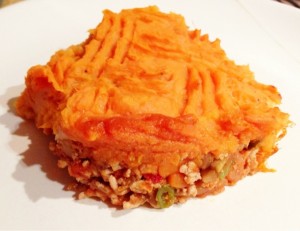 (Visited 1,642 times, 9 visits today)