On the blog this week we are taking a look at Cake 2 The Rescue, do it yourself cake kits. I don't know about you, but I find the cake to be the most challenging part of my sons birthday parties.
The reason I find them challenging is that I either spend a fortune gathering all the little bits and pieces I need, I normally use a photo and try and recreate it sometimes with many little stuff ups, hair pulling out, stressed out (I am over this cake) moments. I the later years my cakes have ended up being very basic (and not really impressive) because of these reasons.
This is where Cake 2 The Rescue really does come to the rescue.  You simply browse their website and select the cake you would like, purchase and it is delivered to your door with everything you need to create your cake (no running around store to store trying to source all the bits and pieces you need and quality you can trust).  Depending on the cake you choose you will receive:
Disposable Baking Tray
Silver Cake Board
Silver Cake Slice
Rolling Pin (if required)
Candles Recipe (genius I always call Mum the morning of the party asking her to pick up candles)
Sponge Cake and Icing Mix
Fondant Icing Kit with Disposable Gloves
Pre-coloured Fondants
Everything you Need to Decorate your Chosen Design
Clear instructions and a template a provide so you know what you are doing 100% of the time.  There are also short videos to help you with icing, using fondant and more.
LETS GET CAKE MAKING
I chose the T-Rex cake for my dinosaur crazy boys.  Lou did mention that this was one of the harder cakes to make so I was a little scared to start with as I thought I'd "stuff" it up.  I haven't successfully used fondant in the past so normally stear clear of it.
I powered on with the confidence of the instructions provided and in a little over an hour I stood back with a smile on my face, compared my cake to the photo and said yeah I've nailed it!  Once I was finished I wasn't stressed out and I didn't have a mega mess everywhere (because everything is individually packaged it was easy to keep the mess under control) I had a T-Rex cake that I was pretty proud of and the boys thought it was amazing.
I give the Cake 2 The Rescue cake kits the BUSY MUM APPROVAL.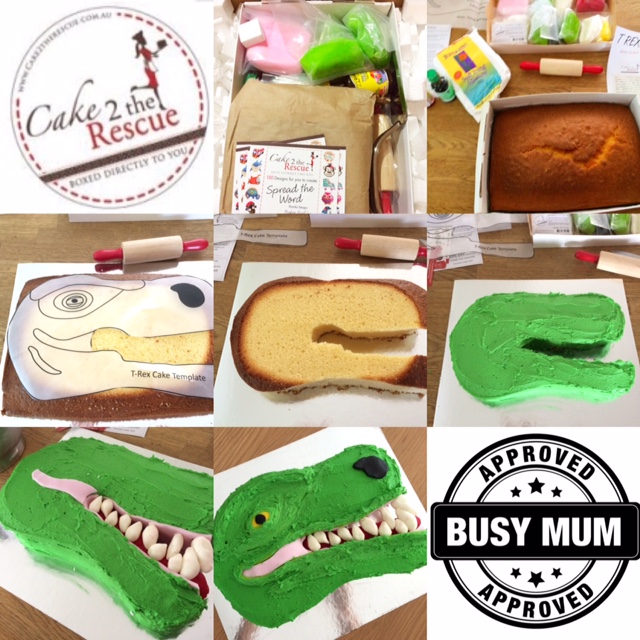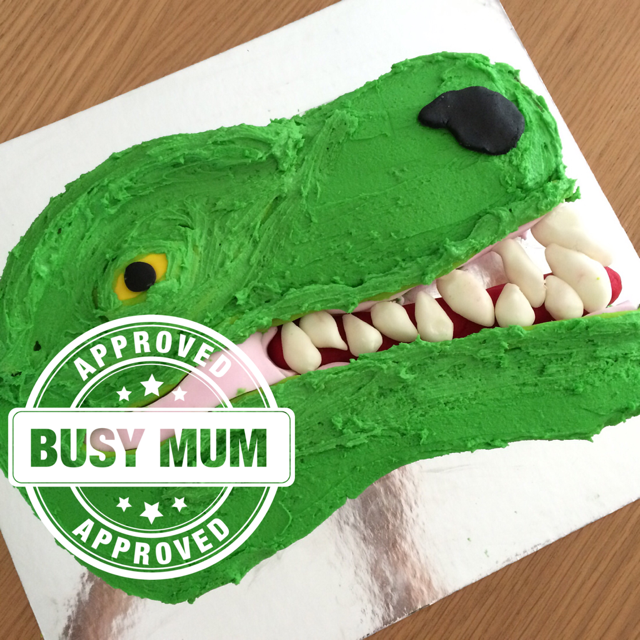 GIVEAWAY
I have one cake of your choice to win.  Simply use the rafflecopter widget and answer this easy question:
Visit the Cake 2 The Rescue Website and tell me which cake you would like to make and why? 
This is a game of skill.  Open to Australian Residents Only. The winner has until 31st December 2015 to claim their cake. Full terms and conditions in the rafflecopter widget. GIVEAWAY IS CLOSED
THE WINNER IS MIKAELA COWAN

(Visited 560 times, 12 visits today)