I don't know why I hadn't made rissoto before but the pumpkin I had sitting in the fridge was screaming out "Risotto" to me. The stock that is used in rissoto's is usually very high in salt, so simply replace normal stock powder (or pre made liquid) for the reduced salt variety and it sis perfect for the littles.
INGREDIENTS
1 Onion, diced
2 Garlic cloves, sliced finely
800gm Pumpkin, cut into small cubes
2 Cups Rice
5 Cups Chicken Stock
1/4 Cup Romano or Parmesan Cheese
2 Tbs Butter
LET'S PUT IT ALTOGETHER
1. in a heavy based saucepan or crockpot that you can put on the stove, add a little olive oil, onion and garlic and cook until the onion softens, you don't want it to brown.
2. Add the rice and stir through, cook for 1 minute. Add the pumpkin cubes and continue to cook for a further minute to start the cooking process of the pumpkin.
3. Gradually add one cup if stock at a time. Stir continually making sure all the liquid is absorbed before add the next cup.
4. Once the last cup is added the rice should be nearly cooked with a slight crunch when bitten in to.
5. Add the cheese and butter and mix through, remove from heat.
OPTIONAL: Stir through a handful of baby spinach leaves.
The texture is slightly sweet and creamy, a bowlful of yummy goodness.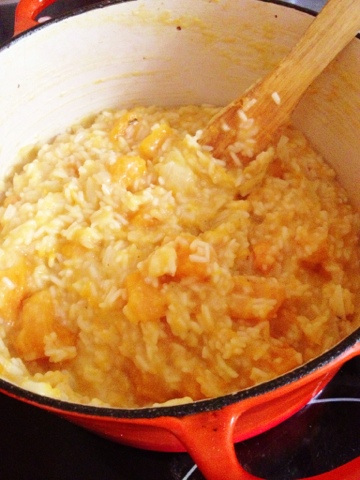 (Visited 2,425 times, 7 visits today)