I was craving dessert one night this week so decided to go with what I had in the cupboard. The boys lovely great grandmother loves to buy them the little individual serves of peaches, pears and apple puree and I had a couple of each sitting in the cupboard and that is how this dessert was created.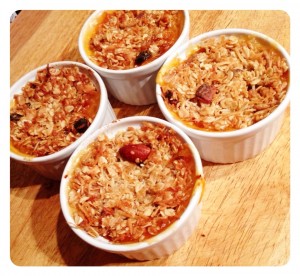 INGREDIENTS
1 Cup Canned Pears, cubed
1/2 Cup Canned Peaches, cubed
1/3 Cup Apple Puree
2 Tbs Custard Powder
1 Cup Fruit & Nut Muesli
25gm Butter, melted
2 Tbs Brown Sugar
1/4 Cup Shredded Coconut
LETS PUT IT ALTOGETHER
In a small mixing bowl place the pears, peaches and custard powder. Stir to combine well.
Place this mixture into four ramekins or a small baking dish if making a large one.
Evenly share the apple puree out on top of the mix in each ramekin.
Melt the butter in the microwave for 20-30 seconds.
In a small bowl combine the muesli, brown sugar, and coconut mixing well to combine.
Add the melted butter to the dry mix and stir well.
Place the crumble mix on top of your fruit mix.
If using ramekins place on a baking tray prior to placing in the oven.
Bake in a 180 degree oven for 30 minutes or until the crumble turns golden and the fruit starts to slightly bubble up the sides.
Allow to cool for 10 minutes before serving.
Enjoy with custard or ice cream.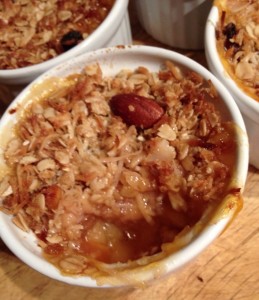 (Visited 1,098 times, 6 visits today)