With this recipe there is no need to cook the pasta separately. It is cooked at the very end in the sauce meaning you will have tasty juicy pasta that turns out perfect every time. You will only need to use one pot so "win win" less dishes, tasty healthy food the whole family will enjoy.
This recipe is particularly good for using up vegetables that are hanging around in the fridge, like that's one carrot, half a large sweet potato etc.
INGREDIENTS
3 Cups of grated vegetables – this can include, carrots, zucchini, sweet potato, pumpkin,potato, capsicum etc whatever you have in the fridge.
1 Onion, sliced finely
3 Cloves garlic, sliced finely
700ml Jar Passata
3 Cups Chicken Stock
3 Rashes Bacon, sliced finely
Herbs
Salt and pepper to taste
1/2 Packet Elbow pasta
Olive Oil
LET'S PUT IT ALTOGETHER
1. In a large pot over a high heat add olive oil, onion and garlic. Allow to cook until the onion becomes translucent.
2. Add the grated vegetable mix and bacon to the hot pot. Stir to distribute the heat through the vegetables. Turn the heat down to a medium to low heat.
3. Put the lid on to let the vegetables sweat. Stir occasionally for a total of 10 minutes.
4. Add the Passata and bring to the boil, reduce to a simmer and allow to cook with the lid on for 1 hour.
5. Add the chicken stock, herbs, salt & pepper along with the dry pasta.
6. Bring to the boil and allow to cook with the lid off for 15-20 minutes or until the pasta has softened.
Serve with grated parmesan.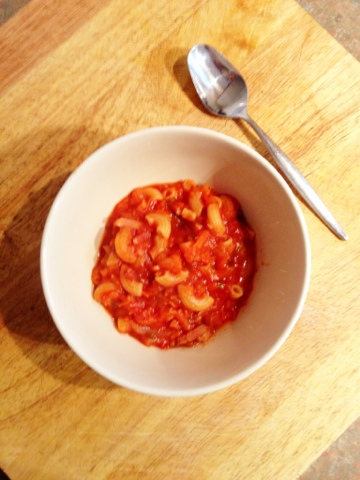 (Visited 510 times, 1 visits today)