These Omelette Salami Cups are the perfect addition to your Sunday Breakfast.  They take minutes to put together and will happily bake unassisted in the oven.  Ready in under 15 minutes.
I am using our favourite D'Orsogna Deli Fresh Mild Salami that is found in the fridge section of your local Woolworths.  The slices are large and thinner than your standard deli counter cut salami making them perfect little cases for a basic omelette.
I have only used tomato as an additional omelette filling but the combinations are endless.  try, spanich onion, olives, baby spinach, diced capsicum and so on for different flavour combinations.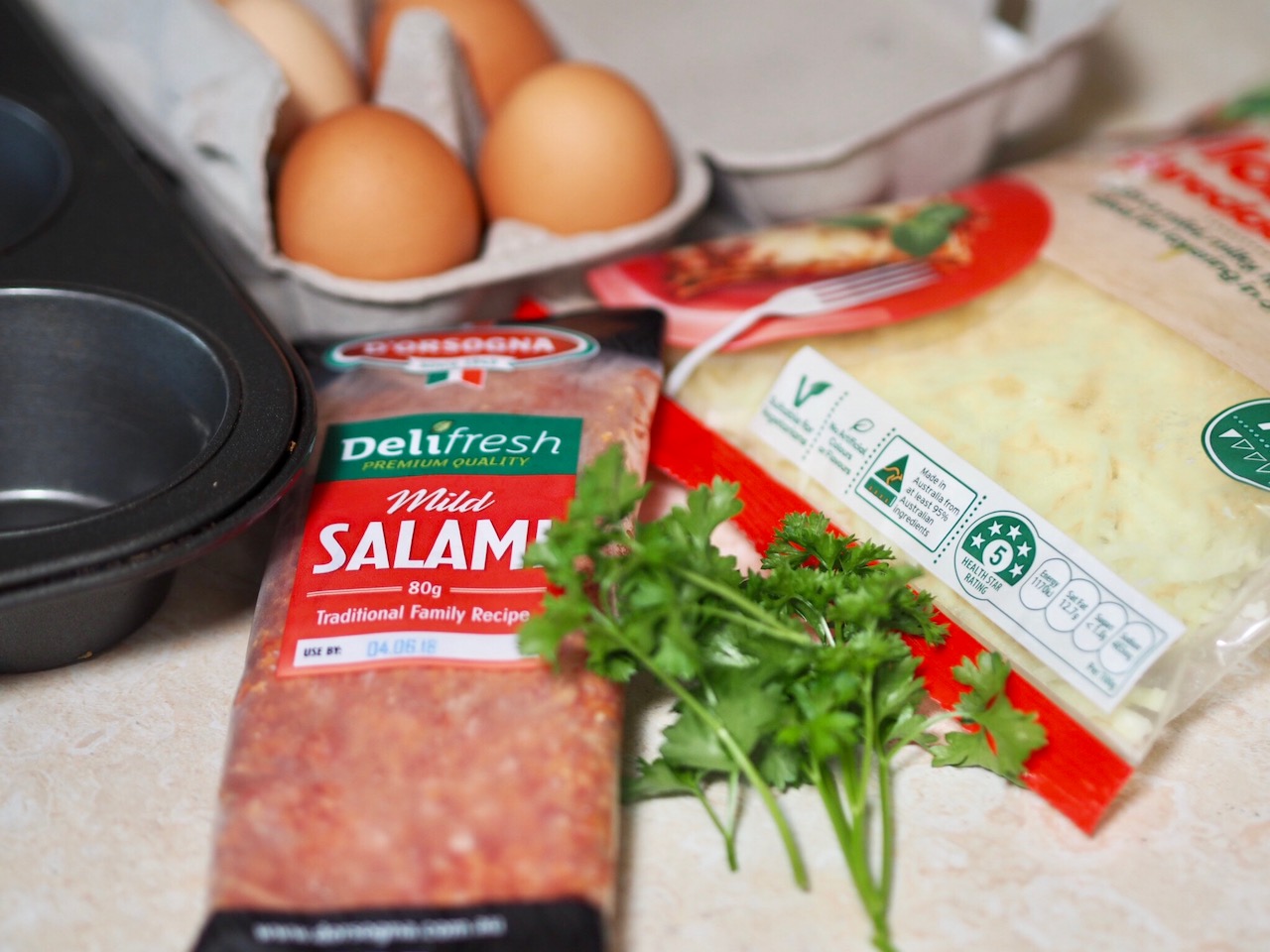 INGREDIENTS
1 Packet D'Orsogna Deli Fresh Mild Salami, 80grams
3 Extra Large Eggs
1/2 Cup Milk or cream
1/2 Cup Mozzarella Cheese, grated
6 Grape tomatoes, cut in half length ways
Fresh Parsley to serve
LET'S PUT IT ALL TOGETHER
Using a 12 hole muffin tin, line six holes with the Deli Fresh Mild Salami.  With the remaining two slices use this to divide between the six and place on the bottom to give it added lining.
In a bowl whisk together the egg and milk (or cream if using instead of milk).
Divide the egg mix between the six salami lined muffin tray holes.
Add sprinkle on the cheese and then add two halves of tomato to each.
Place into a preheated 180 degree Celsius oven to cook for 15 minutes or until the omelette is puffed up and golden.
Allow to sit on the bench for a couple of minutes before using a butter knife to scrape around the edges of the salami cups and muffin tray. Sprinkle with chopped parsley and enjoy.
Best consumed straight from the oven.  However, they can be cooled and then stored in the fridge in an airtight container and then reheated in the microwave for a quick breakfast.
Makes 6
Store in the fridge in an air-tight container for up to 3 days.
This is a sponsored post for D'Orsogna. Find more recipes like this one visit the D'Orsogna Website and D'Orsogna Facebook Page.

(Visited 2,434 times, 51 visits today)