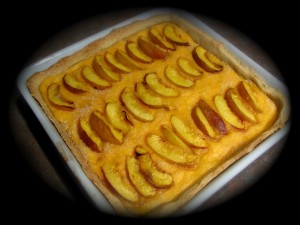 -Pastry
90gms butter, cubed
2 1/2 cups plain flour
1/2 Cups castor sugar
1 Egg
Enough icy cold water to form the pastry
– Place the butter, flour and sugar in a food processor and combine until it resembles fine bread crumbs, add the egg and process and then gradually pour the cold water until a ball forms. If you put too much water just add a little more flour until you have a firm consistency.
– Roll out and place straight onto your desired dish. Blind bake in a 200 degree oven for 10 minutes to slightly brown.
-Filling
Custard Powder
Milk
Sugar
3/4 Cup Desiccated Coconut
Nectarine Segments
Make 2 serves of custard as per the directions on the packet – approx 1 litre of made up custard
Once thickened add the coconut and pour into pastry shell that is still in the dish.
Add the nectarine segments, sprinkle the top with a little extra sugar and return to the oven for a further 15 minutes.
Enjoy with ice cream.

(Visited 316 times, 5 visits today)