Recipe originally from: http://www.taste.com.au/recipes/12451/quick+mix+chocolate+cake
Ingredients
Melted butter, to grease
270g (1 1/3 cups, firmly packed) brown sugar
185ml (3/4 cup) milk
125g butter, cubed
50g (1/2 cup) cocoa powder
1/4 tsp bicarbonate of soda
150g (1 cup) self-raising flour
2 tbs plain flour
3 eggs, lightly whisked
Chocolate icing
195g (11/4 cups) pure icing sugar
1 tbs cocoa powder
10g (2 tsp) butter, at room temperature
1 tbs boiling water
Method Notes
Step 1
Preheat oven to 160°C. Brush a deep, square, 19cm (base measurement) cake pan (see tip below) with the melted butter to lightly grease. Line the base and sides of the pan with non-stick baking paper.
Step 2
Place the sugar, milk and butter in a large saucepan. Use a fine sieve to sift the cocoa and bicarbonate of soda over the mixture. Place the pan over medium-low heat and use a whisk to stir until the mixture is smooth (don't boil the mixture). Remove the pan from the heat and set aside for 5 minutes to cool slightly.
Step 3
Use a sieve to sift half of each the self-raising and plain flours into the pan. Use the whisk to stir until the mixture is smooth. Repeat with the remaining flours. Add the eggs and continue to stir until well combined.
Step 4
Pour the mixture into the prepared cake pan and gently tap the pan on a bench to release any large air bubbles. Bake in preheated oven for 45-55 minutes or until a skewer inserted in the centre of the cake comes out clean. Set aside for 2 minutes before turning onto a wire rack. Set aside for 1 3/4 hours or until completely cool.
Step 5
To make the chocolate icing, sift the icing sugar and cocoa into a medium bowl. Add the butter and water, and stir with a wooden spoon until smooth. Use the back of a spoon or palette knife to spread the icing evenly over the top of the cooled cake. Set aside for about 50 minutes or until the icing is firm.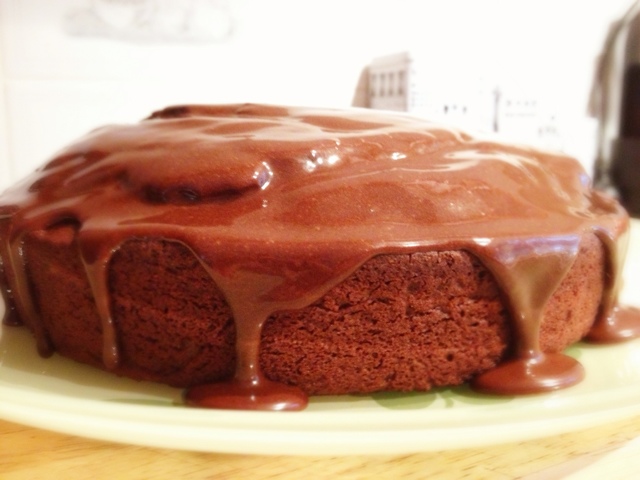 (Visited 1,635 times, 6 visits today)