I dedicate this recipe to my dad and what perfect timing it is with Father's Day only days away.
Last weekend I cooked my parents a roast dinner and surprised Dad with his all time favourite dessert – Lemon Cheesecake. The history of my lemon cheesecake making when I was a lot younger reads something like this – buy a White Wings packet lemon cheesecake the one with the lemon curd topping packet and make it for Dad. He always loved it and the memory of him enjoying and the feeling of knowing he was happy is one I will always cherish
Now that I can actually cook from scratch I made him his favourite and he did ask if it was a packet when I told him I had made it for him, no Dad I made it from scratch with lemon jelly on top. He had a slice before dinner and requested a larger slice for after dinner so I know it is a winner and its a sneaky low fat version too.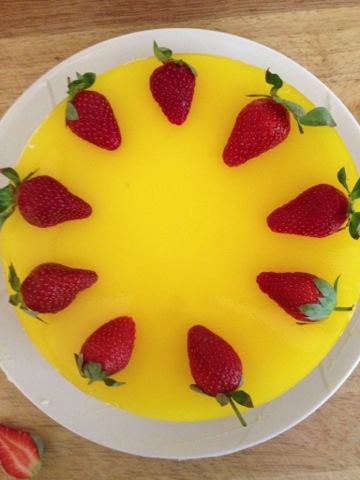 INGREDIENTS
BASE
1 Packet light biscuits
1/4 cup melted low far Nuttelex
FILLING
500gm light cream cheese
1 Can Carnation light and creamy
4 Tsp Gelatine
1/4 Cup warm water
Juice of 2 lemons
1 Cup Icing Sugar
JELLY TOP
1 Packet of Light Lemon Jelly – use both satchets
250ml warm water
LET'S PUT IT ALTOGETHER
1. Make the base by placing the biscuits in a food processor and process until there are no large pieces. With the food processor on gradually add the melted butter through the hole in the lid. Process for 10 seconds.
2. Press into a greased and lined push pan or spring form pan. Place in the fridge to set while you make the filling.
3. Clean out the food processor and then place the cream cheese and icing sugar. Process for 1 minute or until it becomes smooth. Gradually pour in the carnation light and creamy followed by the lemon juice. You should have a smooth slightly runny mix.
4. Dissolve the gelatine in the warm water. Gradually add this to your mix and process well to combine.
5. Get the base out of the fridge and pour the filling over the base. Place in the fridge for 2 hours.
6. After 2 hours dissolve the lemon jelly crystals in 250ml of boiling water and stir well to dissolve. You are making a very concentrated jelly mix so don't follow the directions on the packet.
7. Once the jelly has cooled, pour it gently over the cheesecake which is nearly fully set. Place back in the fridge to continue setting. Total setting time is approximately 4 hours.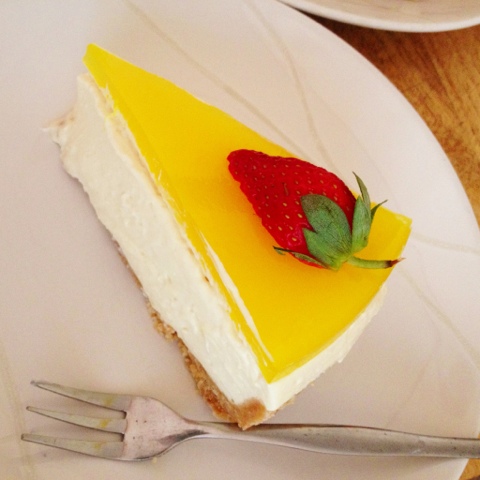 Decorate with strawberry halves.
You can use this recipe and make other flavour cheesecakes. Try passionfruit, strawberry or lime. Change your jelly flavour to match.
Passionfruit- fold through the pulp of 2 passionfruits after the gelatine step.
Passionfruit – process fresh strawberries to make a "sauce" and fold through after the gelatine step.
Lime – replace the lemon juice with the juice of 4-6 limes.
Consume within 5 days of making and keep stored in the fridge.
Serves 8-10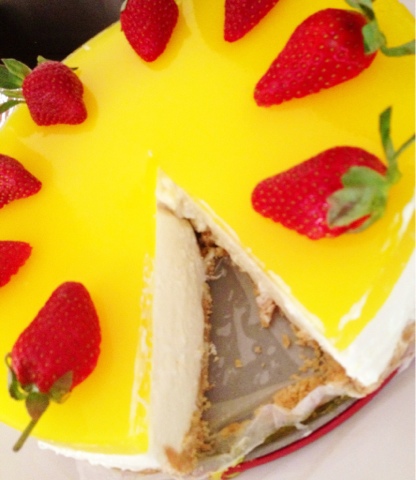 (Visited 2,534 times, 5 visits today)