One of my most favourite things to do is get creative with leftovers.  It makes me feel good because I created a whole new meal from a previous nights dinner which means we save money and cut down on our food wastage.
This dish uses leftover butterfly leg roast which was marinated in rosemary and garlic.  I have been tending to buy the butterfly lamb from Aldi (about $20 and we get two meals from it) as I'm not paying for the bone in the normal leg roasts which seems to make up about 400gm or so of what I am actually paying for.  Sure the price is cheaper per kilo because of the bone, but I find that the boneless lamb gives me more usable meat.
The pasta and eggplant bulk up this dish to provide a tasty, filling and nutritious meal that was devoured by everyone in my family.  So next time you have leftover roast lamb, remember this little beauty of a recipe.  It's ready in under 30 minutes and 20 minutes of that is hands free cooking so you can do other things like supervise homework or tackle bath time.
Looking for more leftover roast meat recipes? I have more for you to try right here.
INGREDIENTS
2 Cups Leftover Roast Lamb, Diced
1 Onion, Diced
2 Garlic Cloves, diced
1 Small Eggplant, diced
1 Can Tomato Soup
4 Cups Tortiglioni Pasta, dry (or penne)
Salt and pepper to taste
Olive Oil
LETS PUT IT ALL TOGETHER
1. My pressure cooker has a saute function, if yours doesn't you can saute on the stove first.  Alternatively, this dish can be cooked a heavy based dish with a lid on the stove.
Add the onion and garlic and a dash of olive oil and saute until they soften and release their aroma.  Add the eggplant and cook for a further 3 minutes.
2. Add the diced lamb and tomato soup and salt and pepper to taste.  Set the pressure cooker to cook for 20 minutes.  While it is cooking, cook your pasta on the stove according to the packet instructions.
When cooked, release the pressure and then remove the lid.  Add the cooked pasta and stir through.
Serve with grated parmesan cheese.
Serves 4-6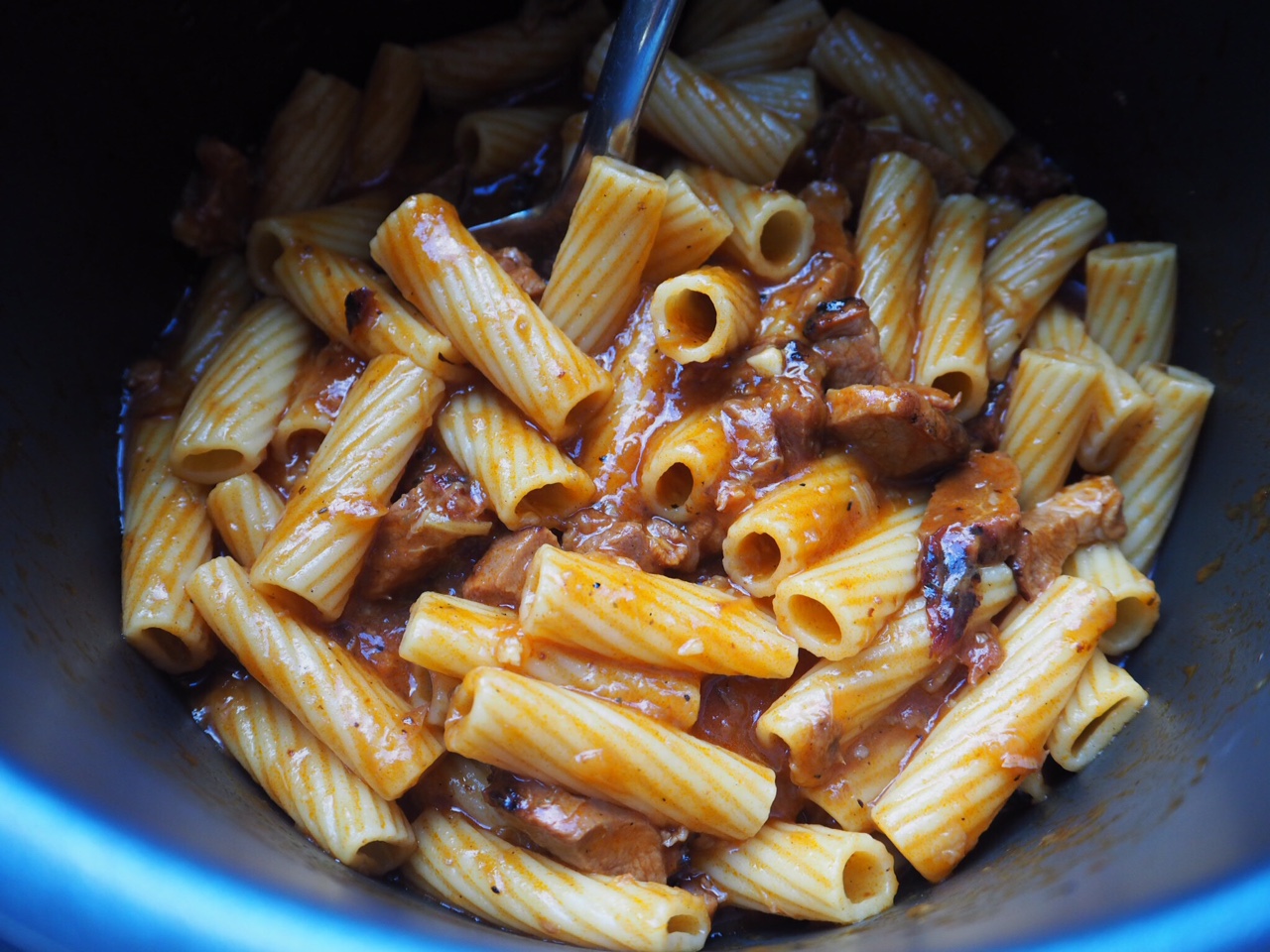 (Visited 15,077 times, 58 visits today)