On our table last night I served Laksa style noodles with chicken and vegetables.  Now this isn't a recipe for a traditional laksa.  It is more of one of my creations that works for us and for the hotter Summer weather.
If you wanted to make this into more of the traditional laksa soup add 500ml of chicken stock and double the quantity of coconut milk.
While we (adults) enjoyed this – it is a little too spicy for my boys so they had ravioli with beef (which they demolished).  Everyone had happy tummies.
INGREDIENTS
1/2 Roast Chicken, cut into 6ths bones and all (or 1 raw chicken breast cubed)
1/2 Jar Laksa Sauce (check the directions on the jar as some are a concentrate/paste and only require a tablespoon. The one I used was a sauce)
200ml of Coconut Cream or normal thickened cream
1 Packet of Wok Ready Noodles (I use Chang's – no need to cook before, just toss in with the sauce, meat an vege)
1 Packet of Frozen Stir Fry Vegetables
Handful of baby spinach
LETS PUT IT ALL TOGETHER
1. Using a wok or very hot fry pan, cook of the chicken if you are using the raw chicken breast). Skip this step if you are using roast chicken.
2. Add the frozen vegetables to the wok/fry pan and cook until they are tender.
3. Add the laksa sauce/paste to the wok/fry pan and cook off until it releases its flavours (you will smell them).
4. Add the chicken and noodles, stir to combine.
5. Add the coconut cream/thickened cream and stir – reduce heat to a simmer for 2 minutes.
Finish off with a handful of baby spinach.
If you are using the leftover roast chicken, this is best eaten the night you make it.  If you are using the fresh raw chicken breast, this can be eaten as leftovers up to 3 days after cooking.
Serves 2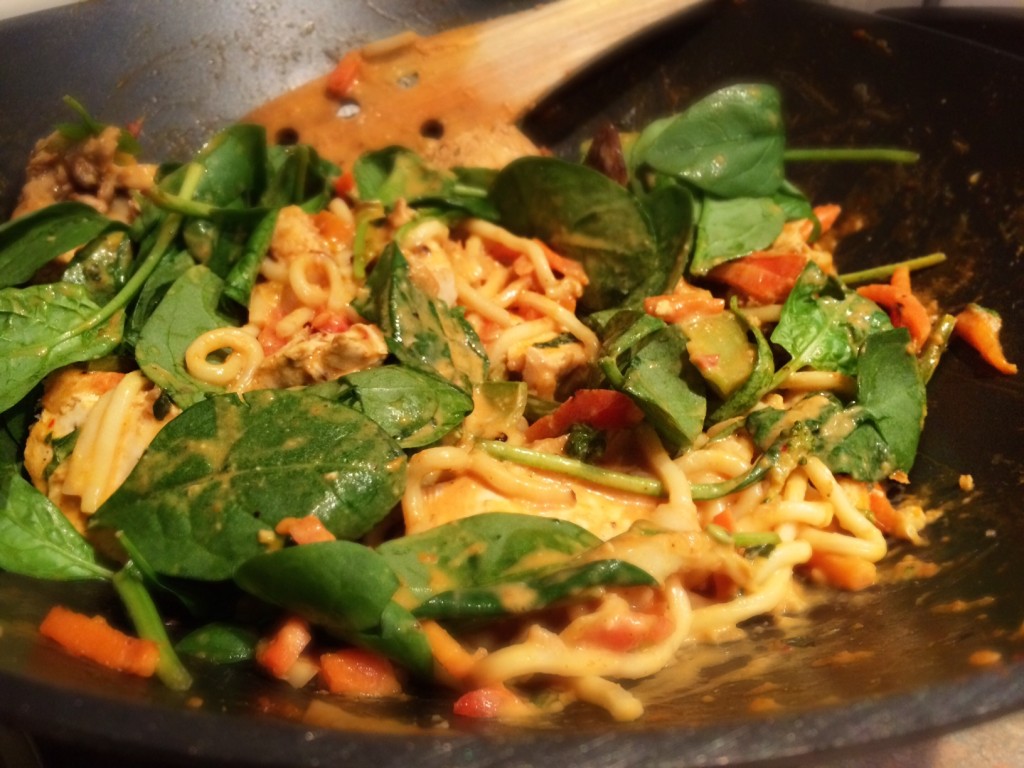 (Visited 2,378 times, 8 visits today)