These Honey and Oat Bars make for the perfect breakfast either on the run or when you don't have time to make something in the morning.
I was strolling the "healthy food aisle" of the supermarket last week and spied a honey and oat bar that was close to $3 for one.  I read the ingredients on the back and it was made from everyday ingredients, it was a good choice as it had no added nasties but I was not prepared to pay that much for one.  So of course what do I do I make my own and it they couldn't be easier.
These are great for breakfast as they are packed full of oats that will give you sustained energy.  The bar itself is quite chewy and dense and when eaten with a drink like milk or tea and coffee it will plump up in your belly to fill you up.
I have made a very basic combination however you can add some sultanas or seeds and nuts on top (simply press into the mix) to boost the nutrient content a little more.
INGREDIENTS
1 1/2 Cups Quick Oats
1 Cup Wholemeal Self Raising Flour
1/2 Cup Shredded Coconut
1/2 Cup Honey
100gm Butter
LET'S PUT IT ALL TOGETHER
1. In a microwave safe jug or mug add the butter and honey.  Microwave for 2-2.5 minutes, stirring after each minute until the butter has melted.
2. In a large bowl, mix together the dry ingredients.  Make a well in the centre and pour in the honey and butter mix.  Stir to combine.
3. Line a square baking dish (20cm x 20cm) and add the mix.  Wet your hands a little and push the mix down.  bake in a preheated 180 degree Celsius oven for 15 minutes or until lightly golden on top.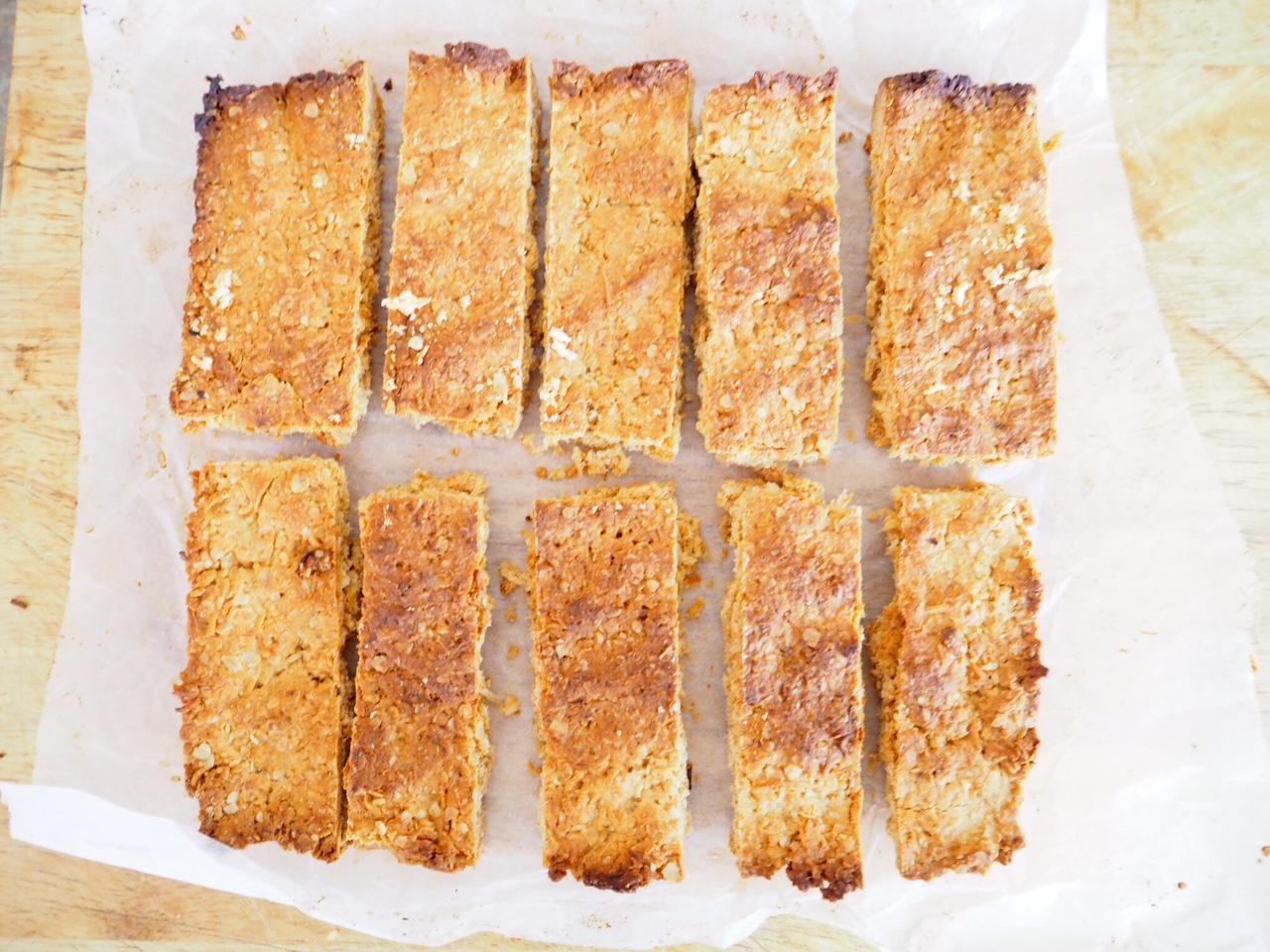 Allow to cool before slicing into bars.
Makes 12
Store in an air tight container for up to 5 days.  In warmer weather they will need to be stored in the fridge.
Freezer friendly: wrap portions in cling wrap and freeze for up to 3 months.  Allow to defrost on the bench before eating.
Serve with yoghurt, fresh fruit and a glass of milk.

(Visited 22,939 times, 20 visits today)