I love apricot chicken and so do my two boys, but the though of cooking it on a work night was not even an option until I came up with this quick version.
Vegetables can be chopped the day before and stored in an airtight container in the fridge.
The apricots can also be pureed in advance as can the cooked rice. I always like to cook extra rice and freeze it so I have some always on hand.
You can buy a cooked BBQ chicken on the way home or cook one yourself the night or two before.
So all you really have to do is heat up your stove and oven and throw everything in.
It will cook happily by itself while you bath the kids, do homework etc.
INGREDIENTS
2 large (800gm) cans Apricot Halves
1 can will need to be processed I. The food processor or with a stick blender until smoothish use the syrup with the apricots.
1 Tbs Garlic Granuals
1 Tbs Onion Flakes
1 Tsp Garam Masala spice powder
1 Tbs Chick Stock Powder
Salt and Pepper
4 Mushrooms sliced finely
2 Carrots sliced finely
1 Zucchini, cut into thin sticks
1 Cup Water
Olive oil
1 Cooked Whole chicken, purchase from the supermarket or cook one the night before.
Cooked rice to serve
LET'S PUT IT ALTOGETHER
1. Place your oven proof crockpot onto the stove on high heat. Add the oil, garlic Granuals, onion flakes, garam masala, salt and pepper and heat for 1 minute stirring.
2. Add the mushrooms, carrots and zucchini and cook for a further 2 minutes.
3. Add the stock powder and water and allow to come to the simmer.
4. Add the puréed apricots and mix well.
5. Place in a hot 200 degree Celcius oven for 20 minutes.
6. Remove from the oven and add the cooked cut up BBQ chicken and 1/2 tin of apricot halves. Return to the oven for a further 10-15 minutes to heat the chicken.
Serve with rice.
Serves 4 – 6 people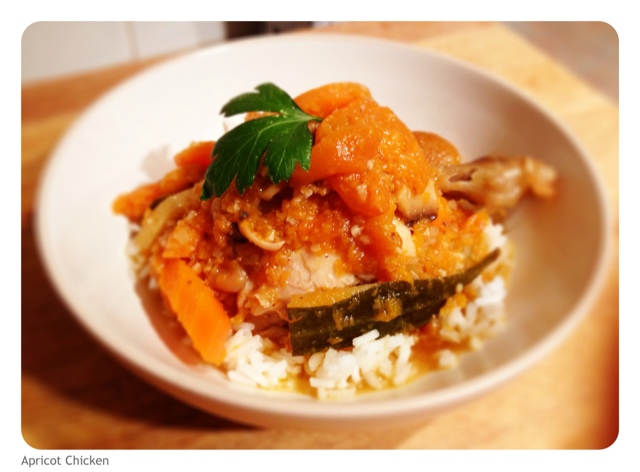 (Visited 2,838 times, 21 visits today)