These parcels were created from all the little bits and pieces that were left in the fridge and needed using up before I cleaned the fridge for shopping day and bin/garbage day.

I seem to always find my self with some leftover roast meat (this week it was chicken), a handful of baby spinach in the packet and a random piece of bacon or ham that needs to be eaten. If I put all of these little bits and prices together and combine them with a quick white sauce, wrap them in some puff pastry and viola I have created a tasty, budget busting meal (after all these bits and pieces probably would of ended up in the bin).
So open your fridge, find all the little bits and pieces you have sitting in there that are still good to be eaten. Bring them along to this recipe.  Easily substitute with what you have in your fridge.
INGREDIENTS
2 Cup Cooked Leftover Roast Meat, diced (I used chicken)
1 Onion, diced
2 Rashers Bacon or equal ham, diced
6 Mushrooms, sliced finely
2 Handfuls Baby Spinach
1 Tbs Cornflour
1 Cup Milk
Handful of grated parmesan or tasty/cheddar cheese
Salt and Pepper to taste
3 Sheets Puff Pastry
LET'S PUT IT ALL TOGETHER
1. In a fry pan over a medium high heat add a little olive oil followed by the onion, bacon (or ham) and mushrooms. Cook until the they are all soft.
2. Add your cooked roast meat and cook until it is heated through.
3. Mix the cornflour with the milk. Take the fry pan off the heat and stir through the milk mix.  It should start to thicken. Return the fry pan to a low heat and continue stirring for 2 minutes.  Add the handfuls of cheese and baby spinach, salt and pepper mixing to combine.
4. Sit aside to cool for 10 minutes.
5. Take your puff pastry out of the freezer and separate so that they can defrost. Heat the oven to 200 degrees celsius.
6. After 10 minutes take your first sheet of puff pastry and lay 1/3 of the mix through the middle. Fold each side up, and crimp the open edges with a fork to seal. Repeat for the remaining mix and puff pastry.  Feel free to experiment with different sizes or shapes. I made mini ones for the boys.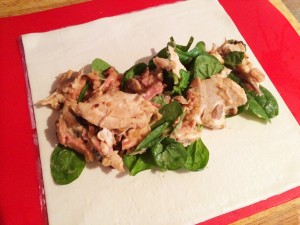 7. Brush with a egg wash or spray with cooking oil and to with a sprinkling of sesame seeds. Bake in the pre heated 200 degree celsius oven for 10-15 minutes or until the pastry is crispy and golden.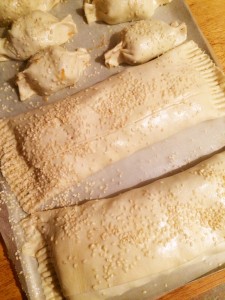 Enjoy with a side salad.
Serves 4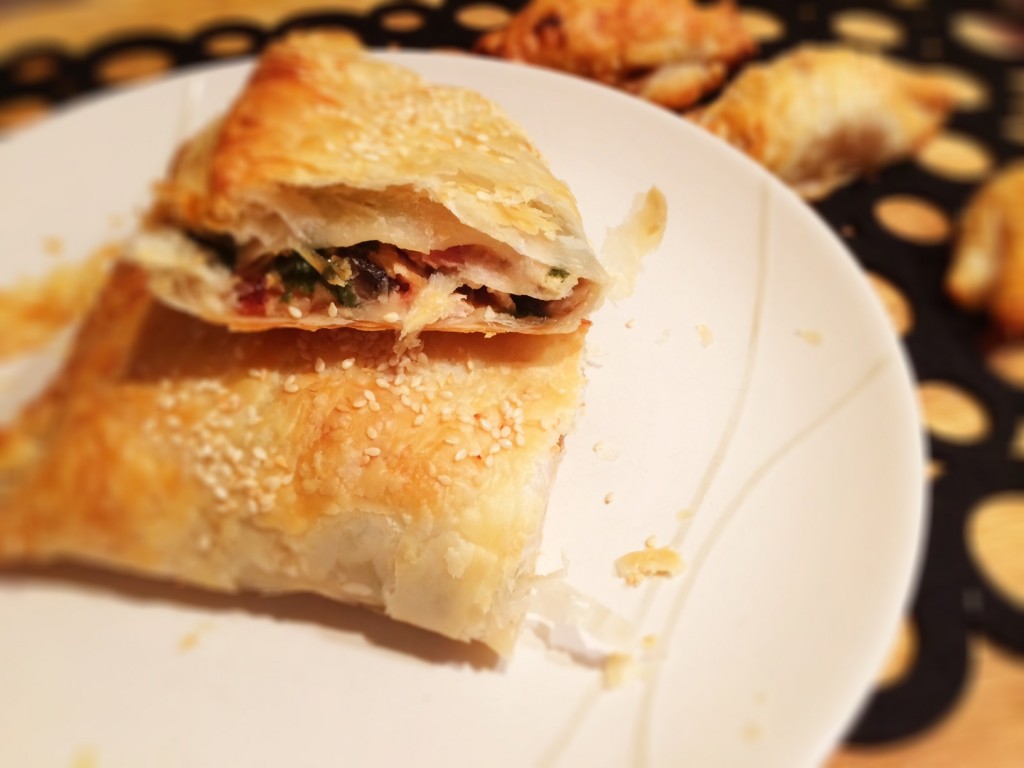 (Visited 10,664 times, 29 visits today)