Last week I accepted the challenge to have eggs for breakfast for one week (7 days). It was actually easier thank I thought and I guess this French Toast with Smashed Blueberries made all the easier.
French toast is a nice quick breakfast that the whole family can enjoy. You can make sweet or savoury by changing your toppings it really is that easy.
Whisk, Dunk, Fry, Top, Eat
INGREDIENTS
2 x 70g Eggs
1/4 Cup Cream or Milk
4 Pieces of Bread of choice – toast slices are better as they hold the egg mix really well.
Butter
Frozen Blueberries
Icing Sugar
LET'S PUT IT ALL TOGETHER
1. In a large flat bowl crack the eggs and add the cream. Whisk well to combine.
2. Place a fry pan onto a medium high heat stove. While it is heating up, place your first slice of bread into the egg mix. Allow to soak on each side for about 30 seconds.
3. Place a little butter into the hot fry pan and let it melt, then add the soaked bread.  Cook on each side until lightly golden.
4. Repeat until all bread is soaked and cooked.
5. Place about 1/2 Cup Blueberries into a microwave safe bowl and heat for about 20 seconds. Remove and give them a little squash with a fork to release the juices.
6. Pour over the hot french toast and top with a sprinkling of icing sugar.
Enjoy straight away.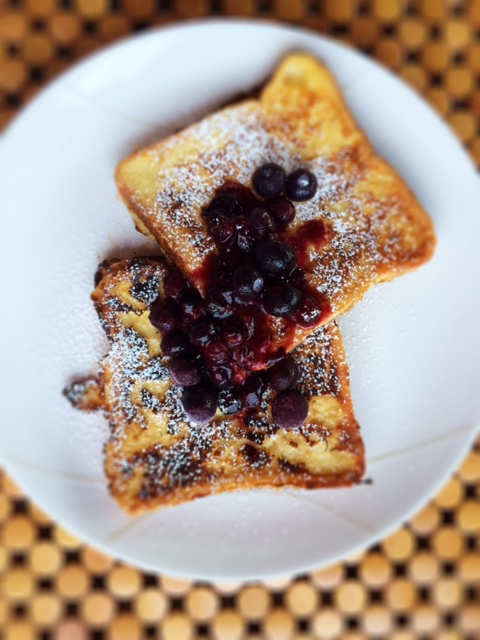 Serves 4

(Visited 739 times, 7 visits today)