Honey soy is a classic flavour combination that you will commonly find chicken pieces marinated in.  A glace of your local butcher or deli section and you will find most commonly chicken wings marinated in this flavour combination.  Now the price for these marinated pieces are normally around $5 kg (wings), the un-marinated chicken pieces can be found as low as $1.99 kg.  The chicken drumsticks were this price last week and the wings were $1.19kg such a great buy for families and ideal to stock up and freeze.
As the name suggests all you need is honey and soy sauce to make your marinade, so easy to make yourself and save the extra $3 or so per kg you pay for the marinated pieces which will be marinated in more then just soy and honey (think preservatives and colours).
I made honey soy drumsticks last week as an after work dinner.  I simply marinated them before I left for work and then when I came home placed them into a lined baking dish and baked them in the oven with frozen wedges and corn cobs.
On a side note, I bought frozen corn cobs for the first time last week.  They were cheaper and it's convenient having them in the freezer for meals like this.  I don't know why I didn't buy them sooner.
INGREDIENTS
6-12 Chicken Drumsticks or 12-24 Chicken Wings
1/2 Cup Soy Sauce (preferably light soy)
1/3 Cup Honey
Optional: 1 tbs minced garlic
LET'S PUT IT ALL TOGETHER
1. In a medium bowl place the soy and honey.  Give it a good stir with a fork to combine the two ingredients.
2. Add the chicken pieces to the marinade and toss through to coat.  Cover the bowl with cling wrap and place in the fridge until you are ready to cook.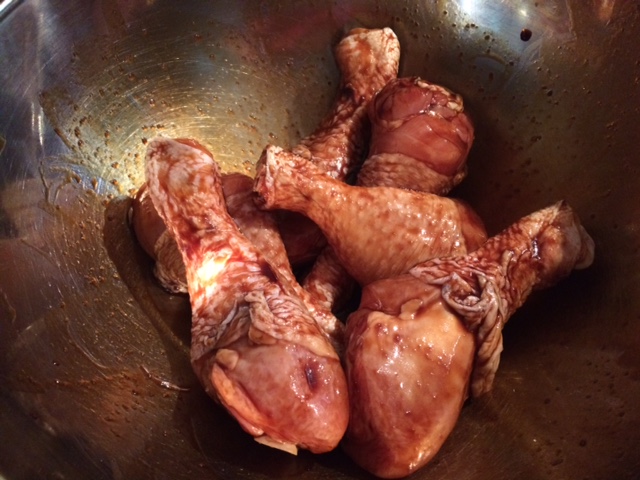 3. Pre heat the oven to 200 degree celcius.  Place the marinated chicken pieces into a lined baking tray.  Add the leftover marinade to the dish.  Bake in the oven for 1 hour.  If you are cooking larger chicken pieces increase the time to 1 hour 30 minutes.  Alternatively you can make cuts into the thicker sections of the chicken so it cooks evenly.
You know your chicken is cooked when the meat comes away from the bone easily and there is no red when the meat separates from the bone.
Serve with oven baked wedges (these can cook at the same time as the chicken) and corn cobs which I also baked in the oven on the wedges tray.

(Visited 7,127 times, 11 visits today)