Lamingtons are perfect to enjoy on Australia Day or any day really. Today I made them with a slight twist. I replaced the 2 eggs with a mashed banana and it added a lovely banana flavour as well as making it egg free.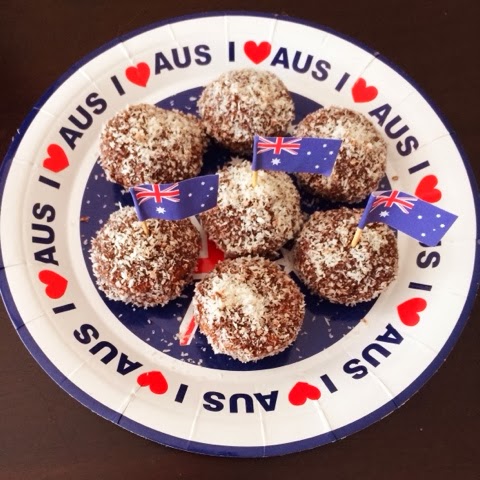 I have a used a simple vanilla packet cake mix for this recipe which makes it super easy.
INGREDIENTS
1 Packet Vanilla Cake Mix
1 Banana, mashed (replaces the two eggs)
1/3 Cup Light olive oil
2/3 Cup milk (you could use Almond, Soy Milk etc)
Icing
1 cup Icing Sugar
2 Tablespoons Cocoa powder
2-3 Tbs Water
Desiccated Coconut
LET'S PUT IT ALTOGETHER
1. Make the cake first by placing all the ingredients into the bowl of a stand mixer and mix on low for 1 minute. Alternatively you can mix by hand.
2. Spoon into a greased mini muffin tray and bake in a 180 degree Celsius oven for 10 minutes or until lightly golden and bounce back when touched.
3. Allow to cool in the tray then remove and place onto a cooking rack.
4. Once cooled, in a medium bowl mix the icing ingredients to form a slightly running mix. It should coat the cakes not run off. In another bowl pour the coconut into it.
5. Simply place the mini muffin into the chocolate mix, let any excess run off then dip into the coconut to cover. Repeat until finished.
Makes 24

(Visited 762 times, 3 visits today)