Mr 5 and I had a little fun in the kitchen today with this crazy chocolate banana cake. The crazy part of the cake is that it's crazy that a cake can be made without eggs, butter and milk and still work.
There is nothing conventional about this recipe, except for the end result – a lovely moist cake that is perfect with chocolate buttercream icing.
This cake has also been referred to as depression cake as it is very cheap to make due to no eggs and dairy.
So if you are looking for a cake to make with the kiddos during the school holidays that is easy to make, fool proof and cheap this is the recipe for you.  Also, you bake the cake in the dish you mix it it – less dishes!
INGREDIENTS
1 1/2 Cups Self Raising Flour
3 Tbs Cocoa
1 Cup White Sugar (I used 3/4 cup if you want to reduce the sugar)
1 Tsp Bicarbonate Soda
2 Overripe bananas, mashed
1 Tsp White Vinegar
1 Tsp Vanilla Essence
5 Tbs Oil (Light olive oil or sunflower are my recommendations)
1 Cup Water
LETS PUT IT ALL TOGETHER
1. Place the first 4 dry ingredients into the dish you are going to bake the cake in. Make three indents into the dry mix.
2. In one indent pour the vinegar, the other the oil, and in the last the banana flowed by the water and vanilla essence.  Using a fork, mix all the ingredients together really well making sure to get everything off the bottom.
3. Place into a preheat 160 degree celcius oven for 55 minutes.
Once baked allow to cool before spreading chocolate buttercream icing on top.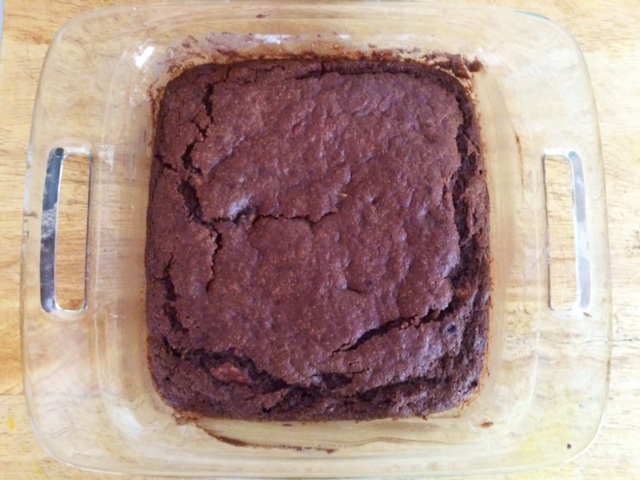 To make Chocolate Buttercream Icing
Simply place 125gm butter, 1 1/2 Cups Icing Sugar, 1/4 Cup Cocoa and 1 Tbs Milk into the bowl of a stand or electric mixer.  Beat until light and fluffy.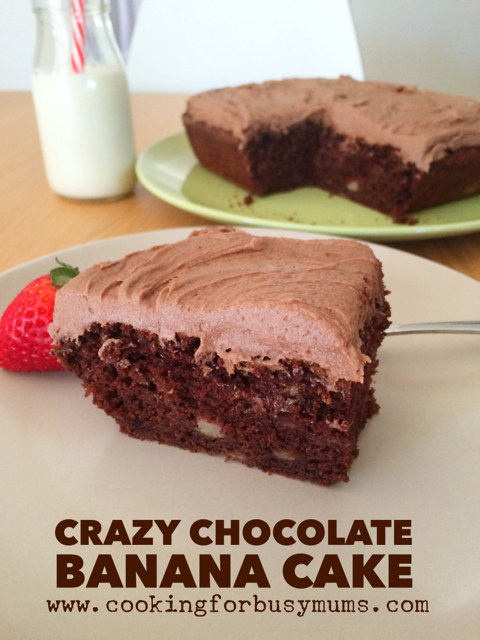 (Visited 38,831 times, 53 visits today)