After cleaning out the fridge yesterday I realised I had a some natural Greek yoghurt that I wouldn't eat before it expired so this morning I decided to whip up a cake to take on a little picnic and it led me to making a Chocolate Yoghurt cake – anything with chocolate in it will be devoured my the littlies so it was a winner.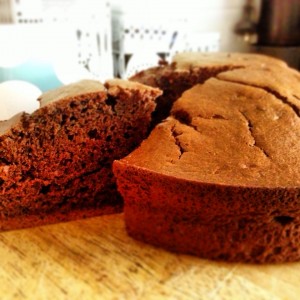 This recipe is an easy one bowl cake.
INGREDIENTS
1 3/4 Cups Plain Flour
1/4 Cup Cocoa
1 1/2 Cups Brown Sugar
1 Tsp Baking Powder
1 Tsp Bicarbonate Soda
1/2 Cup Light Olive Oil
Pinch Salt
1 Cup Natural Greek Yoghurt
2 Eggs
100gm melted cooking chocolate
LETS PUT IT ALTOGETHER
1. Melt the chocolate in a microwave proof bowl in the microwave in 20 second intervals stirring after each time until melted.
2. Place all the listed ingredients into a large bowl and then add the slightly cooled chocolate.
3. Using a mixer beat for 3-5 minutes until smooth and glossy.
4. Pour into a greased cake tin and bake in a 180 degree oven for 40 minutes or until a skewer comes out clean.
Enjoy as it or serve with a dollop of fresh cream and berries.
Note the KitchenAid Hand Mixer in this photo – I am in love. I was sent it on loan to see what I think of it and at first I was like yeah yeah another hand mixer they all do the same thing.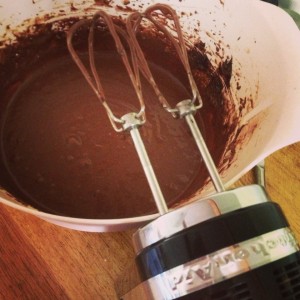 Comparing this to my $40 Sunbeam hand mixer I have to say that it is lighter, the whisk beaters make the mixes glossy and light and done produce any mess when they are lifted. I so desperately want a KitchenAid Stand Mixer but the budget keeps say NO…..I will be putting this on my list of presents this year for sure…..It is also comes in baby pink…winning.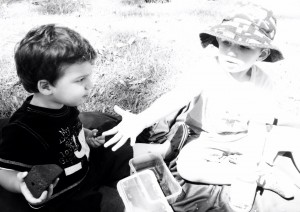 The fighting for the cake on out little picnic. Mr nearly 2 thinks that the 3 pieces I packed one container are all his.

(Visited 240 times, 1 visits today)